By definition, dividend kings are the most elite group of dividend growth companies. Many investors are familiar with the dividend aristocrats which are companies with at least 25 consecutive years of dividend increases. To date, the list shows a little bit more than 50 businesses. Over the past decades, many years this list has gone through the cap of 50 consecutive years. Therefore, we had to find a name for those super powered dividend payers. It was already a feat to exist for more than 50 years, it is quite incredible to have been able to distribute and increase their payouts for a half century. The list now counts 18 companies and are named the Dividend Kings. In the upcoming weeks, I'll be reviewing the 18 Kings.
Today, I will analyze Johnson & Johnson (NYSE:JNJ).
Since I've already done a lengthy analysis on Seeking Alpha (you can read it here), I will concentrate on JNJ dividend payment future perspectives.
Business model:
Think of a powerful engine that is continuously being fueled to turn even faster. This is exactly what JNJ is in your portfolio. The pharmaceutical division represents 40% of JNJ's total revenue and is mainly concentrated around immunology, oncology & psoriasis drugs. This is the powerful engine turning full speed and generating strong profit. Then, Johnson & Johnson has an impressive brand portfolio of personal care goods. Most of its brands are either #1 or #2 in their markets and their products are being sold across the world. This is the kind of products that is being respectively bought by consumers weeks after weeks, months after months. This part of JNJ business model bring a continuous cash flow fueling its R&D department to insure a strong drug pipeline. This is how Johnson & Johnson is always the leader in their various fields of business. This is also the reason why JNJ has been paying and increasing its dividend for over 50 years.
Main strengths:
Johnson & Johnson is a strong company on many levels. The company is so well diversified that it always has a source of growth somewhere. Recently, a new cancer drug called Darzalex started its first sales quarter with $100 million… well above expectations. Their various consumer products benefit from high pricing power due to their world class brands. The medical equipment division enjoys continuous business from the same clients as the switching cost is often higher than any potential benefit. The company is also building an important cash reserve (17 billion in 2016) in the light of potential acquisitions to find additional growth vectors. With such reserve in hands, JNJ can go through any kind of recession and continue to spend more money in product innovation.
Potential risks:
Back in 2012, JNJ had several quality control issues. This hurt sales and potentially hurt some brands as well. It was a good example that even the best companies are not 100% sheltered. Potential lawsuits due to product misconception or severe drug side effects could also hurt JNJ balance sheet and image. Finally, pharmaceutical companies are always dependent on their pipeline to assure their future. Failing to continuously discover new drugs could also penalize growth.
Dividend growth perspective: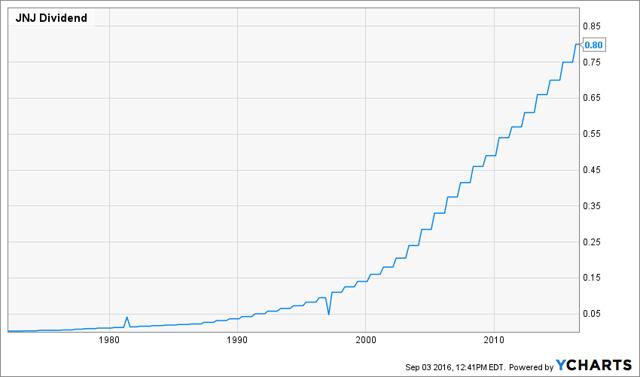 Click to enlarge
Source: data from Ycharts.
When looking at JNJ dividend growth history, we can see that management has started a steeper growth trend around 2000. This has been 16 years of very strong dividend growth history. The best part is that management didn't do this solely to please investors, they were also very cautious about their payout ratios: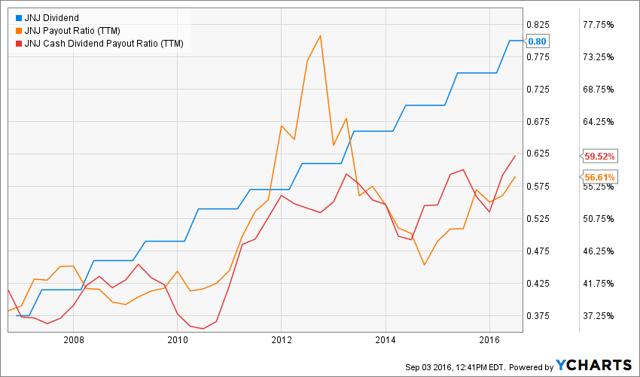 Click to enlarge
Source: data from Ycharts.
After solving its quality control issues in 2012, JNJ has brought its payout ratio back under 60% leaving the company enough room to increase their dividend for years to come. With so many income streams coming from various segments, cash flow creation is never an issue. I would not count on the same dividend growth rate JNJ has shown over the past 10 years, but the company will definitely keep its place among the strongest Dividend Kings. JNJ is definitely one of the best company from this list.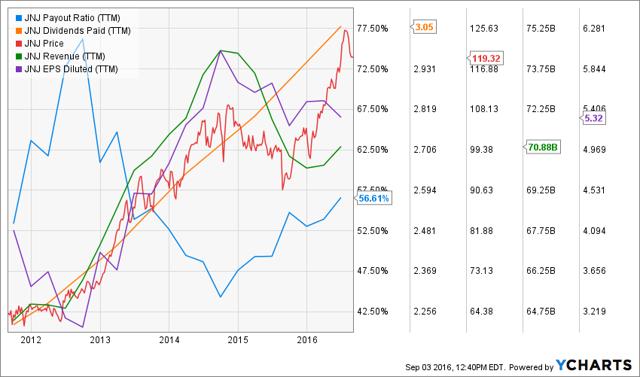 Click to enlarge
Source: data from Ycharts.
When we look at the overall JNJ results over the past 5 years, we notice that both revenues and earnings have recently failed their progression. 2015 has been quite challenging in term of revenue as currency headwinds and global economic slowdown didn't help. Considering JNJ current strong balance sheet and its 17 billion in cash waiting for opportunities, I'm not worried to see the company bouncing back in the upcoming quarters.
Investment thesis:
An investment in JNJ is an investment in a world class company. You buy a complete brand portfolio with only winning products. The company is well diversified among its product offering, its pharmaceutical division along with its world diversification. Don't be fooled by JNJ relatively low yield. The company will not only reward you with constant and increasing dividend, but also with a steady capital appreciation. If I had only one company to buy in my portfolio, it would certainly be JNJ.
Disclaimer: I hold JNJ in my DividendStocksRock portfolios.
Disclaimer: The opinions and the strategies of the author are not intended to ever be a recommendation to buy or sell a security. The strategy the author uses has worked for him and it is for you to decide if it could benefit your financial future. Please remember to do your own research and know your risk tolerance.
Disclosure: I am/we are long JNJ.
I wrote this article myself, and it expresses my own opinions. I am not receiving compensation for it (other than from Seeking Alpha). I have no business relationship with any company whose stock is mentioned in this article.