In times of economic and political uncertainty, it's wise to focus on investments that demonstrate steady demand regardless of the environment. It's at least part of the reason why so many have piled into consumer staples and utility stocks over the past couple of years. You know what else people like to do regardless of the economy? Drink!
It's in that spirit (no pun intended) that the Spirited Funds group launched the Spirited Funds/ETFMG Whiskey & Spirits ETF (NYSEARCA:WSKY) this week. The fund will focus on companies that are whiskey and spirit distilleries, breweries and vintners. It can also dedicate a smaller portion of the fund's assets in "non-core" luxury goods businesses that make or market whiskey and spirit-related products.
I generally reject a lot of these new niche ETFs that focus on very narrow segments of the economy but I think this fund may actually make some sense. Consider this quote from Spirited Funds president and CEO David Bolton.
"You see a shift in the brand or quality of product that consumers purchase in down markets, but people eat and drink whether the market goes up or down, and some studies show they drink more when markets fall."
There's a bit of humor in this statement but I think it's also true. People drink both when they're celebrating and when they're drowning their sorrows. Bolton also cites increasing global demand for whiskey and spirits for launching the fund saying that he believes that the industry is in "year five of a 25-40 year supercycle that could see continued growth in consumer demand for whiskey and spirits, much like what has occurred with craft breweries over the past two decades."
The Whiskey and Spirits Industry
The numbers actually back up some of his claims. U.S. spirits revenue and volume has been growing consistently over the past decade and has more than doubled since 2000.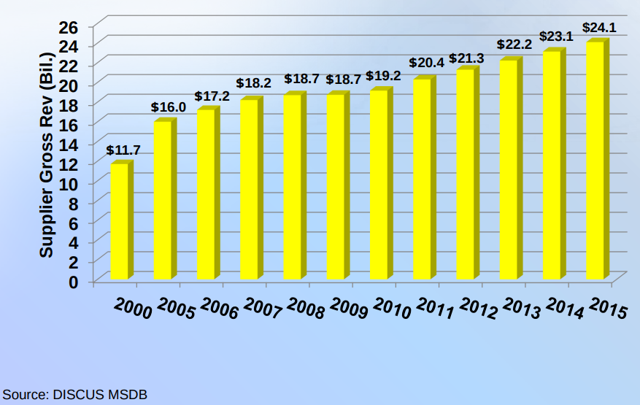 Click to enlarge
Also encouraging for the industry in general is that the majority of growth seen recently has come from the higher margin high-end and super-premium segments.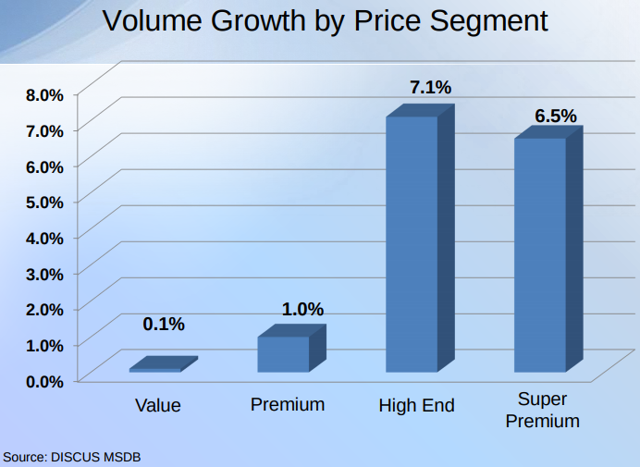 Click to enlarge
The ongoing success of the spirits industry may be dependent in part on the continued ability to trade globally. The United States especially is a huge exporter of spirits globally. Trade deals that limit or eliminate taxes and tariffs on sales are important to ensuring that the global growth trend continues into this supercycle.
Fund Composition
Anybody looking for a diversified fund will not find it here. The fund has just two dozen holdings and is very concentrated at the top.
Top holding Diageo PLC (NYSE:DEO), the owner of brands such as Smirnoff, Captain Morgan, Baileys, Guinness and Johnnie Walker, accounts for 23% of the fund. The second largest holding is Pernod Ricard (OTCPK:PDRDY), the maker of Absolut and Jameson, at 11%. Third place Thai Beverage (OTCPK:TBVPY) is 7% of the fund.
Investors can expect this fund to carry above-average risk despite its label as a consumer discretionary fund. Just three of the fund's components are based in the United States exposing the portfolio to additional political, currency and taxation risk.
Like the premium brands it invests in, the fund itself isn't cheap. The expense ratio of 0.75% is a little rich for my taste. The fund has traded nearly 10,000 since its debut.
Conclusion
As mentioned, I tend to stay away from such narrowly focused ETFs but this one honestly intrigues me. The fund's target companies should experience steady demand and revenue growth for the foreseeable future even if the global economy slips into recession or experiences a greater-than-expected impact from macro-events such as Brexit.
The fact that the ultra-premium brands are the ones driving the revenue growth is another positive for the fund. While this type of fund clearly doesn't deserve more than a very modest allocation, the Whiskey & Spirits ETF could be a fun little addition to a broader portfolio.
If you're interested in more ETF analysis, please consider following me by clicking on the "Follow" button at the top of this article next to my name. Even if you don't, thanks for taking the time to read!
Disclosure: I/we have no positions in any stocks mentioned, and no plans to initiate any positions within the next 72 hours.
I wrote this article myself, and it expresses my own opinions. I am not receiving compensation for it (other than from Seeking Alpha). I have no business relationship with any company whose stock is mentioned in this article.
Editor's Note: This article discusses one or more securities that do not trade on a major U.S. exchange. Please be aware of the risks associated with these stocks.