If you are not a fan of dilution, stop reading this article now. In just the past four years, Tesla Motors (NASDAQ:TSLA) has diluted shareholders by more than 40%, and the worst is yet to come. One analyst recently detailed how much capital he thinks the company will need, so it is only a matter of time before the outstanding share count rises further. The chart below shows where things currently stand.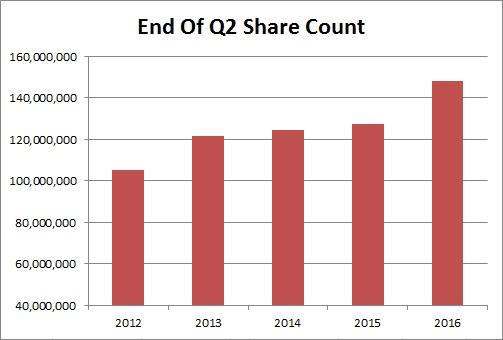 (Source: Tesla quarterly filings)
At the end of Q2, the outstanding share count was just over 148 million, but that number was up to nearly 150 million in the most recent prospectus for the SolarCity (NASDAQ:SCTY) acquisition, a record date of September 23rd. When we get the Q3 10-Q filing, most likely in early November, we'll get the official end-of-quarter figure. Tesla expects to issue 11.08 million shares of stock if the SolarCity merger goes through, which would easily put the outstanding count over 160 million.
That, of course, is before any capital raises, and Tesla expects to discuss its financial plans with us on November 1st. Shares currently trade around $200, below the last two equity raises at $242 and $215. If Tesla announces another equity offering, shares will likely drift lower, so even $1 billion could equal another 5 million shares or more. That gets us to the recent note from Oppenheimer's Colin Rusch, stating the following:
In total, he thinks Tesla will need to raise about $12.5 billion by the end of 2018.

Specifically, Tesla will need to fund $5 billion to $8 billion (or more) in capital expenditures combining its stationary power business with SolarCity, another $2 billion in capital for the auto unit, as well as cash for working capital and operating lease obligations.
How much money is needed is the million dollar question here, and of course, Tesla may be able to access the debt markets for some funds. Maybe at some point we'll even see some positive cash flow. However, with a weak balance sheet and after adding in SolarCity's condition, the likelihood is that equity will be the preferred method. Even if the company raises just $6 billion of equity, you'd be talking about 30 million shares at the current price. Put a discount on that to say $175, and you could add at least another 4 million shares.
That capital raise plus the SolarCity acquisition would put us around 195 million shares outstanding, and that doesn't even bring into account stock-based compensation. Tesla's share count rises by the quarter even if equity isn't sold, as evidenced above by the rise so far during Q3 and in past periods. With equity awards tied into the Model 3 and Tesla's continued growth, it wouldn't be a surprise to see tens of millions of shares handed out to executives and employees over the next couple of years. That would put us well over 200 million shares outstanding.
If you are a fan of dilution, then Tesla is certainly where you want to be. The company's outstanding share count is approaching 150 million (could be there already), and that is before the SolarCity merger goes to a vote. Should that deal go through, one analyst believes the company could need $12.5 billion of funding through the end of 2018. If that is the case, Tesla shares better keep their head above $200, because if they don't equity raises at lower prices plus share-based compensation could lead to 50% dilution by the end of 2018.
Disclosure: I/we have no positions in any stocks mentioned, and no plans to initiate any positions within the next 72 hours.
I wrote this article myself, and it expresses my own opinions. I am not receiving compensation for it (other than from Seeking Alpha). I have no business relationship with any company whose stock is mentioned in this article.
Additional disclosure: Investors are always reminded that before making any investment, you should do your own proper due diligence on any name directly or indirectly mentioned in this article. Investors should also consider seeking advice from a broker or financial adviser before making any investment decisions. Any material in this article should be considered general information, and not relied on as a formal investment recommendation.