Quick Take
WeWork (Private:VWORK) is a tech 'unicorn' that is rapidly expanding its operations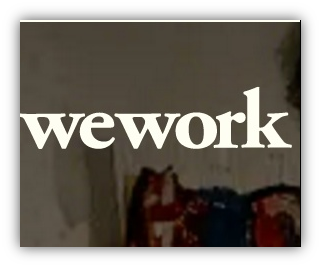 worldwide.
The company just closed a new round of funding, receiving $690 million from investors including China-based Shanghai Jin Jiang International Hotels
WeWork has a bright future as it rides the wave of co-working and shared spaces, but will need to demonstrate its ability to weather an inevitable economic downturn.
I expect an IPO filing in the first half of 2017, assuming it can demonstrate its expected $1 billion 2017 revenue run rate.
---
Company
New York-based WeWork was founded in 2010 by Adam Neumann, Jesse Middleton, and Miguel McKelvey to provide a co-working rental space for independent freelancers and small companies looking for flexible, monthly office space.
The company's co-working spaces also serve the networking needs of its users, by providing rentable small group spaces for users to host seminars and small conferences.
Technology
WeWork operates a network of shares office locations throughout the U.S. and internationally.
Clients can rent any available desk or reserve office space, on a monthly basis. Space usually includes access to fast Wi-Fi and the ability to use existing amenities or reserve conference rooms and other facilities on an availability basis.
Below is a brief video profile by the Financial Times:
(Source: Financial Times)
Co-working companies such as WeWork also try to provide and encourage a sense of community among its clients at each location, thus increasing loyalty and rental longevity per client.
Market
The market for shared office space is growing rapidly.
According to a 2016 report by real estate manager JLL, the current size of the U.S. co-working industry is 27 million sq. ft.
The chart below shows the growth in shared office space leases from Q3 2014 to Q1 2016: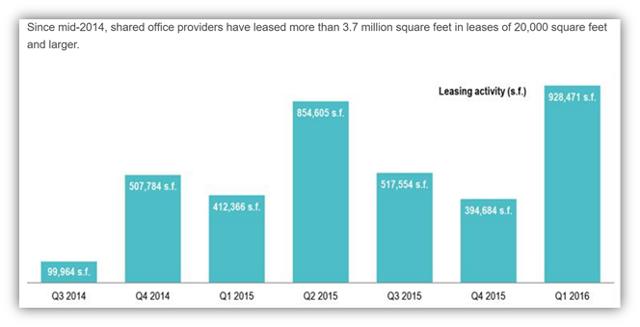 Click to enlarge
(Source: JLL)
Currently the co-working industry makes up only 0.7% of the total US market, so it has a tremendous amount of growth potential.
Furthermore, the economics of co-working space owners can be quite good: Rental rates for Class A central business district space average $50 per square foot nationwide, but shared offices cost an average of $139 per square foot.
While shared offices usually include a number of additional perks included in that premium, the growth in the supply of co-working spaces is no surprise, due to the significant margins that can be earned.
Of concern, though, is what happens during a market downturn or recession.
Those co-working companies that have signed a long-term leases, such as WeWork, remain exposed to high fixed costs during a downturn when demand for real estate by freelancers and small businesses may contract.
This was the reason that executive suite provider Regus filed for U.S. bankruptcy in 2003, after the dot-com bubble burst.
WeWork has yet to experience a recession, so its business model has not been tested by forces beyond its control.
Competition
The company says that it really competes against "offices", by providing a rentable space for Millennials, and doesn't compete against executive suite providers.
However, notwithstanding its denial, the company has competition, in the form of traditional executive suite operations, such as Regus and others.
Still other competitors such as PivotDesk don't sign long term leases, but instead, help companies that have more space than they need to sublease empty space to smaller firms.
WeWork has still other competitors which include startups offering similar co-working concepts on a local and regional level.
The company's competitive approach is to create a more attractive space for Millennials, thus peeling off a market segment that was poorly served by existing solutions.
Financials & Valuation
WeWork has raised nearly $1.7 billion from a syndicate of investors including Goldman Sachs (NYSE:GS), Fidelity Investments, Benchmark, Harvard Management Company, J.P. Morgan Chase (NYSE:JPM) and T. Rowe Price.
The company recently closed its Series F round of funding at $690 million, which included Chinese strategic investor Shanghai Jin Jiang International Hotels.
The valuation of the company in its most recent Series F round increased to $16.9 billion, according to reports.
It is likely that new investor Shanghai Jin Jiang International Hotels participated to assist WeWork in its expansion drive into China.
Below is a chart showing WeWork's valuation evolution since Q4 2014:

Click to enlarge
(Source: WSJ Startup Stock Tracker)
WeWork has not filed a publicly available S-1 registration for an IPO, although CEO Adam Neumann is on record as supportive of the notion.
At the July 2016 Fortune Brainstorm Tech conference, Neumann said the company expects $1 billion in revenue in 2017, which would make it a prime candidate for public market financing.
Commentary
WeWork is yet another success story for a startup company that has identified and pursued the Millennial market as a separate market within an existing large industry.
The company has successfully adapted existing solutions to appeal to the different tastes and needs of Millennials.
I have no doubt that WeWork will continue to build its brand of community and co-working in numerous countries worldwide, as the rise of independent freelancers takes the place of a reduction in small business formation.
The jury is still out though on whether or not the company can successfully navigate a recession, which has not occurred since its founding.
WeWork's model of signing long, 10-year leases and then charging a premium for the office space will be sorely tested during the next economic downturn, as freelancers temporarily decide to forgo the office expense premium and move back home for their work location.
Nevertheless, my expectation is for an IPO filing in the first half of 2017, as the company will likely be able to demonstrate $1 billion per year revenue run rate by then.
We will have to wait until then for its expected valuation, but I would not be surprised to see a valuation in the range of $20 - $25 billion, assuming a $1 billion revenue run rate.
---
I write about IPOs and tech 'unicorns'. If you want to receive future articles automatically, click the +Follow link next to my name at the top of this article.
Disclosure: I/we have no positions in any stocks mentioned, and no plans to initiate any positions within the next 72 hours.
I wrote this article myself, and it expresses my own opinions. I am not receiving compensation for it (other than from Seeking Alpha). I have no business relationship with any company whose stock is mentioned in this article.