The Energy Information Administration (EIA) reported today that working gas in underground storage built by 79 billion cubic feet (bcf) in the week ending October 7th. The build was lower than the market expected, causing natural gas futures prices to close at a 23-month high.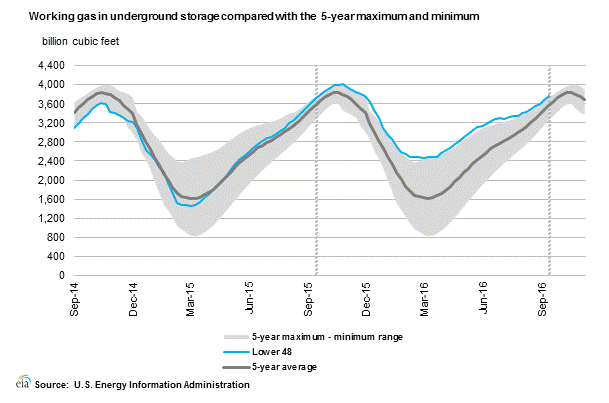 I have proven how the primary drivers of natural gas consumption, heating degree days (HDDs), cooling degree days (CDDs), and economic activity (GDP) explain over 97% of the monthly variation in consumption. A review of this data for the last 2 weeks reveals that the build reported by the EIA for last week may be understated.
Specifically, I assessed CDDs and HDDs for the week ending October 6th, because that is the closest date/time to the EIA's specified time of 9 a.m. CST Friday mornings. Based on my model, the implied build was 98 bcf.
In the prior week ending September 30th, my model predicted a build of 80 bcf, which is exactly the build reported. With worse fundamentals, it stands to reason that the build should have been larger.
EIA Weekly Estimation Errors
In its latest Natural Gas Monthly report, which provided "final" figures for July, the EIA had estimated working gas in storage at 3,229 bcf. Based on the weekly storage figures reported by the EIA for the weeks ending July 29th (3,228) and August 5th (3,317), the interpolated value for end July is 3,296 bcf, 33 bcf lower than the monthly figure, proving the weekly numbers can contain estimation errors.
I also conducted a time series study beginning in 2010, in which I compared the weekly interpolated values to the final monthly figures. On balance, the weeklies were 20 bcf lower than the monthlies and the standard error of estimate was 12 bcf.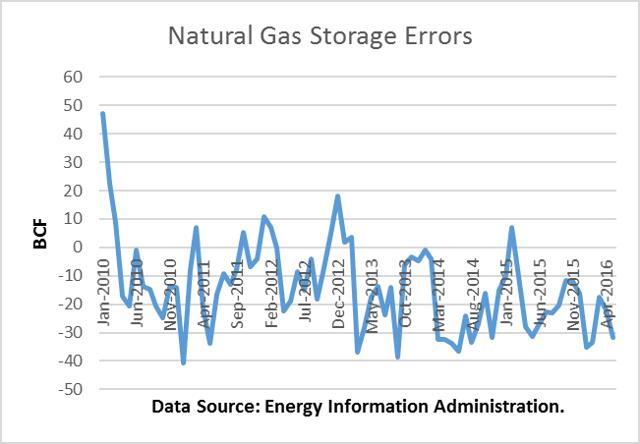 Click to enlarge
Conclusions
As we all know, Hurricane Matthew had begun impacting the weather in Florida on October 7th, causing evacuations as well as a disruption to electric power. I suspect this disruption may have also led to reporting errors in the data provided to the EIA.
If anything, I would have expected demand to be less than implied by normal fundamentals, leading to a larger build rather than a smaller build. We shall see if the EIA makes any upward adjustments to its storage estimates in the weeks ahead.
Disclosure: I/we have no positions in any stocks mentioned, and no plans to initiate any positions within the next 72 hours.
I wrote this article myself, and it expresses my own opinions. I am not receiving compensation for it (other than from Seeking Alpha). I have no business relationship with any company whose stock is mentioned in this article.