I find it interesting that Wells Fargo (NYSE:WFC) has been taking major heat for its latest blunder. While I do agree that there must be repercussions for creating accounts without the consent of the customer, I do think the current repercussions are too harsh.
What happened?
1) From 2011 to 2015, around 5,000 Wells Fargo employees created roughly 1,534,280 unauthorized deposit accounts for its customers.
2) Of the 1.5 million fake accounts, 85,000 accrued a total of $2 million in fees.
​3) It also had 14,000 unauthorized credit card accounts accrue $403,145 in fees.
4) The company was then fined $185 million, and just lost its CEO.
5) Stumpf forfeited approximately $41 million worth of stock awards; he will forgo his salary during the inquiry and receive no bonus for 2016.
6) Carrie L. Tolstedt, the former senior executive vice president of community banking, ran the unit where the fake accounts were created. She will forfeit $19 million in stock grants, will receive neither a bonus for this year nor a severance​.
Putting it in Perspective
1) 95% of the unauthorized accounts did not earn fees.
2) This was 1,000 employees for nearly 100,000 employees in the segment, or 1% annually.
3) Wells Fargo earned $2.4 million in unearned income, or $400k a year. It generated roughly $460 billion in revenues over this 5-year stretch. This was .00052% of its revenue - a line item we would surely all miss.
4) If Wells Fargo kept up with this practice, it would take them 385 years to pay off the fine using the annual unearned income.
5) Stumpf's compensation was not directly tied to account openings.
One Thing People Aren't Talking About
Wells Fargo is the ONLY major bank that has actually created jobs since 2011. The chart below shows this. Actually, JPMorgan (NYSE:JPM), Citi (NYSE:C), and Bank of America (NYSE:BAC) lost a total of 137,000 jobs.
​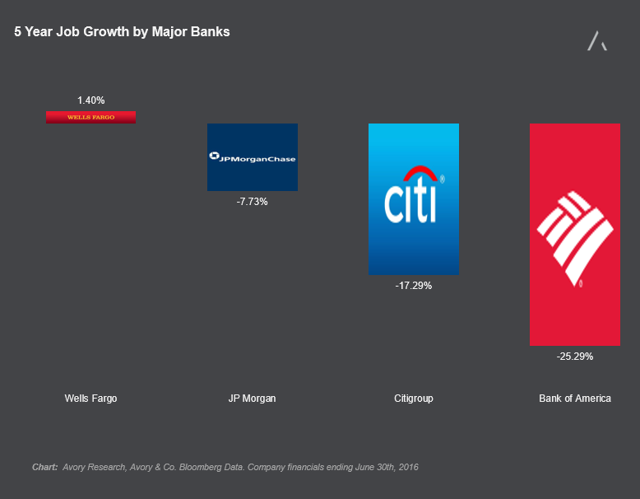 Click to enlarge
Sales
• The broader framework in which Wells Fargo went about sales is in line with how most companies think - try to up-sell the customer, and incentivize the sales reps for this up-sell. The purpose is to push customers into numerous products to build a network effect around the business, and increase the switching cost. The more accounts a customer has, the less likely they are to switch; therefore, the lifetime value of the customer moves higher.
• Where the company went wrong was it did not have the proper checks to see if accounts which were being created were in fact authorized by the client. This is what needs to be fixed.
My Final Take
• Stumpf did a good job for shareholders, for the economy, and for even 95% of customer accounts.
• He grew dividend by 29% over the last 5 years, with a total return on the stock of 110%.
• He added jobs, while other big banks took jobs away. In total, JPMorgan, Citi, and Bank of America dropped over 137,000 jobs since 2011.
• Customer satisfaction as per the American Customer Satisfaction Index (ASCI) was the highest among the big four banks. This is likely due to its 6,200 locations in 39 states and convenient business hours.
So Wells Fargo did some bad things for sure. It should pay back all the customer losses (which it did), it should be fined (which it did), it should make structural changes to its sales practice (it is), and it should find out the major source of the problem and fire them. While sports can be viewed differently as they do not impact the economy in the same way, football coaches do not get fired for one player of their 85-man roster taking steroids, or one player deflating balls and potentially cheating out fans who paid money to watch games.
I do not think Stumpf deserved to be fired (resign). His pros have greatly outweighed the cons.
Conclusion
Wells Fargo is a great franchise with over 6,400 banking locations around the country. It has nearly $1.3 trillion in sticky deposits focused in the United States. It has grown its dividend by 29% a year for the last 5 years, and is buying back stock. The company recently saw loan growth of 6.1%, compared to the average of JPMorgan, Bank of America, and Citi. So while Stumpf got what I consider an unfair shake, I think the next leader (Sloan unless he gets canned too) has a lot to work with. This is an opportunity for long-term investors, as opposed to something to run from.
Wells Fargo reports Friday, along with JPM and Citi, so we will get more color then. I will be on CheddarTV for the closing bell, likely talking about banks, among other items.
Disclosure: I/we have no positions in any stocks mentioned, but may initiate a long position in WFC over the next 72 hours.
I wrote this article myself, and it expresses my own opinions. I am not receiving compensation for it. I have no business relationship with any company whose stock is mentioned in this article.
Additional disclosure: Sold put options on the name. Long bias. This is not a recommendation of purchase or sale and investors should do their own analysis prior to any investment decisions.