Dynavax (NASDAQ:DVAX) happens to be an important portion of my biotech holdings. Recently, a well-known biotech journalist published an article where he said that FDA has a history of not approving drugs whose Adcomms were cancelled - "history of FDA advisory panel cancellations suggests drug rejections, not approvals, are more likely."
I am therefore worried by the recent developments with the company. The stock has plummeted after the FDA cancelled the already-delayed adcomm. Investors worry if the PDUFA will be delayed too. Investors also fail to understand why the adcomm was cancelled, and what the implications of that may be on the drug. In other words, does the FDA adcomm get cancelled if the FDA feels it is a waste of time because the drug won't be approved; or does it get cancelled because the FDA feels it is a waste of time because the drug will get approved anyway?
I did some research on this issue. I went into the FDA website, looked at their Advisory Committee calendar, and collected every instance of a drug PDUFA whose adcomm was cancelled. I specifically noted what the FDA had remarked as a reason for the cancellation. Then I googled to see if that drug had been approved later, for that indication for which the adcomm was cancelled. I have here a table of the data I found: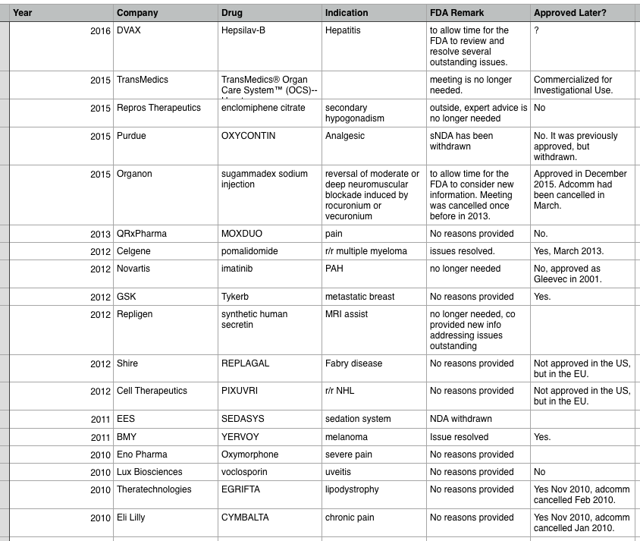 Click to enlarge
It is quite obvious that there is nothing obvious about an adcomm cancellation. In a number of instances, an adcomm was cancelled but the drug was approved. Notably for Organon in 2015, the FDA said "to allow time for the FDA to consider new information." This is similar to what the FDA has said for DVAX, notably "to allow time for the FDA to review and resolve several outstanding issues." Organon got its approval 9 months later. Similar things happened with Egrifta and Cymbalta, both of which got approved 8-9 months after adcomm cancellation. However, in both cases, no reasons for adcomm cancellation was provided.
In those cases where the FDA cancelled the adcomm and ended up not approving the drug, the remarks are very clear. They are either "meeting no longer needed" or "no reasons provided," and in one case, the sNDA - the supplementary NDA, a process by which a company seeks approval for a new indication, called a label extension, for an already approved drug - was withdrawn. Those seem to be quite different from how the FDA remarked in DVAX' case, which is similar to Organon's case, in my layman's opinion, and Organon got approved.
This isn't hard science, but just guesswork, but from what I see in the adcomm cancellation history, there is precedence of approval for the kind of reason the FDA has provided to Dynavax.
Driven down by the setback, DVAX is trading right near its 52-week lows. Its PDUFA is set for December 15, and from all indications, that will be when its Hep-B vaccine's fate will be decided. Although the table above gives me enough justification to think that this isn't an outright rejection, and although the drug candidate produced excellent results in one of the largest trials ever conducted in Hepatitis B vaccination, long term biotech investors know that with the FDA, nothing is certain. Therefore, I would buy now, when the stock is priced low, drive down my cost of acquisition, and sell in small lots all the way through the PDUFA catalyst.
Disclosure: I am/we are long DVAX.
I wrote this article myself, and it expresses my own opinions. I am not receiving compensation for it (other than from Seeking Alpha). I have no business relationship with any company whose stock is mentioned in this article.