Since 2015, the People's Bank of China (PBoC) has maintained a stance of expansionary monetary policy, as the bank has held its record low-interest rate at 4.35 percent for all of the second half of 2016. The bank also added that it will maintain an appropriate degree of flexibility and make timely pre-emptive adjustments if economic conditions deteriorate. The People's Bank of China has reiterated that it will use suitable policy tools (like liquidity injection) to achieve reasonable growth and improve the broader financing structure. The bank has also explained that it will maintain their currency at a "reasonable and stable" rate, and continue with its financial reforms on the interest rate horizon.
For the most part, it can be said that the bank has stayed true to its policy by expanding its lending facility in order to achieve its objective of injecting liquidity into the banking sector (in order to lower the borrowing costs for businesses and provide an impetus to achieve better economic growth). All combined, this could produce a drag on the SPDR Gold Trust (NYSEARCA:GLD) if we start to see positive surprises in manufacturing that force the PBoC to begin putting an end to its easing programs.
Chart Outlook: China GDP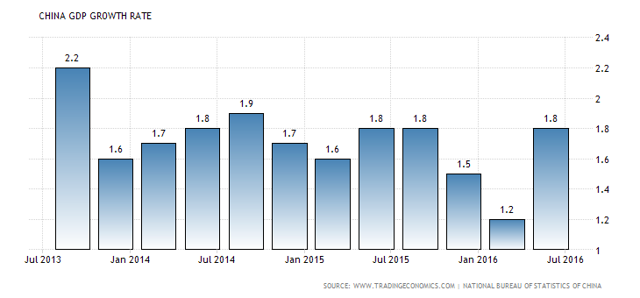 Click to enlarge
Some analysts tracking China consider this practice to be a "backdoor" quantitative easing program. This backdoor QE is aimed at boosting economic activity and addressing the bad-debt that has already been injected into the financial system (to improve the private investment). But, in reality, the central bank is trying to shore up its domestic assets relative to its foreign assets, as any reduction in interest rate may lead to a flight of capital from the country.
The policy seems to be working for the China as its economy has expanded by 1.8 percent in the second quarter (compared to 1.2 percent from the previous quarter) of 2016. Even though there is visible growth in the GDP, the inflation rate has dropped to 1.3 percent in August 2016 (compared to 1.8 percent in the month of July). Still, the crux of the economy lies in the manufacturing sector, and China's Manufacturing PMI had came to 50.4 in September 2016 (same as the previous month). Levels above 50 indicate expansion, so this is an early indication that the PBoC will be forced to raise interest rates earlier than expected. This could be enough of a factor to limit buying activity in precious metals amongst Chinese investors. Overall, the output rose in manufacturing but it should be noted that new orders eased and employment fell marginally when compared to the previous month.
Chart View: China PMI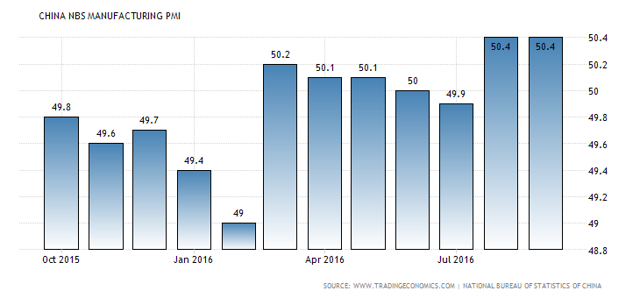 Click to enlarge
The data paints a mixed picture in economic activity as GDP is growing but the employment rate and inflation are not supporting the rosy picture. The global growth concern, along with the domestic financial imbalance will likely be enough to ensure that the current expansionary monetary policy stance will continue for the rest of the financial year. If the hawkish factors continue, we will see more central bank commentary that suggests a need for rate increases, and this could be something that creates enough selling pressure to push GLD back toward the May 2016 lows.
Disclosure: I/we have no positions in any stocks mentioned, and no plans to initiate any positions within the next 72 hours.
I wrote this article myself, and it expresses my own opinions. I am not receiving compensation for it (other than from Seeking Alpha). I have no business relationship with any company whose stock is mentioned in this article.