The South African rand slumped 3.9% earlier this week on the news that the respected finance minister, Pravin Gordhan, will face fraud charges related to a supposed "rogue unit" formed under his leadership whilst commissioner of the South African Revenue Service - the country's tax collection agency. This comes less than a week after South Africa fielded a star-studded delegation to the fourth annual 'South Africa Tomorrow Investor Conference' that took place on the 4th and 5th of October 2016 in New York City. The excursion, coinciding with a trip to the Annual IMF meetings, were intended to trump up investor confidence and belay any lingering fears of a credit agency downgrade.
American investors had the opportunity to hear from Mr. Gordhan, South African Reserve Bank Governor Lesetja Kganyago and several high-ranking business leaders from the South African private sector, including Nicky Newton-King, the CEO of the Johannesburg Stock Exchange (JSE) which acted as co-hosts to the event. Presenting a united front, they asserted that South Africa remains a solid destination for investment and that South Africa Inc. remains open for business.
The South African dignitaries took to the offensive, claiming, in the words of Ms. Newton-King, that South African business and government leaders "have shown their commitment to doing what we can to strengthen our economy and we believe this has played a big role in maintaining the country's investment grade rating to date."
The road show now seems to have been all for nought.
In New York, Mr. Gordhan, who has been under investigation for supposed irregularities during his stint at the national tax authority, criticized the hitherto slapdash probe against him as "political mischief" and brushed aside any concerns that the investigation would yield any material outcome. Mr. Gordhan was re-handed the reins of the finance ministry in December, following the shock dismissal of another respected steward of the department, Nhlanhla Nene.
The announcement of Mr. Nene's dismissal on the 9th of December of last year, criticized as political maneuvering - and featuring striking similarities with Mr. Gordhan's indictment - sent the rand into a free-fall, dropping as much as 5.4% during the day and reaching a historic low against the US dollar.
A stalling economy
The most advanced economy in Africa has been on the receiving end of near unanimous negative rhetoric from investors and major media outlets. South Africa has, in its most recent past, been plagued by social unrest, widespread power cuts, and a dramatic drop in commodity prices - one of the largest contributors to foreign exchange income. The result has been an economy that has been lagging behind both its continental peers, and developed economies, with a downcast outlook that is being promoted by governmental instability and infighting: The IMF, in its October World Economic Outlook, projects GDP growth at 0.1% for 2016; increasing to 0.8% in 2017 - well behind the regional average.
The South African Reserve Bank (SARB) has comparatively more positive forecast figures: An expected 0.6% and 1.3% for 2016 and 2017 respectively. The headline growth figure increased to 1.7% for 2018.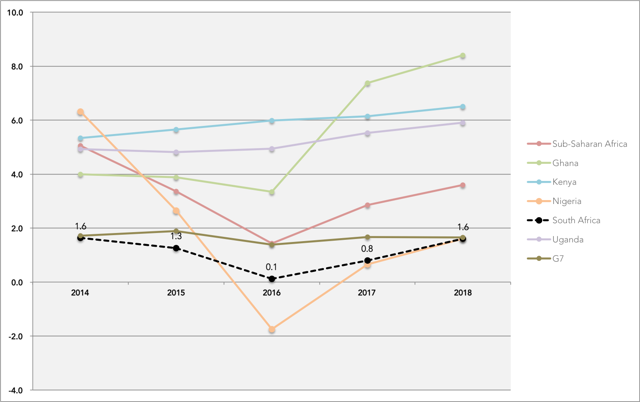 Click to enlarge
Source: Data from IMF World Economic Outlook, October 2016
Financial markets have not been spared a lackluster showing: The iShares MSCI South Africa Index ETF (NYSEARCA:EZA), although slightly up for the year, has reported a negative return of 4.07% over the past 3 years, and dropped 4.5%, from 55.04 to 52.54, after the news of the finance minister's legal calamity. In comparison, the iShares MSCI Emerging Markets ETF (NYSEARCA:EEM) has had a -2.66% return over the past 3 years.
The JSE All Share Index, an index making up the top 99% of the total pre free-float market capitalization of all listed companies on the Johannesburg Stock Exchange, has returned -1.21% over the past year whilst major international markets have been posting record highs.
One downgrade does not a calamity make?
The serving of a subpoena on Mr. Gordhan could not have come at a more inopportune time. He is expected to table the annual 'medium-term budget policy statement, or 'mini-budget' to parliament on the 26th of October whilst South Africa's credit rating is on the verge of being downgraded to below investment grade. All three of the main credit agencies, bar Moody's, have an assigned rating only one notch above non-investment grade.

Click to enlarge
Source: Moody's, S&P, Fitch. Date accurate as of 13 October 2016.
S&P, citing "low gross domestic product growth and rising political tensions" has kept their rating just above junk status, warning that "if policy measures do not turn the economy around" the current rating will be lowered.
A World Bank report, analyzing a sample of twenty rated countries by the three major rating agencies between 1998 and 2015, determined that a downgrade to sub-investment grade, or junk-status, experienced an average increase of 138 basis points in T-bill rates. If a second downgrade appears, and was anticipated by markets, the effect was smaller at 56 basis points. The report warns that "this effect is large and can pose considerable additional financing costs to governments."
Kokkie Kooyman of Denker Asset Management has underplayed the relevance of a downgrade. Mr. Kooyman argues that neither the rand, nor the JSE "will fall significantly following a downgrade." His thesis is based on the supposition that markets react "negatively or positively to unexpected events" and a "downgrade is seldom a surprise." He states that "if we [South Africa] do get downgraded it will be based on what is already known: The weak state of the economy, high debt levels and a lack of confidence in government's decision making and policies."
Looking at movements in the credit default swaps (CDS) market, Mr. Kooyman's thesis, which compares the recent increase in CDS rates of South with those of Brazil in 2015, and showing a similar trajectory leading up to an imminent downgrade, seems appropriate. Five-year South African CDS, a tool to insure against debt exposure and an indication of risk, climbed 15 basis points to 265 on the back of Mr. Gordhan's arrest. This is the highest level since July 8 and above those of Russia, Brazil and Turkey, all of which have non-investment grade credit ratings.
S&P and Fitch are due to disclose their credit ratings reviews on the 2nd of December with an 80% chance of S&P cutting the rating according to Société Général. Moody's will publish their results on the 25th of November, shortly after the mid-term budget review.
What might however serve as a surprise is Mr. Gorhan stepping down, or are given the boot by Mr. Zuma - this is however being ruled out at this stage. Peter Attard Montalto, senior economist at Nomura International, believes this will trigger an automatic downgrade from S&P and will have serious knock-on effects. Colin Coleman, country head of investment bank Goldman Sachs agrees, stating that the dismissal and or resignation of Mr. Gordhan will act as a "red line" beyond which the rating agencies will immediately affect a downgrade.
Mr. Montalto did however state previously that it was however "almost inevitable" that South Africa will suffer a downgrade owing to an inability to incorporate necessary structural changes within a sensible time frame to improve the economic environment sufficiently.
A sound credit rating remains important. Many investors have mandates that stipulate they can only own debt with a certain grade and will be forced to liquidate their holdings following a downgrade to junk status. This will have a further adverse impact on the currency and will thwart future refinancing.
The rand and the Fed
South Africa, as other emerging markets, remains at risk from the Fed's monetary policy actions. The May 2013 announcement by the then Fed president Ben Bernanke of the Fed's intention to commence a "tapering" of their bond purchases sent emerging market currencies into a dive. The rand was not spared, losing over 12% of its US dollar value within a few weeks. The subsequent reaction of the market, which became known as the 'taper tantrum', highlighted the historically high investment flows into emerging markets, driven by foreign investors 'seeking yield' outside of the low interest environment in developed nations.
The Federal Reserve's every word, action and whisper has since been scrutinized by armies of economists and market observers in order to guess when a rate increase is likely. The markets, following the release of the Federal Open Market Committee minutes on the 12th of October - showing dissent within the committee on an appropriate time for a rate hike - are consequently pricing in a 70% chance of a rate hike during the Fed's December meeting. Pimco, the world's largest fixed income manager, moreover expects at least three additional hikes in 2017 owing to an improved economic outlook and stabilizing financial market conditions.
Peter Rosenstreich, head of market strategy at the Swissquote Bank, a Switzerland-based bank, however believes "that the market is overestimating the probability of a Fed rate hike in December and the lasting effect if it actually occurs." With loose monetary policies maintained by both the European Central Bank and the Bank of Japan, he estimates that investors will remain eager to search for higher yield in emerging markets. It begs the question, if Mr. Rosenstreich is proven correct, whether South Africa will be able to attract those investors when other countries are proving more politically stable, fiscally responsible and have superior growth rates.
Barring any unexpected market news, a hawkish Fed will nevertheless chip away at the demand for the rand, and if the Fed were to decide to hike in November - which has not been completely dismissed - a further spurt of assets liquidation in South African markets can be expected.
"Repetition makes reputation and reputation makes customers" - Elizabeth Arden
South Africa Inc. is besieged with a major reputational problem fuelled by seemingly endless social unrest, student protest, and continued political strife. With economic growth projected to remain below 1% next year, international investors are remaining justifiably skittish on any meaningful turnaround in the plight of Africa's most industrialized nation. Considering, in addition, the stubbornly high unemployment rate - figures range between 25% and 30% - the ruling African National Congress is facing a decidedly prickly future.
The ANC suffered an embarrassing loss in the most recent round of local elections, losing control of both Johannesburg - the country's financial and economic hub - as well as the Nelson Mandela Municipality. The loss of the Mandela municipality was surely the most biting defeat. The government is under mounting pressure to provide social services with an electorate that is becoming ever more impatient at the pace of economic reform.
President Zuma has responded by making key appointments with little regard for the immense knock-on effects of his rancorous behavior. With Mr. Gordon under fire, the country's economic and financial resilience is yet again being tested.
The diagnosis is unambiguous: If South Africa is downgraded' investors will shun investing in South African assets and supply and demand mechanics will cause prices to drop. The rand will weaken further' inflation - which has been successfully maintained in the 3%-6% target range of the SARB - will creep up. The end result will be an already disgruntled and jittery electorate having to bear higher costs while a proven self-serving president is shackling muted economic growth prospects. South Africa's reputation hangs in the balance.
Disclosure: I/we have no positions in any stocks mentioned, and no plans to initiate any positions within the next 72 hours.
I wrote this article myself, and it expresses my own opinions. I am not receiving compensation for it (other than from Seeking Alpha). I have no business relationship with any company whose stock is mentioned in this article.