Today's retail sales numbers show that retail sales, excluding food service sales, rose 2.2% on a year-on-year basis.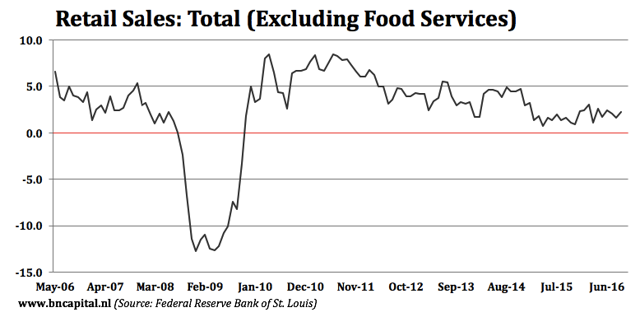 Click to enlarge
Sales are growing much slower than we saw prior to the growth peak in 2014. Although today's report showed an increase versus August, we see that growth has been around these levels almost the entire year.
Furniture and home furnishing stores have lost some steam too. Growth used to be above 5% since 2011. Current growth rates are hovering around 2.5% since Q2 of this year.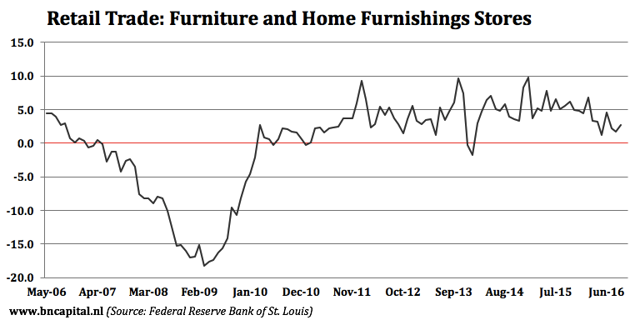 Click to enlarge
Motor vehicle sales didn't show an improvement this month and stayed at 2.5%. The exact same growth rate as we saw in August.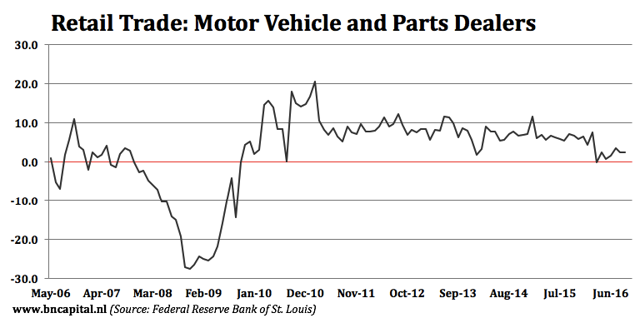 Click to enlarge
Clothing and accessories had the second positive print since February of this year after slowing since Q3 of 2014. However, sales have to growth much harder to give companies in this highly competitive business some relief.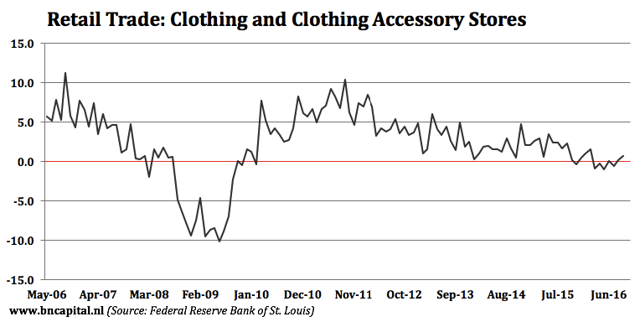 Click to enlarge
Electronics and appliance stores are doing much worse. The contraction got a bit worse in September. We now have twelve months with contraction(!).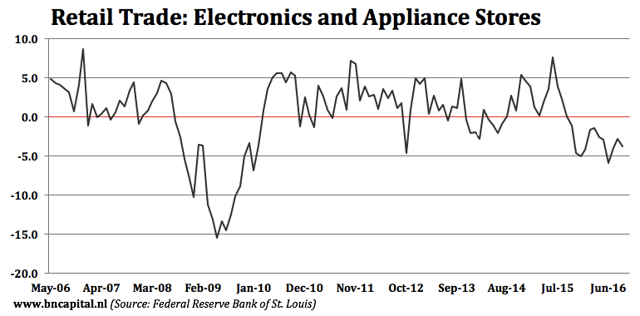 Click to enlarge
The last graph shows food services and drinking places. Growth is back at 6% which is a huge tailwind for companies in this business. I do not expect sales growth to go back to 9-10% but levels around 6-7% are definitely bullish.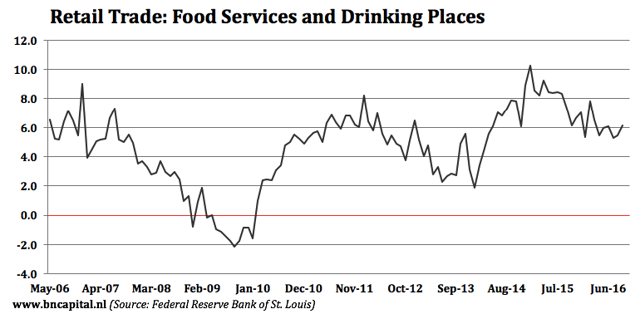 Click to enlarge
Overall, I am not surprised after seeing these numbers. Retail sales stay at low levels after the 2014 slow down. We are witnessing an economic late-cycle stage. If you want to know more about this topic, feel free to read my latest article about a late-cycle stage.
Article: Think Piece - Late Cycle Economic Growth
Thank you for reading my article. Please leave a comment if you have questions or remarks.
Disclosure: I/we have no positions in any stocks mentioned, and no plans to initiate any positions within the next 72 hours.
I wrote this article myself, and it expresses my own opinions. I am not receiving compensation for it (other than from Seeking Alpha). I have no business relationship with any company whose stock is mentioned in this article.