With all of the uncertainties facing the market, the CBOE Volatility Index or VIX has naturally started to climb as the S&P 500 has had a downward trajectory. With the spot VIX rising, the contango in the VIX futures curve has narrowed significantly. And, while technical factors may be weighing on the market today and a short term oversold condition may lead stocks a bit higher, the break of the recent S&P low of 2119 is noteworthy. Unless there is a significant move up above the 2160s, the market is likely to use any near term bounce as an opportunity to sell.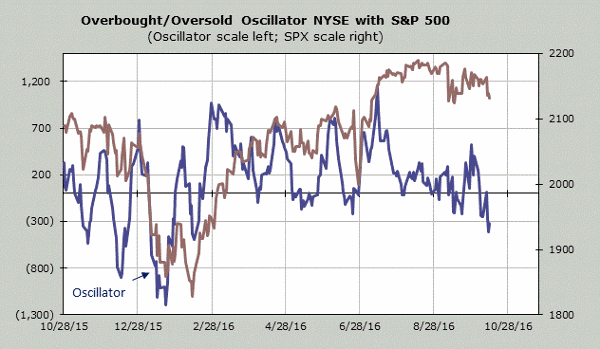 In my recent articles, I have highlighted several factors ranging from the upcoming election to geopolitical risks that could be expected to put upward pressure on the VIX. While I still expect some combination of these to affect the market, there are two factors currently contributing to the rising VIX and the narrowing of VIX futures contango - the VIX put to call ratio and economic data coming out of China.
VIX Put to Call Ratio: Recently, the VIX put to call ratio has declined significantly to a level of 0.2. Ratio levels over the past week have been the lowest since June, just before the Brexit vote. These levels indicate that investors are expecting the VIX to rise over the near term. Given the other macro issues facing the U.S. economy and markets, it would seem this view is well founded, and we can expect further VIX increases over the next several weeks. While there may be some day to day give-backs based on market technicals, the fundamentals are pointing to a higher VIX.
The Chinese Economy: Economic news out of China over the past few days has led to further global growth concerns. Import and export data released yesterday has led many to speculate that the local economy is not picking up as expected and that global demand may be falling. This could lead to weaker than expected GDP in the U.S. as well a further depreciation in the Chinese renminbi. Clouding this picture is inflation data released this morning. While Chinese PPI was up 0.1%, market consensus had predicted a decline of 0.3%. This is the first positive PPI reading in five years, and it was mainly due to rising commodity prices. The positive reading provides comfort to the market that China will not have any debt service issues in the near term. Chinese CPI rose a bit more than expected as well, leading analysts to believe that the People's Bank of China will not be lowering interest rates further.
While Chinese data provides a mixed picture, the put to call ratio coupled with the upcoming U.S. election, a rising U.S. Dollar Index, higher expected interest rates, topping oil prices and stretched equity fundamentals provide a backdrop that is likely favorable towards rising VIX levels and a declining S&P 500 Index. Earnings season will impact stocks, but as earnings are expected to decline by 2.1% for the third quarter, the impact will probably be negative on the whole. Given this combination of data, a long VIX or short S&P 500 strategy remains attractive in the near term. With the VIX futures curve contango narrowing, I continue to highlight long VIX opportunities in VXX, UVXY and TVIX as well as their options and VIX futures. As usual, I strongly advise a full understanding of any of these securities' performance and risk characteristics before implementing an investment strategy.
If you find my articles interesting, informative and useful, please follow me by clicking on the follow button at the top of the article. Thank you.
Disclosure: I am/we are long VIX ETFS.
I wrote this article myself, and it expresses my own opinions. I am not receiving compensation for it (other than from Seeking Alpha). I have no business relationship with any company whose stock is mentioned in this article.