PPL Corporation (NYSE:PPL) is valued attractively as compared to its peers. The sell-off in the stock was overdone and it is now showing positive momentum. The company recently increased earnings guidance for 2016, which is likely to catalyze the stock over the next few months.
PPL looks like a solid income producing investment as a result of the attractive dividend yield of 4.7%. The company's commitment to increasing the dividend by 4% per year through the end of the decade is another reason to be bullish. However, the underlying stock price may lag the market due to long-term headwinds over the next two years and possibly longer.
PPL recently increased earnings guidance for 2016. Previous estimates for full year EPS were $2.25 to $2.45. The company's new range is $2.43 to $2.63. This increase in expected earnings is likely to drive the stock higher before the company provides guidance again, which is likely to be during the next earnings report.
The longer term outlook for the company is a little trickier. The reason for that is due to the headwinds facing the electric utilities industry. Homes and businesses are becoming more energy efficient through the use of ENERGY STAR efficient appliances and from the insulation requirements for new construction. This could reduce the demand for electricity over time.
The electric utilities are also spending significant amounts of money to upgrade power lines and delivery systems. This is due to environmental regulations and for protection from storms, physical attacks, and cyber attacks. The bad news for the electric utilities is that this extra spending leads to high CapEx and negative free cash flow for most companies in the industry (including PPL).
Another headwind for utilities is that interest rates are beginning to rise. It will probably take a few years for interest rates to reach a level to where investors shift money away from utilities and into other yield producing investments (i.e. CDs). However, investors should be aware of this issue.
The good news is that more spending equates to more revenue and earnings. The regulatory system allows the utilities to profit from spending more. For example, state regulators set a profit margin for utilities. The state regulators then set electric rates at levels that generate enough revenue for the utilities to make a profit. While most electric utilities are profitable, most of them also tend to run with negative FCF because they spend so much for CapEx. Personally, I prefer dividend paying companies that generate positive free cash flow. The reason for that is because positive FCF is used for buybacks and dividend payments. Therefore, with negative FCF, PPL has to finance its dividend payments or pay for them through new stock offerings. In those cases, PPL would add to debt or dilute the shares.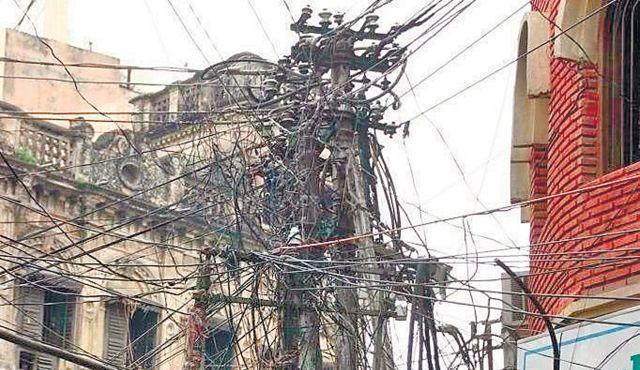 What no electric regulation looks like
Image source: Slashdot.org
Valuation and Conclusion
PPL does have the advantage of being attractively valued as compared to its peers with similar market caps. Here's how the electric utilities stack up:
PPL

PG&E Corp. (NYSE:PCG)

Consolidated

Edison (NYSE:ED)

Xcel Energy

(NYSE:XEL)

Average of PPL's Peers

Forward PE

14.7

16.4

17.7

17.2

17.1

Dividend Yield

4.7%

3.3%

3.7%

3.4%

3.5%
Data Source: 4-traders.com
PPL is trading at a 14% discount to its peers and its yield is 34% higher. So, the company certainly has value for investors. However, investors should be aware that PPL is expected to experience flat revenue growth and a decline in EPS for 2017 (consensus). PPL's peers are expecting growth for the top and bottom lines in 2017. So, investors are willing to pay a premium for the higher expected growth.
Although I think PPL's stock will continue to move higher over the next few months due to the recent increase in earnings guidance, the stock may run out of steam as the company is likely to experience a decline in EPS for 2017. Therefore, investors will have to decide if they are more comfortable with the higher yield that PPL offers, while the stock may lag next year. PPL's peers may have lower yields, but their stocks are more likely to perform better over the next year as earnings grow in 2017.
If you are more comfortable owning a dividend paying company that produces positive FCF, then consider Consolidated Edison. Consolidated Edison is the only utility among these four that runs with positive FCF. The positive FCF puts Consolidated Edison in a better position to do share repurchases to reduce share dilution. The company is less likely to add to debt to pay its dividends.
As long as the regulatory system remains in place and no other unforeseen event changes the fundamentals of the business, then PPL should thrive over the long-term [at least five years into the future]. Since the company is striving for 4% annual dividend increases, PPL income investors will remain happy.
Disclosure: I/we have no positions in any stocks mentioned, and no plans to initiate any positions within the next 72 hours.
I wrote this article myself, and it expresses my own opinions. I am not receiving compensation for it (other than from Seeking Alpha). I have no business relationship with any company whose stock is mentioned in this article.
Additional disclosure: If you like my analysis, click on FOLLOW at the top of the article near my name. That will allow my articles to display on your homepage as they are published. The article is for informational purposes only (not a solicitation to buy or sell stocks). I am not a registered investment advisor. Investors should do their own research or consult a financial advisor to determine what investments are appropriate for their individual situation. This article expresses my opinions and I cannot guarantee that the information/results will be accurate.