Click to enlarge
Ross Stores (NYSE: ROST) is a discount apparel retailer that operates very similarly to its main competitor, TJX Companies (NYSE: TJX). Consider reading my article on TJX here before reading this article comparing the 2 companies.
Ross has a market capitalization of ~$25B making it close to half the size of TJX. They are solely domestic-based, as well. They operate under the brands Ross Stores and dd's DISCOUNTS. Ross Stores targets the middle-class demographic, where the family is willing to spend some time looking for bargains. dd's DISCOUNTS is their smaller brand and tends to carry a lower price point.
The company operates in a similar manner to TJX. They source apparel using buying agents, attempting to get brand-name apparel into their stores as cheaply as possible. They look for trends, and can shift the stores towards new ones quickly. Customer relationships built over time ensure that they are able to keep inventory on the floor, and in their history, they have proven capable of leveraging that to keep their margins elevated and drive customer traffic.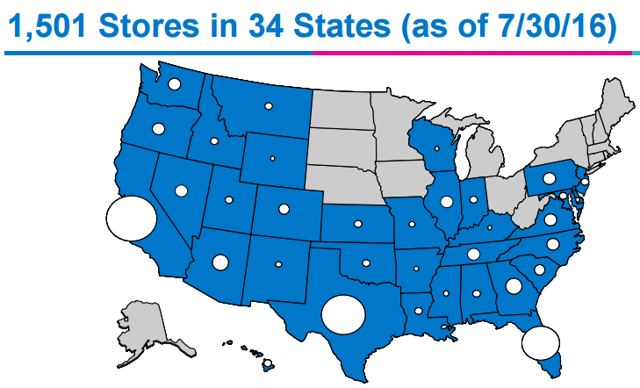 Click to enlarge
Ross is domestically based with a market penetration in 34 states with dd's DISCOUNTS stores in 14. Management believes that they have a long-term potential of 2000 Ross Stores and 500 dd'sDISCOUNTS stores before saturating the market. As of August, there are 1,317 Ross stores and 184 dd's DISCOUNTS across America. That would mean nearly doubling the size of the company. With the growth Ross has shown in the past, I would tend to believe that they are capable of meeting goals like this. These growth goals are in-line with what investors could expect TJX to accomplish long-term, as well.
Same-store sales increased 4% in their most recent quarter and 5% in FY2015. This metric is important as it shows how much foot traffic the company is driving through their stores. Obviously, higher same store sales drives higher revenues and more brand loyalty. This same-store sales increase was exactly the same as what TJX reported, so they are both doing a good job, or possibly that value and discount shopping is trending upwards industry wide.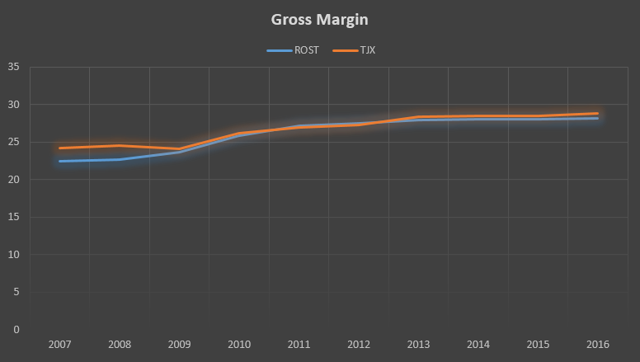 Click to enlarge
Both companies have a gross margin trending upwards over time. This is exactly what a prospective investor wants to see, since increases in revenues and margins simultaneously drives great increases in earnings. They have trended together so closely that nothing can be determined by looking at the 2 side by side.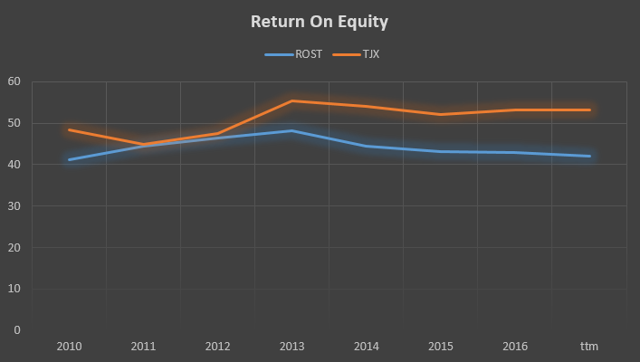 Click to enlarge
Both companies have outstanding and stable returns on equity. TJX has a slight advantage, and with all the other business similarities, this may have to be one of the few deciding factors.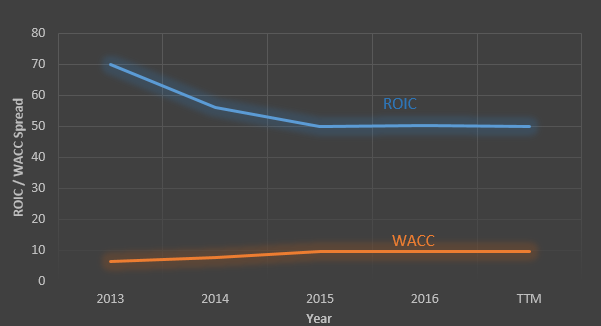 Source: GuruFocus
Although Ross has an excellent ROIC-WACC spread, TJX's ROIC is better as well, trending from 80% down to 60% most recently, compared to Ross trending from 70% down to 50%. This shows value creation over time when expanding, and TJX is creating value more efficiently than Ross.

Source: dripinvesting.org
Ross has increased their dividend for 22 consecutive years, so they are closing in on being a Dividend Aristocrat. However, they will be joining the Aristocrats that don't yield much due to share price appreciation, like C.R. Bard (NYSE: BCR) and Cintas (NYSE: CTAS). At today's prices, they yield a paltry .83%. However, their payout ratio is only 19%, and their growth rates have been outstanding. Based on your investment goals, a high growth, low yielding company with a track record like this should definitely warrant consideration.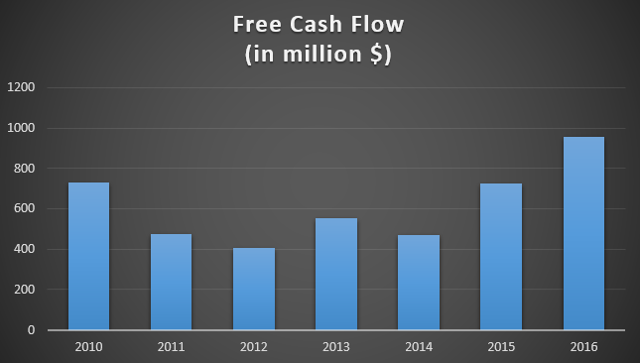 Click to enlarge
Ross has not been adverse to returning capital to shareholders. Their repurchases and dividend payments are supported by increases in operating cash flow, and minimal long-term debt of $396M. I expect that they have room to massively increase the dividend for a long time going forward. One thing I don't like to see in a company using debt to finance share buybacks. It would be even more of an issue for a company like TJX or ROST, companies that most investors would agree are not undervalued. As long as they are driving enough cash flow, though, this should not be an issue.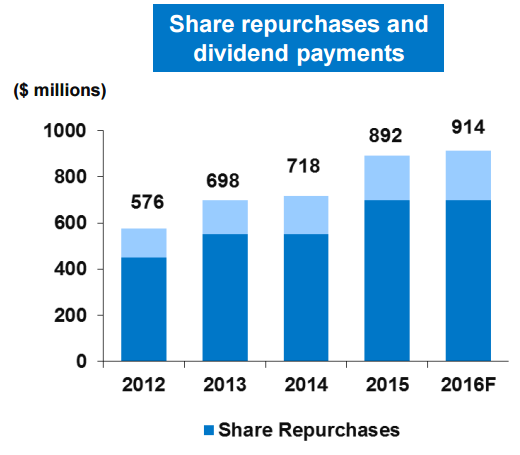 Capex is increasing year after year, as well, considering all of the expansion plans. FCF growth is diluted in both TJX and ROST because of the increasing capex from their growth. Operating cash flow has experienced a healthy increase every year for both companies. ROST plans on using $120M on new stores in 2016 alone, up 13% from 2015.
Valuation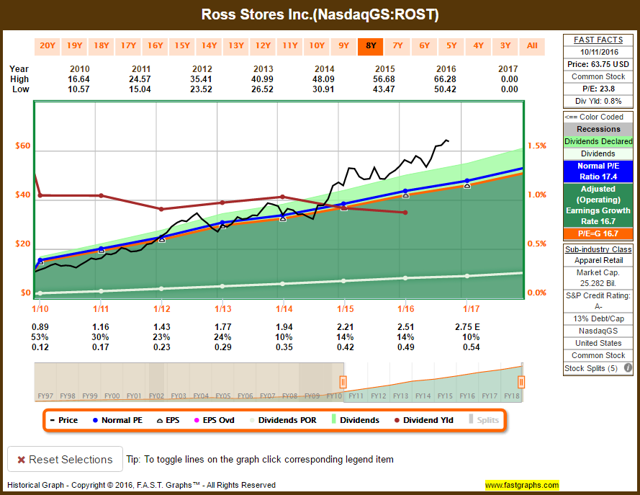 Click to enlarge
Source: FASTGraphs
Ross is, in my opinion, overvalued here. They are growing at a high rate, but their historical P/E ratio is 17.4X through this bull market, and they are trading in the 23X range right now. I would wait for this to return to a lower valuation on a missed quarterly estimate or general market downturn before looking for an entry point. In regards to the comparison with TJX, there are several considerations. They edge out Ross in both ROE and ROIC. TJX also has an international presence allowing for more diverse and lucrative growth opportunities going forward. TJX's push into e-commerce with their Sierra Trading Post acquisition and their two other websites should position them well for the new generations, and their advertisements have become viral, with their Maxxinista campaign being something I knew about without even owning cable. They are both great companies executing well, and both companies showed the resiliency to increase earnings every year through the Great Recession. Additionally, both companies have handily outperformed the S&P 500 (NYSE: SPY) through this last bear market. However, based on all the factors discussed here, I believe TJX is the better investment today.
If you liked this article, and would like to read more like it, please click the "Follow" button next to my picture at the top and select real-time alerts. Thanks for reading.
Elsewhere on Seeking Alpha
Financial statistics were sourced from Morningstar, with the charts and tables created by the author, unless otherwise stated. This article is for informational purposes only and represents the author's own opinions. It is not a formal recommendation to buy or sell any stock. Please do your own due diligence and/or consult a financial professional prior to making investment decisions.
Disclosure: I/we have no positions in any stocks mentioned, and no plans to initiate any positions within the next 72 hours.
I wrote this article myself, and it expresses my own opinions. I am not receiving compensation for it (other than from Seeking Alpha). I have no business relationship with any company whose stock is mentioned in this article.