Travelport Worldwide Ltd. (NYSE:TVPT) is in the business of connecting travel agents with travel providers like airlines and hotels. The company operates a travel commerce platform providing distribution, technology, payment , mobile and other solutions for the travel and tourism industry processing over $82 billion of travel spending annually. The travel commerce platform ("TCP") is sort of an upgraded Global Distribution System ("GDS") that is based on an open platform which enables ancillary content and independent hotels besides traditional airlines and chain hotels offerings. 400 airlines and 650,000 hotels all over the world contribute their capacity and pricing info to Travelport's GDS platform.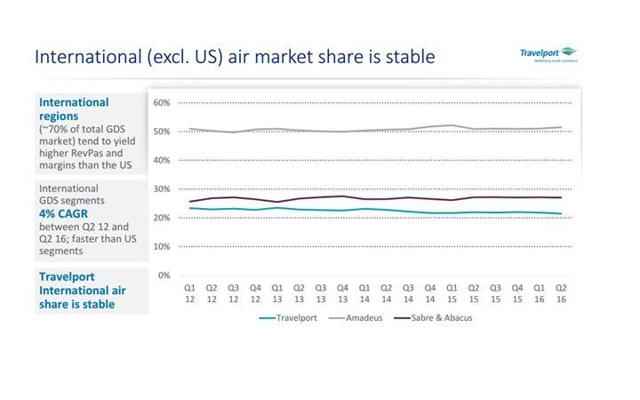 Click to enlarge
Source: September 2016 Investor presentation
Travelport is one of three GDS providers in the industry. With 23% of market share it is the smallest among its competitors, after Amadeus (OTCPK:AMADY) and Sabre (NASDAQ:SABR) with 41% and 36%, respectively. As the chart above shows, market shares are pretty stable.
It is an attractive and stable industry (renewal rates are in the high 90s) with little competition, high switching costs (time consuming and expensive) and high barriers to entry (expensive, new entrants lacking the required scale) so the current providers have the pricing power and high EBITDA margins with low capex requirements.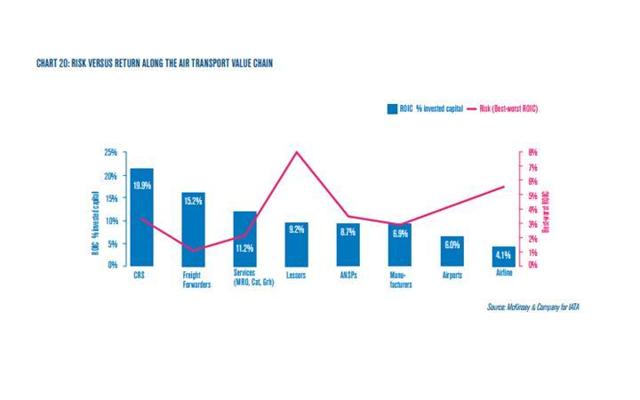 Click to enlargeSource: Profitability and the air transport value chain, IATA 2013
From a risk/reward standpoint, CRSs/GDSs is by far the most attractive business in the air transport value chain. It is "an ineluctable middleman".
GDS competes with direct bookings which are made through airlines' websites. The market is evenly split between those two. Due to the booking fees, GDS is a more costly way to sell tickets for the airlines. The GDS fee is fixed, around $6 per segment. In 2012 it was estimated that $7 billion in GDS fees were paid by airlines, i.e. twice the airlines industry's net earnings. So it would appear airlines have a strong incentive to move from indirect to direct booking. The problem for any airline is that pulling from GDS would mean losing its market share (as well as bulk of its revenue) to another airline that would stay with the GDS. Another issue is that GDS typically offers higher ticket yields compared to the direct bookings, given that most business and first class passengers book through travel agencies instead of airlines. And finally, setting up a "direct connect" service that would bypass the GDS and connect travel agents with airlines proved to be expensive and very difficult. They had some early success in increasing direct booking share of the market, but it has stabilized in recent years.
Even the low-cost carriers like easyJet (OTCQX:ESYJY) and Ryanair (NASDAQ:RYAAY) that initially refused to use GDSs have given up. The reason, high end market - business customers. As they reiterated on several conference calls, higher ticket price more than offset the increased distribution costs (Source1; Source2). GDS fees are here to stay!
Airlines represent 75% of GDS revenue and the rest is split between what is called Beyond Air: hotels, car rentals, cruise lines and tour operators. It is a business that is growing at a faster rate, with 15% CAGR over the last 4 years.
Travelport has a fairly balanced global footprint with the greatest exposure to high growth international regions (71% of TCP/GDS sales in fiscal 2015) among its peers. Besides higher growth prospects, GDS fees on international/away bookings are higher than those in the U.S. In 2015 International RevPas, or GDS revenue per reported segment (unit), was 70% higher than U.S. RevPas - $7.4 vs. $4.34.
Apart from core GDS business, Travelport owns eNett (a part of Beyond Air), a fast growing B2B payment solutions business. Before eNett, travel payments were primarily settled in cash, EFTs, corporate cards etc. thus exposing payers to the risk of fraud and delays as well as costly reconciliations. eNett solved those issues. It creates Virtual Account Numbers ("VAN") used by travel agents and others to make payments to airlines and hotels. Whenever a traveler makes a booking through agency or website, a one-time VAN is created and payment for hotels or airlines is made in secure and timely fashion. It protects against fraud and airline insolvencies and avoids time-consuming, manual reconciliation processes. Other benefits of using eNett: rebates are paid on every transaction and it reduces FX exposure. First mover advantage and a partnership with Mastercard (NYSE:MA) developed strong barriers to entry in this $800 billion TAM. eNett revenue is only about 5% of the total TVPT's revenue but it is growing at an annual rate of 50% meaning that pretty soon this is going to be a sizeable part of the business. Given the operating leverage of eNett's business, margins, which are now in double digits, should only increase.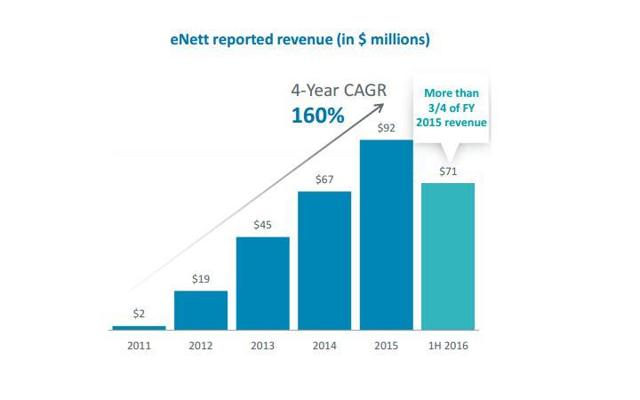 Click to enlarge
Source: September 2016 Investor presentation
Moreover, Travelport also has an IT Service business providing hosting solutions to airlines: pricing, ticketing and others. It accounts for 6% of the total business but its growing at a faster rate than the whole business, although not as fast as eNett.
TVPT became public only recently, in September of 2014. Prior to that it was a Blackstone roll-up. It included 20 brands like Orbitz (NYSE:OWW), Galileo, Worldspan and Apollo. In 2014 Travelport sold its remaining stake in Orbitz which previously agreed to move from Travelport GDS to a multi-sourcing GDS platform. As a result of that move, Travelport lost share in the U.S. It was one-time event which should not happen again due to the fact that now all online travel agencies are on a multi-source model.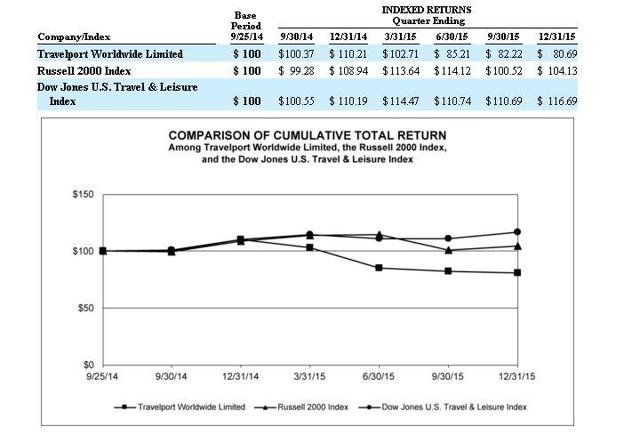 Click to enlarge
Source:10-K
The IPO was a bust and the stock is still trading below the IPO price even though the company is clearly doing better. There are three reasons for that:
The high level of debt is making some investors anxious.
Prior to IPO, Travelport made a debt-to-equity swap which left some typical credit investors with equity ownership that they want to get rid off because it is not their "thing".
Selling Orbitz led to a market share loss which made some investors believe that the trend might continue.
As I mentioned, Travelport has a high level of debt which is the result of LBO and the company is now in the process of deleveraging. Raising close to half a billion dollars in the IPO was part of that process (from $3.8bn in 2011 to $2.4bn now). At this moment net debt/EBITDA is at 4.1x. A further decrease, below 4x, is expected toward the end of the year and the trend should continue in the following years. The company's target is to reduce net leverage to around 3 times adjusted EBITDA by 2018. A lower debt is going to attract the right type of investors.
Valuation

Source: September 2016 Investor presentation; authors calculation
Travelport is trading at 7.5X EV/2015EBITDA versus Sabre trading at 11.2X and Amadeus at 14.4x. Even though Sabre and Amadeus have been growing faster than Travelport and have a different business mix, such a big discount is not justified. For several reasons: firstly, in the last few quarters the growth of Sabre's and Amadeus was largely driven by acquisitions: Sabre acquired Abacus while Amadeus acquired Navitaire. At the same time Travelport sold Orbitz. Secondly, Travelport also has a high growth business - eNett. Due to its small size it still has a minor impact on bottom line growth, but it has a long way to go. Thirdly, core GDS business, though not fast growing is a high margin business and deserves higher multiple.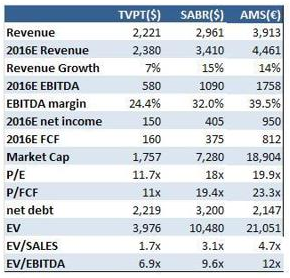 Click to enlarge
Source: Investor presentations and author's calculations
A company that has a strong market position, high margins and high single digit EBITDA growth should be trading at higher multiples than 7.5x EBITDA. Probably somewhere in the 8.5x-10x range.
Given the different kind of businesses and growth prospects, the best way to value Travelport is to use the sum of the part analysis with: a) GDS ( ex-eNett) and b) eNett.
GDS is a stable business growing at 5% driven by the Beyond Air part of the business. Giving 7.5x EBITDA would value this at $4.2bn, thus giving us the fast growing eNett for free.
2021
With 40-50% annual growth eNett is probably going to make $100-$120 million in EBITDA in 5 years. Giving 12x-14x multiple would value this at $1.2bn-$1.7bn in 2021.
In the same year, the core GDS and IT services should make about $715 million in EBITDA. That would value non-eNett businesses at $5.4bn.
Combining those two, in 2021 Travelport should be worth between $6.6bn and $7bn. Till then net debt might decrease by at least $200 million, so the market cap should be between $4.6bn and $5bn. Or. $36 to $40 giving annual return of 26% to 30% over the period, significantly above the expected market returns.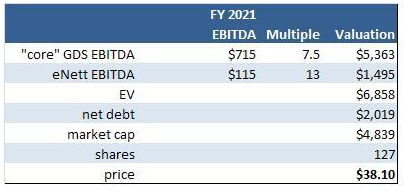 Source: author's calculation
According to the company's guidance, 2020 adjusted FCF should be > $250m. Let's say it would be $300 million in 2021. That would make P/FCF based on the above mentioned market caps lower than where Sabre's is today.
Disclosure: I/we have no positions in any stocks mentioned, and no plans to initiate any positions within the next 72 hours.
I wrote this article myself, and it expresses my own opinions. I am not receiving compensation for it (other than from Seeking Alpha). I have no business relationship with any company whose stock is mentioned in this article.
Editor's Note: This article discusses one or more securities that do not trade on a major U.S. exchange. Please be aware of the risks associated with these stocks.