I launched the Ceviche Fund this past Monday- you can read more about my strategy and initial buys in the prior post, as well as the motivation behind it.
To date, if an investor had invested $100,000 equally distributed in the Vanguard Small Cap ETF (NYSEARCA:VB), Vanguard Information Technology ETF (NYSEARCA:VGT) and iShares Nasdaq Biotechnology ETF (NASDAQ:IBB), their portfolio would be down over 3%. The IBB itself has fallen over 5% since Monday.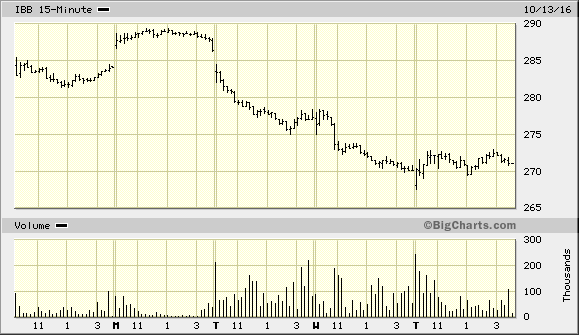 Figure 1: IBB 5 Day Stock Chart (source: bigcharts.com)
If investors had established 5% positions in each of the four Ceviche Fund holdings, they'd be down over 7%. Not exactly something to get excited about, to say the least.
Still, I remain positive long term on each of our four holdings, although short term we could see plenty of pain.

Click to enlarge
Figure 2: Ceviche Fund Snapshot
Thoughts on Current Holdings
Novocure (NASDAQ:NVCR) is trading near 52-week lows, with earnings to be reported on November 2nd. The company now has a market capitalization of $650 million, while targeting a $1 billion opportunity in glioblastoma. Wall Street was clearly disappointed by the 20% decline in Optune prescription growth in the United States last quarter, but several factors could contribute to a turnaround (including an increased sales force and much more convenient second generation device). Additionally, full pivotal data to be presented on November 18th could silence skeptics if mature data confirms interim results. Lastly, data from both phase 2 trials in ovarian and pancreatic cancers is expected by year-end. With several catalysts coming in a rather short time, I believe the company is an intriguing buy for risk-tolerant investors.
FibroGen (NASDAQ:FGEN) - Shares are trading at one-month lows. We should be seeing data from pivotal studies in China for lead candidate roxadustat by year-end, followed by pivotal data from EU/US studies in mid-2017. Also, data from FG-3019 in pancreatic cancer patients should be coming in the first quarter of 2017, a setting where management is seeing clear indications of substantial benefit.
Corcept Therapeutics (NASDAQ:CORT) - Shares are still trading near 52-week highs, as revenue growth continues to impress in the company's core Cushing's syndrome business. Korlym is showing promising signs of efficacy in triple negative breast cancer, and the company's second generation cortisol modulator could expand the treatable patient population in Cushing's syndrome significantly.
Medgenics (NYSEMKT:MDGN) - This one is our dark horse - if it hits it could hit big. If data in adolescent ADHD patients with +mGluR mutations is positive, the company is looking at a $2-billion plus opportunity compared to its current market capitalization of $200 million. The trial has been significantly derisked due to promising results from a prior phase 1b trial, and management is guiding for a data readout toward year end. Also, in early 2017 we should see initial data for MDGN-001 in children with 22q11.2 Deletion Syndrome.
New Buys and Adds
Adding 2.5% to FibroGen position
Adding 2.5% Medgenics position
Establishing 5% position in Idera Pharmaceuticals (NASDAQ:IDRA)
Thesis Summary on Idera Pharmaceuticals
You should see my post on this company in the next day or so, but in a nutshell here it is. Idera Pharmaceuticals is a small biotech with big catalysts coming in later this year. Management recently decided to shelve its lead treatment in order to focus resources on IMO-2125, its immuno-oncology asset being utilized in patients with PD-1 refractory metastatic melanoma. Early results reported at the end of September were promising, indicating that the treatment is capable of potentiating local and systemic tumor regression in cancer patients. Of four patients with cutaneous melanoma, two were partial responders and one experienced a complete response. Data from high dose cohorts is yet to be announced, and management seems bullish on its prospects. They plan on initiating phase 1 trials in other tumor types in the first quarter of 2017. Having recently raised $50 million of cash, the company's $300 million market capitalization seems undervalued in comparison to potential opportunities and fast path to market for IMO-2125.
Future Plans
I will update readers on the Ceviche Fund's performance on a bimonthly or monthly basis as necessary.
Disclosure: I/we have no positions in any stocks mentioned, and no plans to initiate any positions within the next 72 hours.
I wrote this article myself, and it expresses my own opinions. I am not receiving compensation for it (other than from Seeking Alpha). I have no business relationship with any company whose stock is mentioned in this article.