Idera Pharmaceuticals (NASDAQ:IDRA) is a clinical-stage biotech focused on novel nucleic-acid based oncology and rare disease. A look at their pipeline reveals mostly preclinical or early stage drug candidates that have yet to reach value-creating inflection points: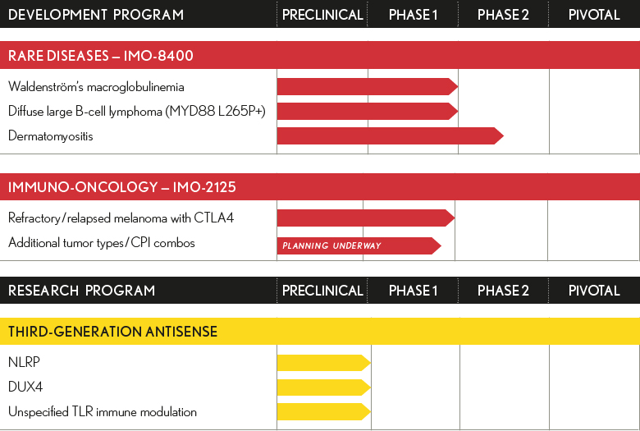 Click to enlarge
Figure 1: Company Pipeline (Source: Idera Pharmaceuticals Website)
Unfortunately, it's been a disappointing year for the company's shareholders, to say the least. In December last year the stock tanked after the company reported positive results for lead program IMO-8400 that apparently weren't promising enough. Since then the stock has been dead money, with signs of strength coming only in the past couple months as the overall biotech market rebounded. This rebound was cut short when management decided to seek additional funds through a secondary offering of 25 million shares (plus 3.75 million for underwriters), pretty hefty dilution for shareholders considering the company's current $270 million market capitalization and $50 million in gross proceeds expected from the offering.
Figure 2: 1 Year Stock Chart (source: bigcharts.com)
Financials
For the second quarter of 2016 the company reported a net loss of $13.5 million, up 6% from the same quarter last year. Revenue was minimal at $0.3 million, while research and development expenses came in at $10.1 million, versus $9 million for the same period last year.
As of June 30th the company's cash balance was $64.1 million, down from the $87.2 million reported at year end 2015. If we factor in the $50 million or so being raised from the secondary offering and assume cash balance burn for the third quarter of $14 million, the company should have around $100 million in cash and equivalents. With a $270 million market capitalization, the market is apparently valuing the company at merely $170 million if cash is backed out!
Going Forward
Management (wisely) decided to "explore strategic options" for lead candidate IMO-8400 in B-cell lymphoma. I did not appreciate them burying that tidbit in a press release touting promising data for IMO-2125. Still, I believe management is making the right decision on focusing their cash and resources where they are most likely to benefit shareholders, as interim results reported at year end 2015 in patients with relapsed or refractory Waldenstrom's Macroglobulinemia didn't show enough activity to warrant continued development in my opinion. In the highest dose cohort of 6 patients there were 3 responses and 2 patients with stable disease- as the maximum tolerated dose (NYSE:MTD) hasn't been reached, potentially the drug candidate is worth exploring at higher doses. If possible, management might be able to outlicense the program or strike a partnership so that they can benefit from any future upside.
At the end of September Idera reported promising data for its ongoing phase 1/2 dose-escalation trial in patients with PD-1 refractory metastatic melanoma- the trial is evaluating intratumorally injected IMO-2125 in combination with ipilimumab in patients who failed prior PD-1 therapy.
Idera's CEO Vincent Milano was clearly excited, saying management was "energized by the results" which confirmed their hypothesis from preclinical studies that IMO-2125 is capable of potentiating local and systemic tumor regression in cancer patients.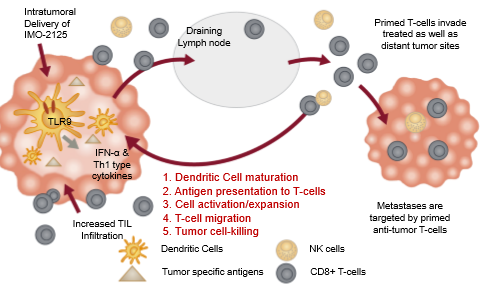 Figure 3: Immune Activation in Local Tumor Leads to Systemic Effect (source: corporate presentation)
10 patients were enrolled in three cohorts receiving different dosages (4 mg, 8 mg, and 16 mg), and IMO-2125 was well tolerated at all three levels with no dose limiting toxicities to date. As of September 19th, six patients from the first two cohorts were evaluable- of the four patients with cutaneous melanoma, two were partial responders and one experienced a complete response. In mucosal melanoma progressive disease was seen in two patients.
In my estimation, this is a high degree of activity and I eagerly await data from the 16mg cohort and the 32 mg cohort, which is currently enrolling patients. After investigators identify a recommended dosage for the phase 2 portion of the trial, 60 patients will be enrolled and assessed.
I would be remiss to not briefly touch on the company's 3GA (third generation antisense) platform, for which the company identified NLRP3 (NOD-like receptor family, pyrin domain containing protein 3) and DUX4 (Double Homeobox 4) as initial gene targets for which they are preparing for an eventual IND next year. While very early stage, this promising technology represents the company's future, and could be initially used to target interstitial cystitis, lupus nephritis, and other diseases. Late last year the company signed a collaboration and license agreement with GlaxoSmithKline involving its 3GA technology for undisclosed renal targets. Idera received $2.5 million upfront and could receive up to $100 million in milestones, not to mention royalties on approved products. I expect future collaboration deals involving other disease targets with big pharmaceutical companies, as momentum in the gene therapy field continues to advance and garner interest in the coming years.
Thesis and Conclusion
At the current valuation I consider shares of the company to be a high conviction speculative buy.
Management's recent reprioritization of IMO-2125 reflects their bullishness on its prospects in combination with PD-1 therapy. Per the company's phase 1/2 update presentation on their website, PD-1 refractory melanoma represents a fast to market opportunity for the drug candidate, with thirteen thousand addressable patients. Additional data should be presented in November and year end, with safety and efficacy information for all 4 cohorts. This data will be the basis for meetings with the FDA and EMA to discuss the path forward for the treatment. The company's strategy is interesting, as this first study serves as their proof of concept and management plans on initiating phase 1 studies in additional tumor types in the first quarter of 2017.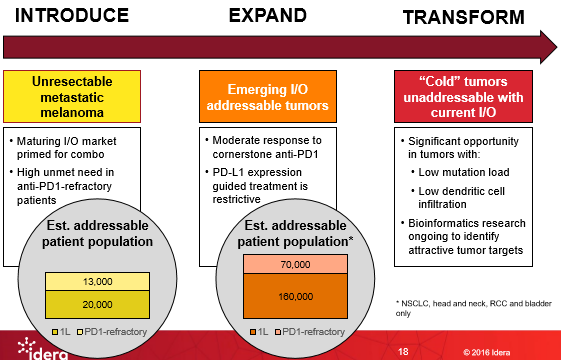 Figure 4: IMO-2125 Development Strategy and Expansion (source: corporate presentation)
Additionally, the company should benefit over the next couple years from additional licensing deals with its 3GA platform in several disease indications.
The current $170 million valuation (if cash is backed out) fails in comparison to the market opportunity in PD-1 refractory metastatic melanoma. Upside is greatly increased if investors decide to take into account the potential of IMO-2125 in other tumor types as per management's expansion plans. As we receive more data and several expansion studies are initiated in 2017, I expect Wall Street to start to take notice.
Risk is increased here, as is upside. Investing in the company is basically a binary bet on its lead treatment, albeit one that is derisked as data presented last month was promising. With $100 million of cash and assuming a cash burn of $10 million to $15 million per quarter, the company has a runway to mid to late 2018. However, I expect the company to seek funds via collaboration or secondary offering by mid year 2017 in order to provide continued support to additional studies for its promising lead treatment.
Disclosure: I/we have no positions in any stocks mentioned, and no plans to initiate any positions within the next 72 hours.
I wrote this article myself, and it expresses my own opinions. I am not receiving compensation for it (other than from Seeking Alpha). I have no business relationship with any company whose stock is mentioned in this article.
Additional disclosure: thanks!