In my previous article on BlackBerry (NASDAQ: BBRY), I had contended that,
"BlackBerry (NASDAQ: BBRY) bulls are aiming to break out of the 3½-year contracting range, and this time, with a little support from the broader market, they might be able to achieve that. A close below $7.50 would mark the first risk to this breakout."
As we have seen yesterday, BlackBerry ended the session 1.71% lower at $7.47. Compared with the September closing of $7.98, the stock has lost more than 6 percent. The bulls have clearly frittered away the advantage that they had at the beginning of this month, and the stock is now trading amid fears of a fresh breakdown.
The bearishness in the stock price can also be partly attributed to the weakness in the broader stock market.
Take a look at BlackBerry's weekly price chart below.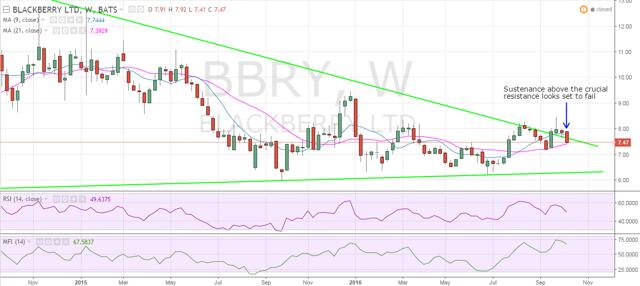 Click to enlarge
Source: TradingView
Evidently, BBRY has failed to sustain above the multi-year resistance trendline, and is now supported by the 21-week SMA of $7.39.
So, what should be the strategy going forward? Should one buy or sell? There are several mixed signals here:
The 14-week RSI value of 49.6375 signifies lack of strength.
The 14-week MFI value of 67.5837 suggests that all is still not lost for BBRY.
While the failed breakout represents weak buying force, the 21-week SMA can bring in the much-needed cushion.
Now, let us move to what the daily BBRY price chart can tell us. Since the beginning of 2016, the region of $8.20-$8.30 has acted as the supply zone.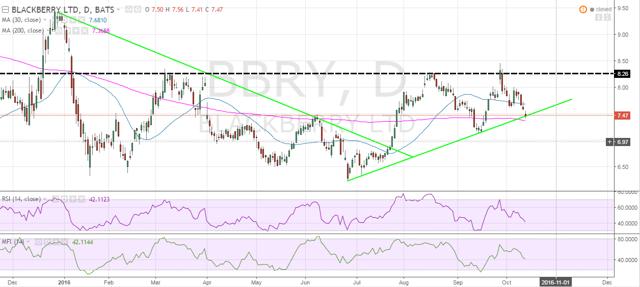 Click to enlarge
Source: TradingView
No matter how many analyst upgrades are seen, or price targets are raised, or how many shares Prem Watsa buys, the pressure is simply overwhelming for the stock.
But, something positive happened, technically, near June's end. The stock embarked on an upward journey and tested the same resistance twice. However, the optimism is at huge risk now, and therefore, I believe that the stock should have broken out earlier.
The stock has dropped to the upward-sloping support and hit a low of $7.41 yesterday, briefly violating this trend. The 200-day SMA of $7.37 is a strong technical level which attracts buying interest. If the support line and the 200-day SMA are breached, a lot of stop-losses will probably be triggered and the stock may witness renewed selling pressure. If the bulls can indeed muster up courage to turn around this grave situation in their favor, then we may see some short-covering aid as well.
As per the last reported short interest data, BlackBerry has 57.26 million shares shorted. A small reduction of 0.1 percent or 80,731 shares was noted. However, the position outstanding is still 11 percent of the float.
On a positively surprising note, the Q3 and Q4 earnings estimates are getting revised higher. In the last 4 weeks alone, the Q3 earnings estimates have jumped from a loss of $0.05 per share to $0.00 per share. The entire range of analysts' EPS estimates has shifted considerably higher for Q3, which will be announced on 16th December 2016.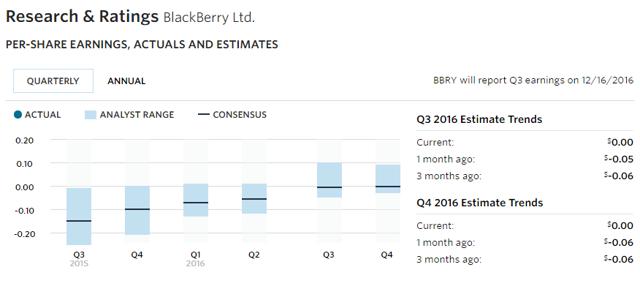 Click to enlarge
The longer-term earnings estimates are also positive. While for FY 2017, the EPS estimate is that of $0.01 per share, the same for FY 2018 is significantly higher at $0.08 per share.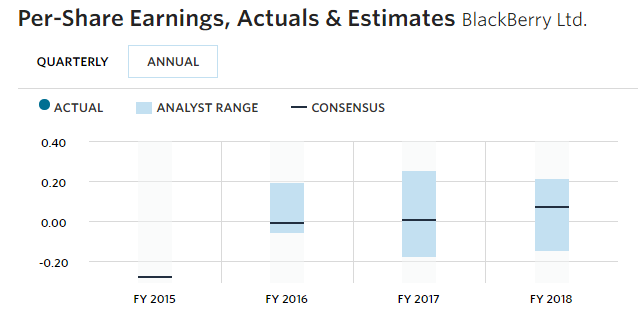 Source: WSJ
On another note, BlackBerry is making a comeback with keyboard handset devices. Investopedia quotes Alex Thurber, senior vice president for global devices as saying that there will be a "keyboard-based BlackBerry device, designed and distributed within the next six months." I am guessing it will be a couple of days before the Q4 results on 31st March 2017.
Thurber, in an interview with BBC, reportedly said,
A smartphone with a built in keyboard sets Blackberry devices apart from the likes of Apple Inc. and Samsung Electronics.

I think there's a demand for keyboard phones. As we've been showing mockups of what we've been working on, to our carrier and distributor partners, they are very excited about this.
As we know, BlackBerry has not entirely quit hardware but has just outsourced all the internal development.
Conclusion
Technically, BlackBerry is in a weak spot. Nothing seems to be lifting the stock: Upgrades, upward revision of price targets and earnings estimates, announcement of a new device, or Prem Watsa buying loads of shares.
The volatile broader market is also contributing to the strength of the bears. The onus is on the bulls now to pull it altogether, or risk having big losses. The 200-day SMA is the last strong technical support for the stock, and if it is breached today, then I expect bears to go even more aggressive than they already are.
Disclosure: I/we have no positions in any stocks mentioned, and no plans to initiate any positions within the next 72 hours.
I wrote this article myself, and it expresses my own opinions. I am not receiving compensation for it (other than from Seeking Alpha). I have no business relationship with any company whose stock is mentioned in this article.