MannKind (NASDAQ:MNKD) hit a bit of a milestone this week by getting script sales above the 300 mark for the first time since the re-launch of Afrezza stated back in July. Afrezza closed out Q2 with script sales of 266, and over the last 14 weeks has seen the number grow to the 305 we have for the first week in Q4. Essentially the sales growth has averaged 2.79 added scripts per week. There is some positive signs in new scripts, which have gone from 107 to 152, but that is offset in refills dropping from 159 to 153. Essentially the flatness of the overall sales trajectory remains a major concern.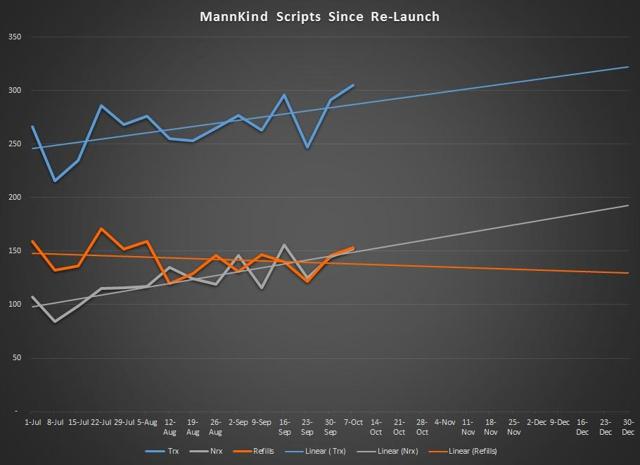 Click to enlarge
Chart Source - Spencer Osborne
On a quarter over quarter basis we have the first time in a long time where the current quarter is pacing ahead of the previous. The first week in Q4 of 2016 is pacing 41% ahead of what was delivered in the first week of Q3. It has been almost a year since that dynamic existed. While that news is positive, the fact remains that sales are progressing slower than what is needed to deliver equity appreciation or to allow the street to have any real confidence in the prospects of Afrezza.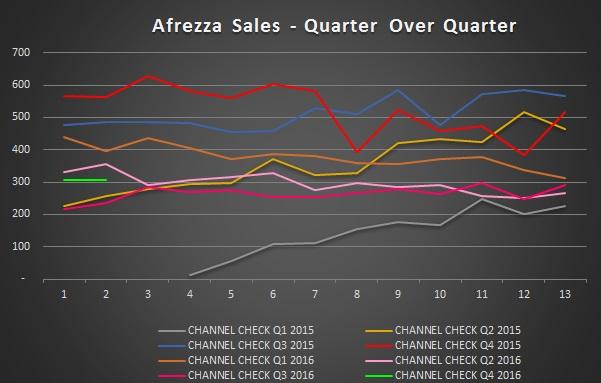 Chart Source - Spencer Osborne
On a year over year basis the data are still challenging for Afrezza. Sales in Q4 of 2016 are pacing 46% behind what was delivered in Q4 of 2015. It is not likely that MannKind can enjoy positive year over year sales metrics until sometime in 2017. On a positive note, the year over year chart does show that sales have been above the trend line for several weeks in a row. The biggest question now is whether the pace can increase quickly enough to satisfy the street.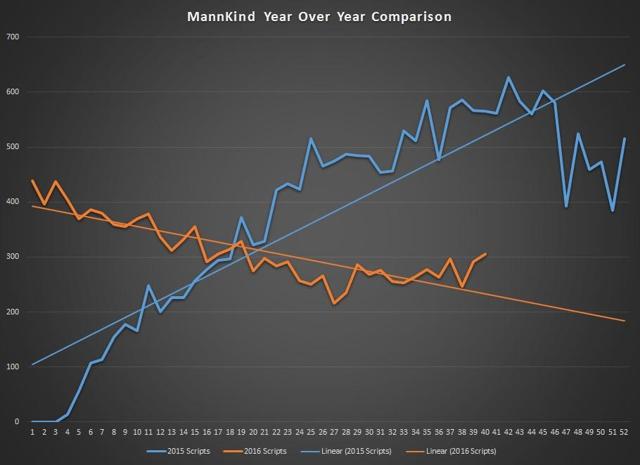 Click to enlarge
Chart Source - Spencer Osborne
Projections for Afrezza sales and cash are what the street is watching at this stage. Prior to the re-launch I had laid out a range of sales that I felt was realistic. My projections were not designed to determine whether the sales levels were good or bad, but rather simply an assessment of what I felt would be realistic. I have always been careful to state that even if my projections were met, that sales would be well shy of what would be considered bullish. At this stage aggregate sales since the re-launch are at 3,999 scripts. My low projection had an aggregate of 3,922 scripts, which is 77 scripts lower than the actual. My middle projection had an aggregate of 4,179 scripts, which is 178 scripts higher than actual. My high projection had the aggregate at 4,475 script, which is 476 scripts higher than actual. Over the past few weeks actual sales have drifted from being closest to my middle model to be closer to my lower model. What is troubling about that is the fact that my lowest model carried very modest growth. If Afrezza sales do not shift quickly, the sales in Q4 will be very troubling to many readers which are expecting weekly sales of 3,000 scripts by the end of the year. Putting this in perspective, scripts need to increase 10 fold in the next 12 weeks to meet some of the bullish expectations of several readers.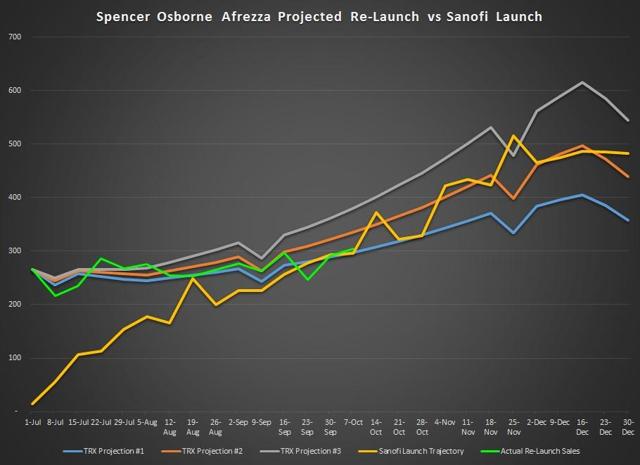 Click to enlarge
Chart Source - Spencer Osborne
From a cash perspective, time and money are running low. By my estimation MannKind has about $30 million left. With cash burn of $10 million per month, and revenue that is very modest, the time frame in which the company can act is dwindling quickly. MannKind has a modest credit line that it can use to satisfy certain debt holders, but the cash situation remains desperate. Some readers feel that a milestone payment from Receptor Life Sciences could by some time, but realistically speaking, such a payment may buy the company a few weeks rather than a few months.
On the speculation front, it appears that Receptor Life Science may want to use the MannKind inhaler device to deliver accurate doses of medical and recreational marijuana. This speculation rose from what was apparently a hacked page from Receptor life sciences. The page that made the rounds may or may not be accurate. I do not care to debate that topic. What it did do was serve to fuel discussion about the Receptor Life Sciences deal. Medical marijuana has its own set of debates. Recreational use has even more debate. What I find compelling is that MannKind cut a deal giving exclusive use to Receptor Life Sciences for a class of drugs and received no upfront payment for it. Milestones are only at about $100 million and we have no detail on what triggers them. Let's assume for a moment that Receptor Life Science does want to be in the marijuana business and that it will be a $400 billion dollar enterprise in the next 10 years. It would seem to me that MannKind gave up an awful lot for very little in return.
The last issue to cover is the NASDAQ listing. MannKind stock remains below $1. Gaining compliance again will not be easy. The stock needs to get above $1 for 10 consecutive days and the company must be in compliance with other issues as well. In concept the company has 180 days to gain compliance. In reality, there are only 123 trading days in that window. Thus far, 22 of those trading days are now gone. Essentially we now have 101 trading days to be above $1 for 10 consecutive days and get the other non-compliance issues resolved. In my opinion this company will seek approval for a reverse split in the very near term, and will likely be compelled to gain compliance in exchange for a high interest or expensive cash infusion. It will take some very compelling news to shift the dynamics in favor of current investors.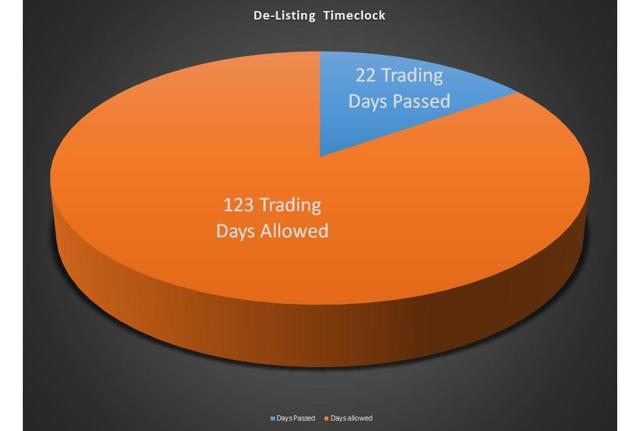 Click to enlarge
Chart Source - Spencer Osborne
The bottom line is that we have not yet seen the bottom on this stock and it remains highly speculative. Some were calling it a buy three weeks ago at $0.69, but now it trades at about $0.50. Until script sales increase and the cash situation is resolved, this equity is susceptible to more downward pressure. Stay Tuned!
Disclosure: I/we have no positions in any stocks mentioned, and no plans to initiate any positions within the next 72 hours.
I wrote this article myself, and it expresses my own opinions. I am not receiving compensation for it (other than from Seeking Alpha). I have no business relationship with any company whose stock is mentioned in this article.
Editor's Note: This article covers one or more stocks trading at less than $1 per share and/or with less than a $100 million market cap. Please be aware of the risks associated with these stocks.