DRAM chip spot prices haven't soared like they've been soaring since the SK Hynix (OTC:HXSCF) Wuxi, China, DRAM fab fire in 2013. And yet very few sell-side analysts are writing about this. One who does is Mark Newman of Bernstein. But even his frequent reports can't keep up with this surge as his graph from September 30 shows: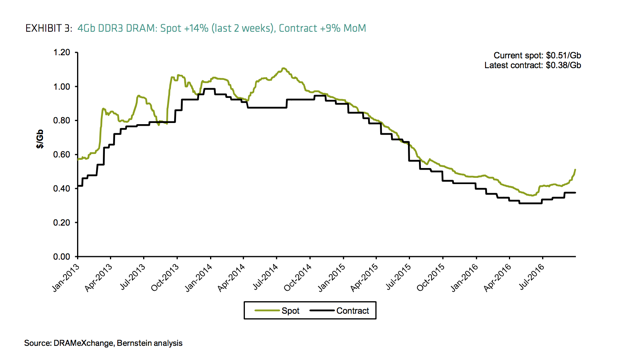 Click to enlarge Take a look at the note in the upper right corner that points out the spot price per Gb on the September 30 report date was $0.51 per Gb. Now look at last night's DRAMeXchange listing: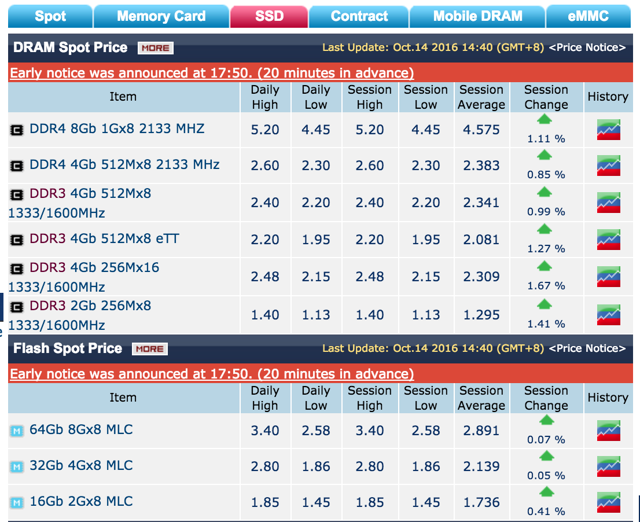 Click to enlarge
One can see that the third chip in the chart, the one Newman is referencing, has a session average on October 14th of $2.341. Divide by four to get the price per Gb that Newman has graphed and you get $0.585 up nicely from the $0.51 in the graph in just two weeks.
I was curious how DRAM spot has compared to the Micron Technology (NASDAQ:MU) stock price and so I graphed it: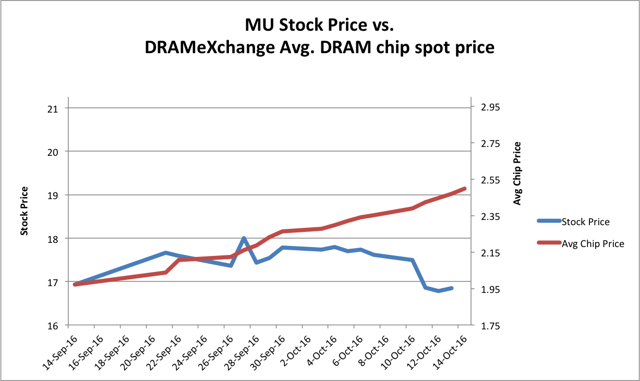 Click to enlarge
As the first part of the graph shows the stock price usually is in the rough gravitational pull of the DRAM spot market price. But lately the two have been diverging which makes me think Micron stock may be in for a nice rally.
And finally, one more bit of analysis. How have spot prices fared since Micron announced earnings on October 4?
Spot Prices per DRAMeXchange
4-Oct
14-Oct
Change
DDR4 8Gb 2133Mhz
4.375
4.575
4.6%
DDR4 4Gb 2133 Mhz
2.207
2.383
8.0%
DDR3 4Gb 1333 Mhz
2.126
2.341
10.1%
DDR3 4Gb eTT
1.913
2.081
8.8%
DDR3 4Gb 1333 Mhz
2.003
2.309
15.3%
DDR3 2Gb 1333 Mhz
1.156
1.295
12.0%
Average
2.297
2.497
8.7%
So Ernie Maddock's (Micron CFO) tepid guidance for the quarter we are in hadn't benefited from a further 8.7% price surge on the 60% of Micron's revenue that DRAM represents. Hmmmm, interesting...
OK so what does all this spot market stuff mean? As the first graph illustrates, spot and contract pricing usually follow one another closely. But now, as the Bernstein September 30 report states, spot is 36% higher than contract pricing. Unfortunately, the non-transparent Micron hasn't told us much about how long its contract pricing is or how much of its business is done on a spot basis. Once in an investor presentation a long while ago, it stated that less than 10% of its business was spot and that contract duration was usually about two months.
One great thing about the surging spot price is that it should allow Micron to sell some of its swollen inventory at nice prices. Inventory at 6/2/2016 was $2.9 billion up from $2.3 billion at the prior fiscal year end. And of course, we don't have the 4Q number yet for the year just finished.
There are some excellent comments on spot vs. contract in the comments to many of these articles. Here's one by Elisha Memory Ventures:
Microns DRAM is not all contract pricing

Contracts are not as set in stone as you think

If price drops, Apple/Lenovo is not going to pay contract price established six months ago.

When price goes up, Apple/Lenovo is not going to say "oh well, let's pay more"...

end result: Prices for Micron do not match the wild changes of DRAMeXchange. They are directionally correct but dampened.

Micron has documented what their revenue will be. You will see prices end of next quarter. First glance says that they are predicting 10% price increase. Seems about right to me.
In a normal market, I tend to agree. But this is a very abnormal market with prices up 8.7% in the past two weeks alone and about 30% in the past month. Gee, even Ernie and Mark Durcan (Micron CEO) mentioned the "A" word (allocation) on the last earnings call. I think we are seeing some very unusual pricing and that may lead to unusual customer behavior like the 2014 advance customer deposit of $248 million, which Micron carried recently on its books for almost two years.
Conclusion. I made a lot of money on the Wuxi-fueled DRAM surge. In that case, there were periods of disbelief and denial after denial from Hynix. But the contract pricing marched up along with the spot price. And Micron's share price marched up with the spot and contract prices. I believe my third graph, on DRAM spot vs Micron share price, is a great indicator of an interesting entry point. Good luck to all!
Disclosure: I am/we are long MU.
I wrote this article myself, and it expresses my own opinions. I am not receiving compensation for it (other than from Seeking Alpha). I have no business relationship with any company whose stock is mentioned in this article.
Editor's Note: This article discusses one or more securities that do not trade on a major U.S. exchange. Please be aware of the risks associated with these stocks.