First Majestic Silver: Time to Buy?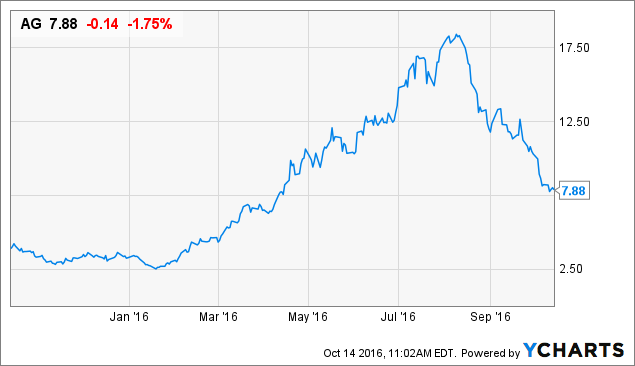 First Majestic Silver (NYSE:AG) just recently announced its third-quarter 2016 production results from its six operating silver mines in Mexico, and I think investors should be quite pleased with these results. I'll break down the company's production results, before discussing whether or not I think shares look like a buy at current levels.
First Majestic says total silver equivalent production reached a new record of 4.5 million ounces in Q3, consisting of 3.1 million silver ounces, 14,452 gold ounces, 8 million lead ounces, and 1.5 million pounds of zinc. This is a significant increase (27%) year-over-year from the 3.55 million SEOs produced in Q3 2015. The strong production was attributed to higher silver grades (150 g/t compared to 148 g/t last quarter) throughput rates and recoveries (77% compared to 72% year-over-year). The company says it processed 5% more tonnes of total ore in Q3 compared to the previous quarter.
So, which mines were the top performers? Well, the Santa Elena gold-silver mine continues to exceed expectations in my opinion. Remember, First Majestic acquired this mine when it bought out SilverCrest Mines back in July of 2015, in a deal valued at $154 million. Santa Elena produced 1.43 million SEOs in the quarter, from 671,423 silver ounces and 11,156 gold ounces. That represents an 11% increase in silver production from last quarter.
The steady gold production is also good news for Sandstorm Gold (NYSEMKT:SAND), which owns the right to purchase 20% of the life-of-mine gold produced at the mine at $357 per ounce. So Sandstorm is set to earn approximately $2 - $2.2 million in cash flow from this stream in Q3 based on average gold prices.
First Majestic also reported real strong production from its La Encantada silver mine, as silver production reached 685,478 ounces, a 10% increase over last quarter. The San Martin mine produced 500,441 ounces of silver (22% increase from last quarter), due to higher silver grades (246 g/t) and strong recoveries (84%). Finally, the La Guitarra silver mine added 397,627 silver equivalent ounces, with silver production increasing 28% compared to the previous quarter, due to an 11% increase in silver grades and a 12% increase in tonnes milled.
This was an excellent quarter production wise from First Majestic. The company previously revised its annual guidance downward a bit, so it's nice to see that production was in fact strong in Q3. The company also re-iterated that it has expanded its exploration program to include 19 total drill rigs, and expects updated reserve and resource estimates for three of its silver mines in Q1 2017. The company is spending $19 million on exploration this year.
Yet, shares have not moved much on the news and currently trade at $7.87 per share, down close to 2% today. The stock has sold off huge over the past few months, as it once traded over $18 per share.
I am no stranger to this company, as I previously listed First Majestic as my #4 overall silver stock to own for 2016, when the stock traded at $3.27 per share. It has been a rollercoaster ride, with shares topping out at over $18, before crashing down to current levels.
However, readers who listened to my advice back in August would be quite happy right now - as I mentioned in that article:
"I still think investors sitting on big gains should use common sense and lock in some profits here. I just can't get behind the stock given its meteoric rise and current valuation...with shares now trading over $18, it's another great time to sell some shares."
So, is now a good time to buy shares of First Majestic? If you like the company, it's certainly not a bad time in my opinion, given the recent pullback in the stock and the strong quarterly production results. I think this is still the best silver growth stock on the market, as First Majestic has a plan in place to increase annual production to over 20 million SEOs in 3-5 years, while keeping its all-in sustaining costs down.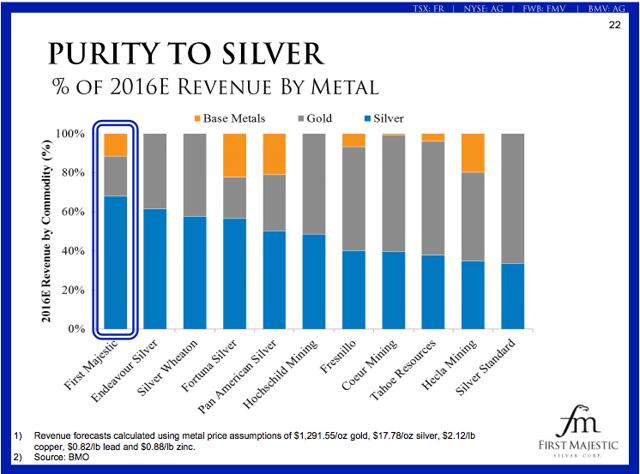 Click to enlarge
(Credit: First Majestic corporate presentation)
And, the stock continues to give investors big leverage to silver prices. For example, with silver at $22 and gold at $1,450, the company estimates it would produce $180 million in EBITDA for 2016. If you look at the share price this year, the stock was up over 400% at one point, compared to a gain of just 30% in the price of silver (NYSEARCA:SLV). Year-to-date, the stock is up 140%, compared to a 110% gain in the benchmark silver miners index (NYSEARCA:SIL) and a 25.28% gain in silver prices. The company produces more silver than some of its peers, including Endeavor Silver (NYSE:EXK), Silver Wheaton (NYSE:SLW) and Fortuna Silver (NYSE:FSM), as you can see in the above chart.
The bottom line: First Majestic continues to execute and the stock gives investors big leverage to silver prices. I think it's a pretty decent time to buy shares, but I expect the wild ride to continue as this is a highly volatile stock.
As a reminder, the company will release third-quarter 2016 financial results on November 21. Stay tuned for earnings analysis.
Disclosure: I am/we are long SAND, SLW.
I wrote this article myself, and it expresses my own opinions. I am not receiving compensation for it (other than from Seeking Alpha). I have no business relationship with any company whose stock is mentioned in this article.
Additional disclosure: I may buy AG at some point in the next 2 weeks.