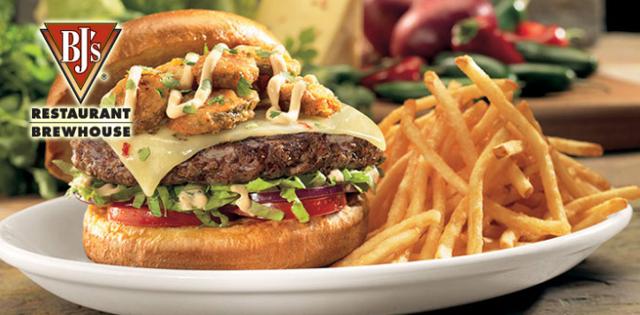 Click to enlarge
BJ's Restaurants (NASDAQ:BJRI) has been absolutely pummeled over the past few months. The stock has fallen from its highs at $56 to just $34 heading into next week's Q3 earnings report. So far this year, BJRI has failed to provide investors with the growth they are seeking, and thus, shares have been taken to the woodshed. But how far is too far? Does BJRI represent value at this point or is Q3 setup to fuel another leg down in the stock?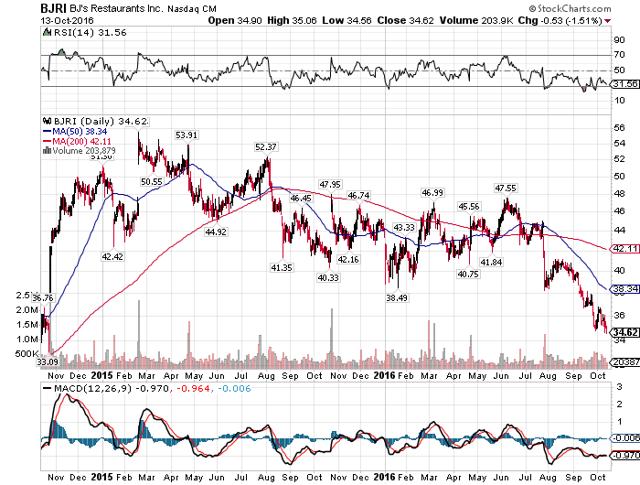 Click to enlarge
Estimates have continued to come down for BJRI this year as its Q2 report was pretty rough. The chain continues to grow the top line at a respectable rate - slated for 4.5% in Q3 - but comp sales have disappointed. That number was actually negative in Q2, and if BJRI is to get the stock back on track, it needs a positive Q3 comp number. But given protracted weakness in the dining space this year, it seems the battle is uphill for BJRI to achieve that. New menu initiatives to drive traffic have been introduced, including the Brewhouse Special and the Loaded Burger promotion, so it will be interesting to see if they drove some interest from consumers in Q3. If they did, the stock is probably cheap here. If they didn't, well, you know the rest.
While BJRI's revenue growth is in doubt, its margins are actually quite nice. Unit level margins are over 20% - very strong for a restaurant - although they were under pressure in Q2. BJRI has been working on efficiency initiatives to leverage its fixed costs and the results so far have been mixed. We saw some leverage on occupancy costs as new stores begin to ramp up and become more productive, but we also know labor is going to be more expensive this year. Margins will certainly be in focus for the Q3 report because with moderate revenue growth, BJRI needs the increased profitability to boost EPS.
BJRI has about 180 stores today and reckons it has capacity for 425 over the long term, meaning that it has a potentially very long runway for additional growth. That sounds great except that we've already seen negative comp sales with less than half the projected total of stores, and assuming BJRI is going after the best locations first, what does that say about the long-term future of the business? This is another reason why comp sales are critical and the Q3 read is likely to determine the direction of the stock.
BJRI has an enormous buyback authorization that was increased during Q2 and now totals roughly 15% of the float. The problem is that BJRI didn't buy any shares in Q2 - a curious move - so the Q3 buyback number will be of the utmost importance. After all, a buyback authorization only matters if you actually go and buy stock. With the share price depressed, I expect management was out in force buying shares, and if they did, that will certainly help EPS growth. If they didn't, I'll wonder what the point of the authorization is if YTD lows aren't good enough conditions to actually repurchase stock.
The good news for longs heading into the report is that the massive downtrend the stock is in has created a bit of a value situation. Estimates have come way down in the past few months so expectations are low, and at 18.7 times earnings, the stock is pretty cheap. Whether it gets even cheaper will depend largely upon Q3's comp sales read, but for now, it certainly seems BJRI looks reasonable for a long here heading into earnings.
With strong margins and a huge buyback that hopefully was taken advantage of in Q3, BJRI looks pretty reasonably valued. The chart is very ugly, but we also see the stock trading near long-term support so to my eye, the balance of risk is in favor of the bulls. If the report is weak, I think downside is pretty limited. But if BJRI's new menu items drove traffic increases, the runway higher is substantial.
Disclosure: I/we have no positions in any stocks mentioned, but may initiate a long position in BJRI over the next 72 hours.
I wrote this article myself, and it expresses my own opinions. I am not receiving compensation for it (other than from Seeking Alpha). I have no business relationship with any company whose stock is mentioned in this article.