The market has battered Disney (NYSE:DIS) over the past year as it has dropped from its high of $120 circa December 2015 to its present day value of $90. While I understand investors' apprehension towards the Media Networks segment, and more specifically ESPN, I don't simply don't agree with the way this stock has been treated as a whole.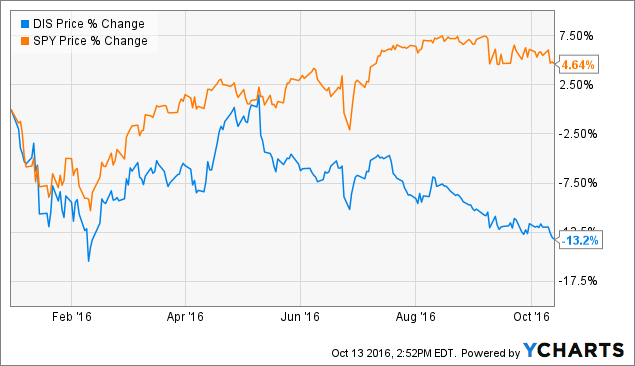 When I see an S&P 500 constituent like Disney (which I believe to be a strong and diverse company with good management) performing so poorly against its peers, it piques my interest. What are the primary headwinds pressuring this ticker downwards? Are these issues long term or short term? What is a best and worst case scenario?
I think an individual look at each of its operating segments can help us get a picture of exactly what is happening here.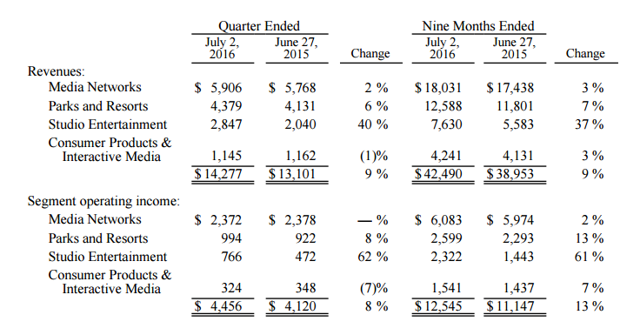 Click to enlargeSource: Disney Q3 Earnings Release
Media Networks Segment
The Media Networks revenues for Q3 increased 2% to $5.9 billion while operating income decreased $6 million to $2.4 billion. This was partially driven by increases in ESPN affiliate and advertising revenue growth, which was slowed by a decline in subscribers.
Additionally, Braodcasting revenues increased 5% to $1.7 billion while operating income decreased 6% to $282 million. This decrease was due to lower network advertising revenues and higher equity losses from Hulu.
The primary headwind to the Media Networks segment seems to be the frequently talked about ESPN subscriber shrinkage. Frankly, I just don't think that this will be a monumental issue down the line. Disney is doing a handful of things to combat the cord cutting that is adversely impacting cable networks.
During the Goldman Sachs Annual Conference, Bob Iger stressed the numerous methods that Disney is using to hedge against shrinking network subscribers:
Creating complementary services to target niche or specific sports fans who are not interested in a broad ESPN service.
Retain ESPNs digital rights to a large percentage of sports, inhibiting new entrants from that particular space.
Continue developing ways to effectively monetize television on the longer term such as utilizing multi-channel methods via MVPDs. This allows its content to be readily available through multiple delivery methods increasing monetization through higher utilization.
My point here is that Disney has strategies to hedge against shrinking big box subscription packages. It is the king of content and will continue to develop new and innovative ways to monetize it and get it to the customer. While this might be a short-term headwind, I am not bothered by this as a long-term investor.
Parks & Resorts Segment
Parks and Resorts revenues for the quarter increased 6% to $4.4 billion and segment operating income increased 8% to $994 million. Operating income growth for the quarter was due to an increase at its domestic operations, partially offset by a decrease at its international operations.
Disney's Parks & Resorts segment looks to be very resilient and continues to show strong growth, particularly domestically. Iger attributes this success to two key drivers: (1) great park management driving efficiency and (2) continued investments in great products.
For instance, Disney plans on opening an "Avatar" land in Animal Kingdom in addition to two large Star Wars attractions at its California and Florida locations. These types of key investments will be instrumental to the continued growth and enthusiasm surrounding its parks.
I think the main risk factor within this segment is in its international locations. Disney saw huge success in its Shanghai opening, but has seen average results elsewhere. I think the key for it internationally will be to continue the investments that are driving more and more people to these parks. Luckily, this is a major priority for the company. I will keep a close eye on attendance and spending at its international parks.
Studio Entertainment Segment
Studio Entertainment revenues for the quarter increased 40% to $2.8 billion and segment operating income increased 62% to $766 million.
It seems to me that its Studio Entertainment segment has been one of the most promising areas for growth ever since its refinement towards higher quality films. This has been a fantastic strategy for Disney. It has cut down on the raw number of films produced while focusing on keynote films of high quality.
This allows it to reduce transaction and administrative costs while leveraging its strong branding to develop a lower number of EXTREMELY powerful franchises. I completely agree with this approach; producing less films a year allows for improved refinement without cannibalizing existing products.
It also allows it to focus on extremely impactful investments across the rest of its segments offering high levels of profit synergy.
Consumer Products & Interactive Segment
Consumer Products & Interactive Media revenues for the quarter decreased 1% to $1.1 billion and segment operating income decreased 7% to $324 million. This was heavily driven by extremely high prior-year sales due to Frozen merchandise.
I'm not concerned with this segment. I believe consumer products, merchandise, etc., to be heavily linked to preexisting and newly founded films, franchises, television, theme park exhibits and so forth. As long as Disney executes in its other segments, it will continue selling branded consumer merchandise.
Truly, this segment looks to be the cherry on top for Disney.
Conclusion
As CEO Robert Iger puts it in the most recent quarterly earnings report, "Our asset mix is strong, as is our ability to execute in ways that enhance the Disney brand and create value for our shareholders while we invest for future growth." Personally, I couldn't agree more. This is a company that has an absolute stranglehold on entertainment and content creation. Disney has become a staple in nearly every household.
It has a few near-term headwinds to push through, but I do not see these being a longer-term drag on profitability and growth. I will gladly buy as much Disney as I can at $90, and then just sit back and enjoy the ride.
Disclosure: I/we have no positions in any stocks mentioned, but may initiate a long position in DIS over the next 72 hours.
I wrote this article myself, and it expresses my own opinions. I am not receiving compensation for it (other than from Seeking Alpha). I have no business relationship with any company whose stock is mentioned in this article.