Quick Take
Kabbage (Private:KBGE) is a tech 'unicorn' operating as an online financial

services company that facilitates loans to small businesses. The company's technology promises to use more data signals to better determine the creditworthiness of potential borrowers.
Kabbage has grown quickly but hasn't experienced an economic downturn yet. The next economic recession will likely test the validity of its decision-making approach.
Company
Atlanta, Georgia-based Kabbage was co-founded in 2009 by CEO Rob Frohwein, Marc Gorlin, and COO Kathryn Petralia. The company has raised $600 million in equity and debt financing from venture capital and strategic investors.
Kabbage raised its most recent financing of $135 million in October 2015 at a reported valuation of $1 billion. The company also increased its credit line to $900 million.
Interestingly, CEO Frohwein said at the time that they expected to invest further in its consumer lending business, Karrot, by expanding it from 10% of its business to 25%.
Only nine months later, the company announced the complete suspension of additional consumer loans, in the wake of increasing trouble in the sector from consumer lenders LendingClub (NYSE:LC) and Prosper Marketplace.
It detailed plans to create lending portals for two foreign banks in 2017 but has not provided any further information on that initiative.
Kabbage is not a bank; rather, it runs its funding process through a Utah-chartered industrial bank, Celtic Bank.
Technology
Kabbage operates an online small business lending service that automatically evaluates a number of parameters related to the ability to pay, including revenue, accounting data, transaction history, shipping information and other online data and business signals, to help it determine creditworthiness.
Below is a brief explainer video:
(Source: Kabbage YouTube)
Based on its analytics, the company can provide a decision within minutes for amounts up to $100,000. Loans are typically 6 or 12 months in duration, and there are numerous loan types and industries: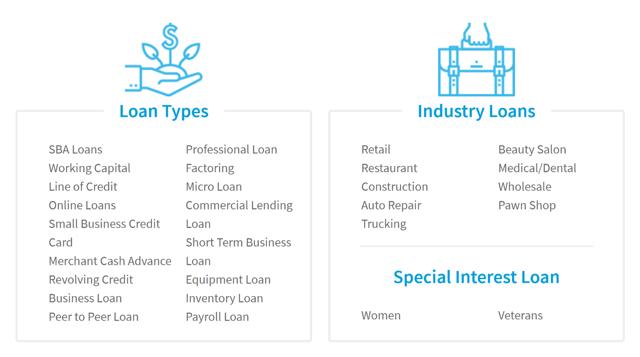 Click to enlarge
(Source: Kabbage)
Minimum requirements for clients are that the business needs to be at least one year old and have over $50,000 per year in revenue.
Interest rates are steep. A "Sample Kabbage Loan" calculator from the company's website indicated that the total cost of a $50,000 loan with a term of 12 months is $10,500, or an effective 21% interest rate. That's equal to or more expensive than many credit cards, so Kabbage's rates are no bargain from a borrower's perspective.
Market
The market for alternative lending sources in the U.S. and more broadly is large and growing, especially in the wake of the 2008 financial crisis. Loan volumes at 13 online lenders grew from $2 billion in 2010 to $16 billion in 2014, a 700% increase: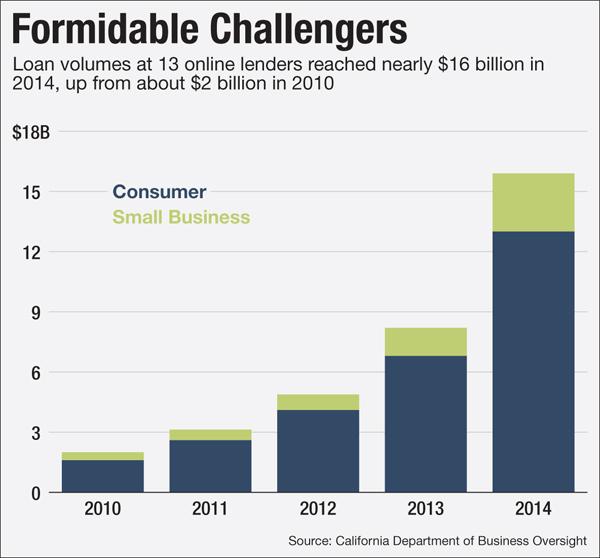 Financial startups like Kabbage have sprung from the 2008 carnage and pullback of banks and lenders in an attempt to use changes in technology and data to more quickly and accurately analyze creditworthiness.
Also, these new online lenders have largely optimized their marketing to reach the Millennial generation turned off by their parents' banks and negative consequences of the existing banking system's failures resulting in the crisis.
Competition
Kabbage is an online lender focused on the SMB market, so below is a partial list of other such lenders, some of which may be focused on sub-sets or other adjacent markets and aspects of financial services:
LendingClub
Prosper
CAN Capital
SoFi
OnDeck
Oportun
Avant
LendUp
Greensky
Bread
Affirm
Kabbage seeks to improve its results based on improved decision-making to determine creditworthiness and thus reduce loan losses.
For an in-depth analysis of online lenders in particular and how they fit into the existing financial services industry, read this article on Forbes by VC Matt Harris of Bain Capital Ventures.
Financials & Valuation
Kabbage has raised more than $240 million in equity financing from a variety of institutional investors. The company's credit facility was increased to $900 million in October 2015 and it boasts that it has made more than $1.6 billion in loans to small businesses.
Kabbage was valued at $1 billion as of its October 2015 financing event.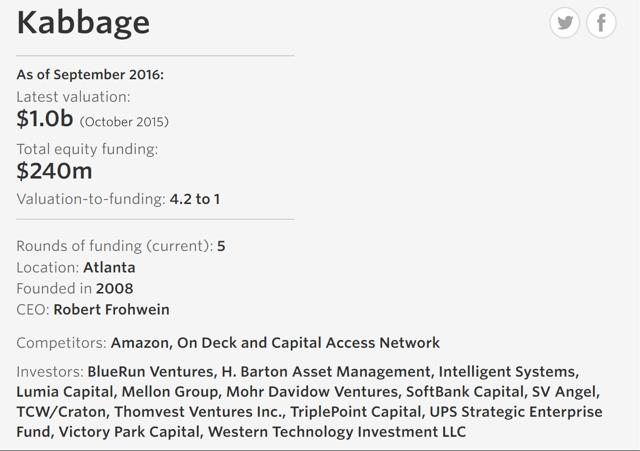 Click to enlarge
(Source: WSJ Online)
Commentary
The online lending market has evolved since its post-2008 financial crisis beginnings. Version 1.0 lenders such as LendingClub may be able to learn from their mistakes and find a way to survive.
Newer market entrants such as Kabbage will need to differentiate themselves enough to carve out a meaningful piece of the market in a defensible manner. The newest participants such as Affirm on the consumer side, enable shoppers to get affordable financing at the point of sale. Behalf is an up-and-coming vendor/customer financing service on the B2B side that offers up to $10,000 for 120 days without the high merchant cash advance charges typical for a credit card.
Companies like Kabbage have also not been tested in a recession when loan losses will undoubtedly be higher - so no one knows the effectiveness of their 'new' way of determining creditworthiness until we experience the next recession.
There are many promising new entrants stepping into the credit vacuum left by the legacy banking system. Whether their high valuations will be fully justified will take time and hard experience to tell.
---
I write about IPOs and tech 'unicorns'. If you want to receive future articles automatically, click the +Follow link next to my name at the top of this article.
Disclosure: I/we have no positions in any stocks mentioned, and no plans to initiate any positions within the next 72 hours.
I wrote this article myself, and it expresses my own opinions. I am not receiving compensation for it (other than from Seeking Alpha). I have no business relationship with any company whose stock is mentioned in this article.