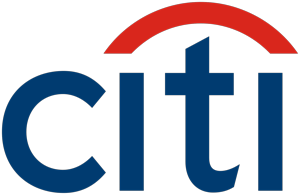 Bank stocks have still not made it to the top of investors' shopping lists these days. While most banks continue to be priced at steep discounts to accounting book value, investors are unwilling to give big banks a shot... even though their earnings are getting better, and investors are hardly overpaying at today's market prices.
While bank earnings so far are looking good, with major banks such as Citigroup (NYSE:C) and Wells Fargo (NYSE:WFC) beating consensus top and bottom line estimates, the Federal Reserve's reluctance to hike interest rates in any significant manner is weighing on bank stocks, and I am afraid it is not going to get better any time soon.
Whether you look at Citigroup, or Bank of America (NYSE:BAC), or any other big financial company, chances are that you'll find the banks' shares selling for significantly less than their accounting book value per share, and the Federal Reserve is largely to blame because it continues to suppress interest rates.
Since investors are concerned with the slow increase in prime interest rates in the U.S., banks have not exactly been the best performing investments as of late. If you look at Citigroup, for instance, investors haven't made any money on it lately: If you bought Citigroup a year ago, you are down ~8 percent.
And things don't look much better year to date either: Citigroup's shares have cratered ~6 percent since January, reflecting low interest rate growth expectations on the part of investors.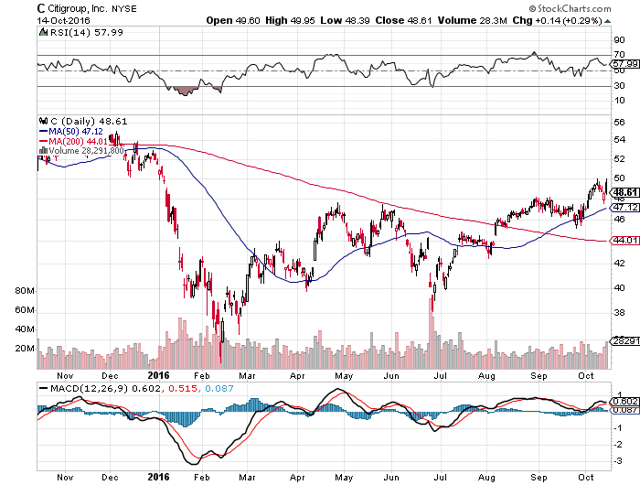 Click to enlarge
Source: StockCharts.com
Read also: "Buying Citigroup Today Is A No-Brainer".
Citigroup's 3rd Quarter Results Point In The Right Direction
Beating expectations is an immensely important thing to do for companies in order to woo investors. Shareholders hope that their companies can beat expectations, which in turn often is a positive catalyst for stocks as investor interest grows.
Citigroup indeed managed to beat expectations in the 3rd quarter, but investors still don't have much love for the bank.
Citigroup said it earned $1.24/share in the 3rd quarter which compares favorably to analysts' consensus estimate of $1.16/share. Citigroup also beat on the top line, pulling in $17.76 billion in revenues. This too exceeded the consensus (revenue) estimate of $17.36 billion.
Importantly, Citigroup's accounting book value climbed to $74.51/share in the 3rd quarter, reflecting an increase of 1.8 percent over the last quarter, and a 7.9 percent increase over the 3rd quarter of 2015.
All considered, it was a robust quarter for Citigroup. The bank's shares are priced at a ~35 percent discount to the last reported accounting book value, but it will continue to require patience for an investment in Citigroup to produce a good return.
Your Takeaway
Citigroup beat expectations in the 3rd quarter, which is a major positive. Earnings and revenues exceeded expectations, and the company's accounting book value is still growing. Citigroup also sells for a huge discount to accounting book value of ~35 percent which implies a favorable reward-to-risk ratio. On the other hand, the Federal Reserve's reluctance to move the interest rate needle will likely continue to weigh on banks over the short haul. Buy only for long-term capital appreciation.
If you like to read more of my articles, and like to be kept up to date with the companies I cover, I kindly ask you that you scroll to the top of this page and click 'follow'. I am largely investing in dividend paying stocks, but also venture out occasionally and cover special situations that offer appealing reward-to-risk ratios and have potential for significant capital appreciation. Above all, my immediate investment goal is to achieve financial independence.
Disclosure: I am/we are long BAC.
I wrote this article myself, and it expresses my own opinions. I am not receiving compensation for it (other than from Seeking Alpha). I have no business relationship with any company whose stock is mentioned in this article.