I've been critical of VOXX International (NASDAQ:VOXX) for a couple of years now, arguing essentially that current (and entrenched) management makes it almost impossible to invest in the stock. Beyond that, it's not as if VOXX's markets on the consumer side, in particular, are all that compelling; meanwhile, automotive suppliers (and manufacturers) in general are receiving valuations that imply a cyclical peak, which should drive some conservatism in valuing VOXX's automotive business.
Even with that long-bearish attitude, I did see some improvement in VOXX's Q1 - though the market disagreed - and with shares below $3, I was sympathetic to the "seriously, this stock is just too freaking cheap" argument. Shares actually touched $2.50 before rallying, then tumbled into earnings when the stock was pulled from the S&P Small Cap 600. They then exploded on Wednesday: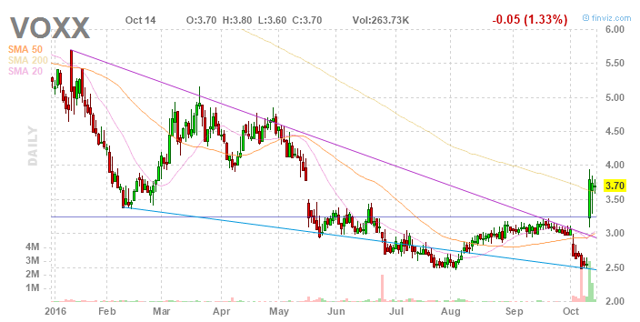 source: finviz.com
And I wouldn't be surprised to see more upside in the near-term. The market has liked turnaround plays over the last few years, and the VOXX 'story' likely has reached a point where there are enough unfamiliar investors who may see that potential in the numbers. Even after a 49% (!) gain on Wednesday, VOXX still looks reasonably cheap, trading at 8.4x trailing twelve-month Adjusted EBITDA on an enterprise basis. Yet VOXX only now is lapping the consolidation of EyeLock, which has taken ~$9 million off Adjusted EBITDA figures over that span (~$4 million plus in expenses, offset by losses assigned to non-controlling interests). That segment actually produced some concrete results in Q2, the consumer businesses have had a solid first half, and on the Q2 conference call CEO Pat Lavelle forecast a return to growth in the Automotive business in FY18.
With VOXX reasonably levered at least from a capital structure standpoint (~52/48 debt/equity), and volume relatively light, I wouldn't be stunned to see the stock make further gains through the rest of the year. There's a narrative here that can sell, between the opportunities at EyeLock and (maybe) 360Fly and a turnaround in the legacy business. It's really not that difficult to model $5+ in fair value, which implies 35% upside from a current price of $3.70.
Still, I'm not sure the performance in the first half really changes the long-term issue all that much: structurally, VOXX is set up to benefit its managers over its shareholders. Even after the gains this week, VOXX's 17 directors and listed officers, excluding founder and Chairman John Shalam (who controls the voting power through a dual-class structure), as of the end of FY16 owned less than $450,000 in VOXX equity. Lavelle, CFO Stoehr, and Shalam himself each receive a cut of profits, which totaled ~8% in FY16 of an 'adjusted sum' of ~$5.6 million despite the company publicly reporting Adjusted EBT of just $1.6 million. (To be fair, Lavelle did purchase shares on the open market in August, buying ~$50K worth of stock at $3.04. He now owns nearly $200K in stock, which still is less than two months' compensation and less than his FY16 bonus.)
Meanwhile, end markets aren't great, I remain skeptical on EyeLock and 360Fly, and Q2 on a deeper dive wasn't quite as good as it might appear. Again, I'm sympathetic to the bull case, and, honestly, I hope VOXX and its management figure it out. But I see enough in the Q2 report, beyond the long-running governance questions, to stay away.
The Numbers Weren't That Good
VOXX's $0.12 profit came almost solely from a tax benefit: Adjusted EBITDA of $6.9 million less interest and D&A leaves less than $1 million in pre-tax adjusted profit, or ~$0.03 in tax-normalized adjusted EPS. Profitability is a step in the right direction, admittedly, but that alone doesn't seem to support a 50% gain in the stock or imply some sort of inflection point in the operating business.
Adjusted EBITDA did improve substantially, increasing 44% year-over-year after being barely positive in Q1. But VOXX also has cut costs: excluding non-cash charges and the increased spend at EyeLock, absolute opex was down year-over-year. That figure declined $2.4 million; Adjusted EBITDA increased $2.1 million. Once those cuts are lapped, VOXX needs a legitimate growth driver.
It might seem that growth can come from the existing business after Q2. Automotive revenues were down, although over half of a 5.2% decline came from the licensing of the Jensen Mobile product line a year ago. But OEM revenue were down too, providing yet another in a multi-year series of guidance misses from VOXX; Lavelle had claimed repeatedly, as recently as Q4, that the OEM business would grow this year. Given how much of that business is contracted - and given that Lavelle repeatedly essentially the same rationale for projecting OEM increases next year - I don't believe VOXX can either forecast its business all that well or have any confidence in the out-year projections.
Automotive growth has been basically minimal - even on a constant-currency basis - since VOXX took over Hirschmann, and there's nothing in Q2, or the first half, to suggest a change on that front. Lavelle continues to talk up contract awards - but that too, he's been doing for years while never discussing the amount of contracts expiring. The $45 million in Q2 awards highlighted on the Q2 call sounds impressive - except for the fact that VOXX generated $95 million between the Q1 and Q2 call last year, and Hirschmann, per Lavelle, already had $170 million in booked business for FY17 against $140 million for FY16 at the start of that year. It's not clear why, then, OEM business is declining this year - weakness in China does appear to be a modest driver, per the 10-Q - particularly against what seemed like significant confidence a year ago. If anything, last year's commentary sounded far more promising, only to once again disappoint, and I'd be highly skeptical of modeling any improvement until Lavelle's constant discussion of awards turns into concrete revenue increases.
Elsewhere, the numbers looked outright impressive, with Premium Audio revenue increasing 15% and Consumer Accessories sales up 13% year-over-year. But investors need to bear in mind that VOXX benefited from extremely easy comparisons in both segments: in the year-prior quarter, even excluding currency impacts, PA revenues were down ~19% and CA sales down ~10%. The Project Nursery line in the CA segment does look promising, if high-priced at $299, and early reviews look extremely good. But, per the Q, VOXX is seeing a benefit in the same segment from digital broadcasting adoption in Europe (the same process which drove antenna sales in the U.S. before fading out), and on the call, CFO Mike Stoehr projected further declines in gross margins in that segment. Premium Audio does look strong, with Klipsch showing strength in higher-end wireless and Bluetooth speakers. (Commentary from both VOXX and Logitech (NASDAQ:LOGI) seems to imply a pending bloodbath on low end products, which VOXX categorizes as Consumer Accessories.) But PA is the smallest segment for VOXX; if Automotive sales and CA gross profit remain ~flat, there's not going to be much in the way of consolidated growth.
Final Thoughts And Valuation
After Q1, I pointed out that even a ridiculously conservative SOTP valuation seemed to support substantial upside:
$100 million for Klipsch. That's ~0.8x revenue, despite 1x multiples at LOGI and Harman International (NYSE:HAR), the latter of which has lower gross margins and serves a lower end. It's also, as noted, a ~40% discount to the purchase price.
$70 million for Hirschmann. Again, a ~40% discount to the purchase price, and less than 4x trailing segment Adjusted EBITDA.
$10 million for Consumer Accessories, or a sub-0.1x sales multiple.
$5 million for 360Fly.
$40 million for the ASA stake, assuming a high-single-digit multiple to TTM net income (at a 35% tax rate)
$0 for EyeLock, given cash burn.
After Q2, those assumptions still drive a fair value estimate of about $5.50, and with EyeLock finally creating revenue, there might be reason to add some valuation on that front. I'm still skeptical long-term, and the purchase of the controlling interest only valued the business at $30 million, or ~$16 million for VOXX's stake. But that's still nearly enough to get the stock to $6 - 60% upside from current levels.
What I don't know over a multi-year period is how that theoretical value ever gets to shareholders. VOXX traditionally has been acquisitive, perhaps in part because its compensation structure incentivizes its management to solely chase profits. It's limited in that effort now by covenants on its debt; but should the company return to driving free cash flow, that may change. VOXX never has paid a dividend in 32 years as a public company; Shalam's control means any activist effort is doomed to failure before it begins. (And this is one of the best theoretical activist candidates you'll ever find.) I may be at a point where I simply can't see a turnaround; but I still believe that looking at VOXX closely, there's legitimate concerns as to whether it makes sense to be a minority shareholder under any circumstances.
And I don't see Q2 as being quite enough to change that; again, it was a good quarter, but it's not an inflection point by any means. The automotive business still seems low-growth at best; the strength in the consumer businesses came much more from comparisons than improvement. (Revenue in both segments came in below Q2 FY14 levels, though to be fair Consumer Accessories sales appear to be up modestly ex-currency.) VOXX only owns a small stake in 360Fly, and that business almost certainly has disappointed since the company hasn't broken out sales. As for EyeLock, it took years to drive one installation and it's not as if the company is alone in iris technology.
I do think there was reason for some gain post-Q2, and even with management concerns a ~$90 million market cap seems rather cheap. But I'm far from believing that VOXX has changed, either structurally or operationally, and I'm far from convinced that another disappointment isn't on the way. At the end of the day, Q2 was a good quarter - but it's still just one quarter.
Disclosure: I/we have no positions in any stocks mentioned, and no plans to initiate any positions within the next 72 hours.
I wrote this article myself, and it expresses my own opinions. I am not receiving compensation for it (other than from Seeking Alpha). I have no business relationship with any company whose stock is mentioned in this article.
Editor's Note: This article covers one or more stocks trading at less than $1 per share and/or with less than a $100 million market cap. Please be aware of the risks associated with these stocks.