Horizontal rigs stole the show this week with the largest increase in the count since the summer of 2014, when oil prices were still at the $100.00/bbl level. Most of the increase was due to the addition of natural gas rigs, an increase that was long overdue given the declining associated gas production levels from shale plays that have fallen out of favor.
Crude oil prices (NYSEARCA: USO) remained relatively unchanged for the week, although they climbed temporarily above $51.00/bbl for the first time in several months.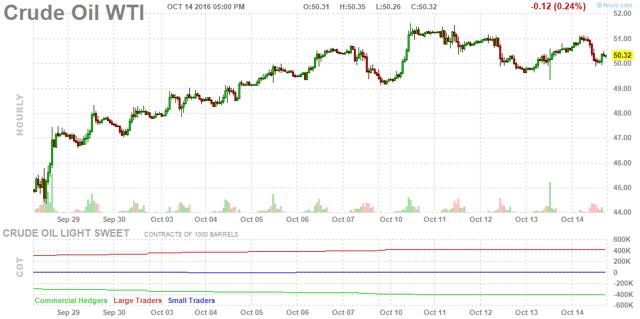 Click to enlarge
Source: Finviz.com
Data: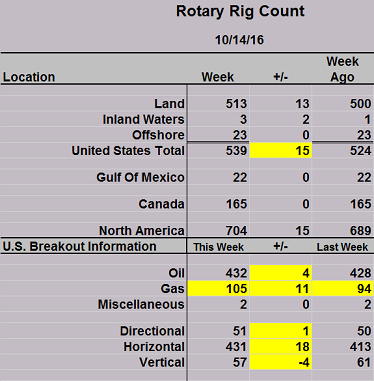 Source: Baker Hughes
*Total U.S. oil rig count increased by four, continuing the steady climb of the rig count that began in late May. With prices above $50.00/bbl and emotional support from Saudi Arabia, we should continue to see increases in the coming weeks. In total, the oil rig count has increased 37% since late May.
* Horizontal rigs increased by 18 this week. This is the largest increase since August 2014, well before the oil crash. Most of these rigs are natural rigs, not oil, and were a long time coming due to declining production levels during the upcoming heating season.
* Directional rigs decreased by one.
* Vertical rigs fell by four. We believe these were oil rigs.
* Natural gas rigs increased by 11 with a heavy concentration in Louisiana, New Mexico and Pennsylvania. With natural gas prices in the $3.00-$3.50/mcf range, production can restart in plays beyond the Marcellus shale (although still at a loss on a full cycle basis).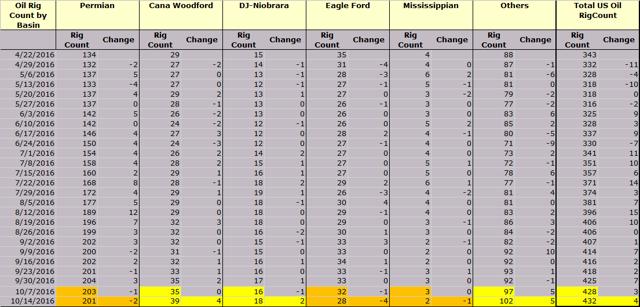 Click to enlarge
Source: Baker Hughes, Orangutan Capital
* The Permian oil rig count fell by two this week. At current $50/bbl, the Permian continues to be the preferred basin to add new rigs, although as we have mentioned in the past, a period of consolidation may be in order after the flurry of activity during the summer. To date, the rig count is up by 51% since May 2016.
* Between Cana Woodford, DJ-Niobrara and Eagle Ford, all shale plays, there was a gain of two rigs.
* There was one new oil rig in Alaska.
Conclusion:
The big news this week came from the natural gas front, with eleven rigs added during the week. This is a much needed increase since associated gas production levels have fallen, a result of low oil prices. On a combined basis, horizontal rigs increased by the most since August 2014, well before the oil crash. For crude alone, the steady climb in the rig count continues to be driven by $50.00/bbl oil, and headline support from Saudi Arabia and the U.S. Fed.
Disclosure: I/we have no positions in any stocks mentioned, and no plans to initiate any positions within the next 72 hours.
I wrote this article myself, and it expresses my own opinions. I am not receiving compensation for it (other than from Seeking Alpha). I have no business relationship with any company whose stock is mentioned in this article.