Saudi Arabia's concession, in agreeing with its OPEC partners to cut oil production, helped oil 10 points higher in a hurry. But hurricane jockeys probably helped lift crude too.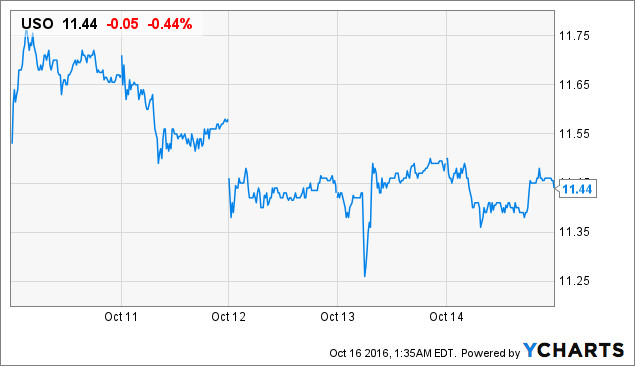 In my last report on oil, we gave the Kingdom of Saudi Arabia's its due credit for its influence over oil prices. The chart speaks for itself here, showing the impact of the production announcement in Algeria. While we were impressed, we said it would be temporary in our report The Kingdom of Saudi Arabia Rules Over Oil Prices… for Now. Whether the partners stick to their quotas or cheat will show up in the measurables, and oil will again look to industry data and the economic outlook for its cue higher or lower from here. Still, oil has held up impressively against fear of a Brexit breakdown and Deutsche Bank debacle in Europe. It has even overcome the dollar strength that has resulted from that while other commodities have not, including gold.
But I think oil got a little help beyond just the Saudi surge. I suspect hurricane jockeys helped bid up prices some. That is because when hurricanes threaten the Caribbean, and more importantly, the Gulf of Mexico, they can disrupt production and certainly the delivery of imports. Ships at sea will hurry to port to unload their crude ahead of the storm, while others will stay out of harms way until the storm passes. That can play havoc with import data, and inventory data moves the market.
There was a hurricane a few weeks ago that managed just that, with wild swings in inventory and in imports resulting in big moves in the price of crude. Forgive me for not naming the storm, after Hugo I stopped counting. Anyway, I suspect hurricane jockeys set trades in place to ride the storm and benefit from relative swings in prices. They may have bid up crude a bit toward the top of this last run.
Hurricane Matthew didn't make it into the Gulf of Mexico and never threatened to, so its impact may be muted. This week's EIA inventory data seemed to imply so, with a build in inventory reported of 4.9 million barrels, but we will wait to see next week's report to be sure. Next week's data covers the week ending October 14 and is obviously relevant and could show impact. For the record, the data also showed imports averaged about 7.9 million barrels per day in the week ended October 7, and that matched the four week moving average.
| | |
| --- | --- |
| Oil Relatives | 10-14-16 |
| United States Oil (NYSE: USO) | -0.4% |
| iPath S&P GSCI Crude Oil (NYSE: OIL) | -0.0% |
| Energy Select Sector SPDR (NYSE: XLE) | -0.6% |
| SPDR S&P Oil & Gas E&P (NYSE: XOP) | -1.1% |
| Exxon Mobil (NYSE: XOM) | -0.0% |
| Chevron (NYSE: CVX) | +0.3% |
| Occidental Petroleum (NYSE: OXY) | -0.9% |
| ConocoPhillips (NYSE: COP) | -1.1% |
| BP (NYSE: BP) | +0.5% |
| Total S.A. (NYSE: TOT) | +0.9% |
| Phillips 66 (NYSE: PSX) | +0.2% |
| Pioneer Natural Resources (NYSE: PXD) | -1.2% |
| Marathon Oil (NYSE: MRO) | -1.4% |
| Schlumberger (NYSE: SLB) | -0.3% |
| Halliburton (NYSE: HAL) | -0.1% |
Oil and the energy sector started to succumb to the pressure weighing against the entire market intraweek anyway, and the group did not close impressively after the data disappointment either (EIA reported inventory on Thursday due to the holidays).
The question moving forward is: Did oil hold out long enough to survive the drive of the dollar? Will the dollar continue to appreciate in value moving forward? I suspect the dollar will again carry a more significant weight for or against oil now that Matthew is a memory and the Saudi surge has stalled. I think we started to see the beginning of that shift last week. Still, hurricane jockeys might prove to be riding closers into the last furlong if next week's inventory data reflects the disruption of the storm. The odds might be slim considering the storm's path, but underdogs pay well. I publish regularly on oil and invite relative interests to follow my financial column here at Seeking Alpha.
Disclaimer: The information contained herein does not constitute an agreement to enter into any business arrangement, or an offering or solicitation for sale of securities. It is not intended that anything stated herein should be construed as an offer or invitation to buy or sell any investment vehicle or for potential investors to engage in any investment activity. All information provided by this investment case is impersonal and not tailored to the needs of any person, entity or group of persons. Nothing contained herein constitutes tax, accounting, regulatory, legal, insurance or investment advice. These materials have been prepared solely for informational purposes based upon information generally available to the public from sources believed to be reliable. The authors do not guarantee the accuracy, completeness, timeliness or availability of the content and are not responsible for any errors or omissions, regardless of the cause, for the results obtained from the use of the content. The content is provided on an "as is" basis.
Disclosure: I/we have no positions in any stocks mentioned, and no plans to initiate any positions within the next 72 hours.
I wrote this article myself, and it expresses my own opinions. I am not receiving compensation for it (other than from Seeking Alpha). I have no business relationship with any company whose stock is mentioned in this article.