In 2015, I wrote several articles on Barrick Gold (NYSE:ABX) in which I was heavily defending the company from all of the extremely poor "analysis" being done by investors and Wall Street analysts. The main argument from the bearish camp was Barrick's $13 billion debt position was so high, that the company didn't have the means to pay this down unless gold soared. Most assumed it was just a matter of time before the company would go bankrupt. But as I countered in my articles, Barrick's debt was entirely manageable, and the concerns about its balance sheet were way overblown.
As I said at the time: "I have been following gold stocks for years and years. Thousands and thousands of hours of research have gone into my search to find the top companies in the sector. I can unequivocally say that Barrick has the best gold assets in the world. You will not come across another company that has a better group of mines and projects, it's as simple as that."
Debt is only bad if you have no ability to repay it, and those that were negative didn't understand the company or the assets they own. Because if bear camp did, they would have never bet against Barrick.
I haven't written an article on the company in about a year, so I thought it was time to give an update on the progress Barrick has made since then. As well as discuss the future direction that I see for the company.
Barrick Gold - One Year Later
At this time last year, Barrick was progressing well in terms of reducing debt and increasing free cash flow, but it wasn't showing up in the stock price. I wrote an article about how Barrick was getting healthier and noted all of this progress. But most investors didn't care, they were just looking at the declining share price and assuming it was because the company was getting worse, not better.
However, an investor worth their salt knows that companies don't always trade on fundamentals. In bull markets and bear markets, you will have divergences (sometimes quite large too) between the fair value of a company and its market cap. If stock valuations never strayed from fundamentals, we would never have any bubbles.
Barrick's share price decline in the Fall of 2015 had nothing to do with the company itself. The only reason the stock was down was because the price of gold had slumped and the Gold Bugs Index (HUI) had crashed. ABX was simply following the sector.
But underneath all of this negativity surrounding the shares, was a company that was turning the ship around. The fruits of their labor were just starting to be reflected in the cash flow and balance sheet statements, as some asset sales transactions hadn't closed and the debt was only beginning to be lowered.
As it turns out, and unsurprisingly to me, September 2015 was the low for Barrick's stock. It proceeded to increase from $6-$7 a share, to a high of $23 by July of this year. A total gain from trough to peak of roughly 250% in just a little over 9 months. The share price has declined over the last quarter as the sector has been going through a correction.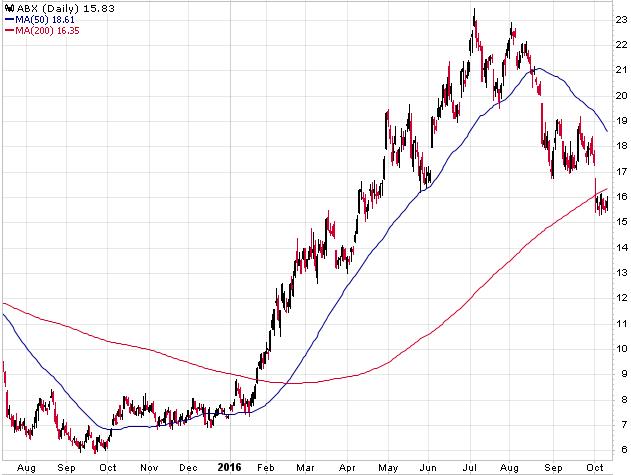 (Source: StockCharts)
Some might say that the rising price of gold is the reason for the increase in the stock. But while that has been a factor, Barrick bottomed well before the sector did, and it has far outperformed the HUI and VanEck Vectors Gold Miners ETF (NYSEARCA:GDX) over the last year. Barrick is GDX's largest holding, so that should tell you how well it has performed in comparison to companies such as Newmont (NYSE:NEM) and Goldcorp (NYSE:GG), and how far undervalued it was a year ago. When it's all said and done, fundamentals do matter, and eventually stock prices revert back in line with those.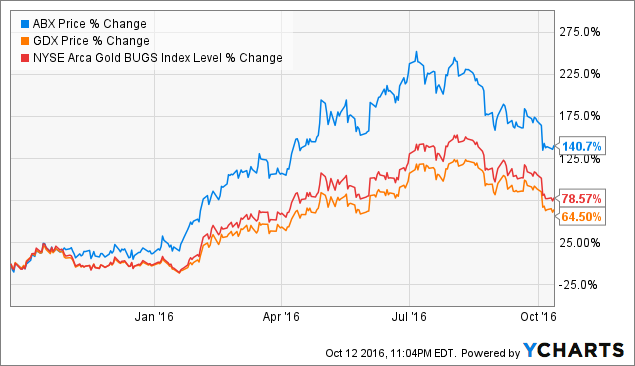 The turnaround that began in Barrick last year continues, and improvements that were just peeking through at that time are taking full effect.
1. Debt
Starting with the debt position, at the end of Q2 2016, total debt stood at $9.0 billion, a reduction of $4.1 billion from the end of 2014. Net debt is now $6.55 billion, down from $10.4 billion at the end of Q4 2014.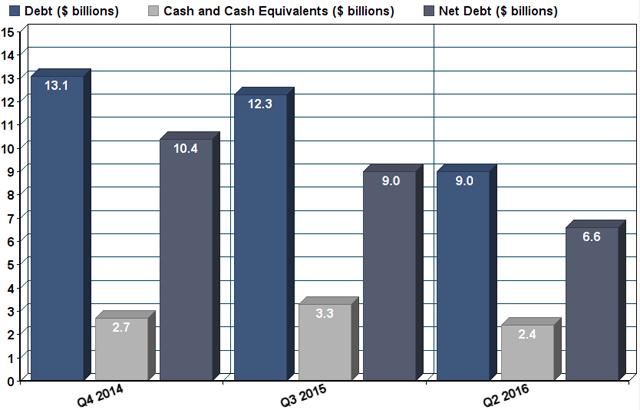 (Source: Author, data from Barrick's financial reports)
At the beginning of 2015, Macquarie Capital put out a very negative report on Barrick, saying the company "has limited options" to repair its balance sheet, and it "has dug itself into a huge financial hole that is going to be difficult to get out of any time soon unless metal prices improve."
I commented on this Macquarie call last year, in which I said "I just shake my head in disbelief" at this "limited options" statement. Barrick has proven Macquarie was way off base in its assessment of the situation. Not only have they already reduced debt by $4.1 billion, but $3.2 billion of that total figure was done by December 2015 (when gold was still bottoming out).
2. Interest
One of the key aspects about debt reduction is the fact that declining debt obligations means interest payments will also fall. Which in turn results in increased cash flow. The $3 billion reduction in outstanding debt for Barrick over the last 4 quarters has equated to a savings of $100-$150 million a year in interest over the next several years. Total interest due on the remaining principal has decreased by $1.3 billion since June 30, 2015 (from $9.2 billion to $7.9 billion). Although, I must point out, that figure isn't pure interest savings as $700 million of the total was the result of repaid interest in the second half of 2015 and first half of 2016. That still equates to $600 million in pure savings from interest alone.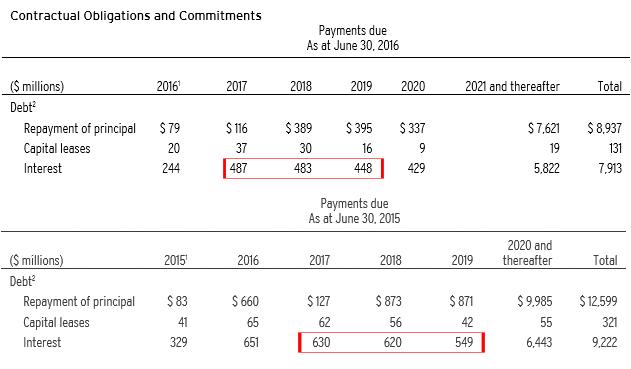 (Source: Barrick Gold)
3. Free Cash Flow
The turnaround in free cash flow has been just as impressive as the debt reduction. FCF was already starting to show vast improvement at the end of June 30, 2015, as Barrick posted $26 million in positive FCF during that quarter. But look at the jump in Q2 2016 and the first half of the year - the company generated FCF of $274 million and $455 million, respectively. OCF is also showing strong gains in the first half of 2016 compared to the first half of 2015. For the entire 2016 fiscal year, Barrick will most likely generate $1 billion in FCF.

(Source: Barrick Gold)
Barrick Will Get Leaner, Meaner, And Stronger
Barrick is by no means done in terms of cost cutting, balance sheet repair, and improving operations. They have established new goals and announced new initiatives in the last few quarters that are going to make this not just the strongest gold company in the world, but possibly one of the strongest companies, period (that includes all sectors). It will take solid execution, but so far John Thornton (who is the company's Chairman and also the former President of Goldman Sachs) has completely revolutionized Barrick. Forward thinking from him and the rest of the C-Suite are driving this revolution.
Barrick was already best-in-class in terms of assets in the gold sector. With the balance sheet under repair, as well as other aspects I'm about to discuss, this company will be strong no matter what the price of gold is doing. Bull or bear market in precious metals won't matter, it will be a consistent free cash flow generator as they are focused on relentless cost management, operational excellence, and innovative technology.
1. Further Debt Reduction
Barrick's goal is to reduce total debt to $8 billion by the end of this year, that would be a $2 billion reduction from the start of 2016. They are already halfway to achieving that mark, and rumor has it they are exploring selling their 50% stake in Kalgoorlie. This mine in Australia is expected to fetch around $1 billion, which would allow Barrick to reach its target.
Their ultimate long-term objective (2019-2020) is to get total debt down to under $5 billion. This past summer, the rumor mills were buzzing with the news that Barrick was looking to sell its 63.9% stake in Acacia Mining, which is a publicly traded company (London Exchange). The value of Barrick's share of Acacia a few months ago was US$1.9 billion, today it's about US$1.5 billion as a result of the recent sector correction.
If Barrick reaches a deal in the short-term on Acacia and Kalgoorlie, then that would be roughly $2.5 billion in cash that the company would recognize via these sales. Barrick is in no rush to sell, so they could wait for betting pricing. As of now, that is the rough value for these non-core assets. Which means that the current $9 billion of total debt would be reduced to $6.5 billion, putting Barrick only $1.5 billion away from its ultimate long-term objective.
The company has been consistently delivering on its stated goals, and I have no doubt that they can drive down debt even further. If they hold off on Acacia, but sell their half of the Kalgoorlie mine, that means that net debt will be reduced to $5.55 billion in the near-term, or almost half of what it was at the end of 2014.
2. Targeting AISC of Under $700 Per Ounce By 2019
For 2016, Barrick is expecting to produce 5.0-5.5 million ounces of gold at an AISC of $750-$790 per ounce. The company is already the lowest cost senior gold producer, and one of the lowest cost gold miners on the planet. Barrick is looking to widen the gap even further, as they are targeting AISCs to be under $700 by 2019.
The core operations are already at that cash cost target, as for 2016, the average AISC at Cortez, Goldstrike, Pueblo Viejo, Lagunas Norte, and Veladero is expected to be $650-$700 per ounce. Most of the non-core mines (with the exception of Kalgoorlie and Turquoise Ridge) are higher cost operations. If Acacia is sold, that kills two birds with one stone, as Barrick will generate at least $1.5 billion from the sale (which will go to pay down debt) and it will also lower company wide AISCs. As a side note, in the near future, Turquoise Ridge will be a core operation.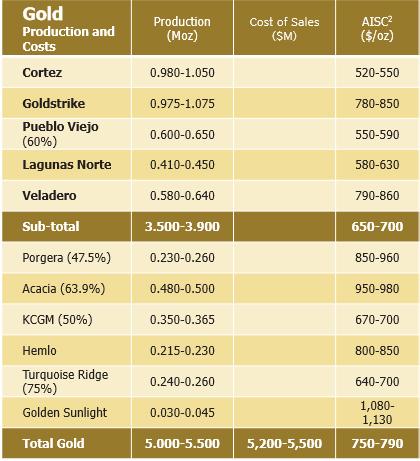 (Source: Barrick Gold)
By 2019, there will be some gaps that need to be filled on the production side, and capex is expected to increase over the next few years. Free cash flow breakeven right now is just over $1,000 per ounce, and it should remain around those levels as higher capex is offset by lower All-in Sustaining Costs.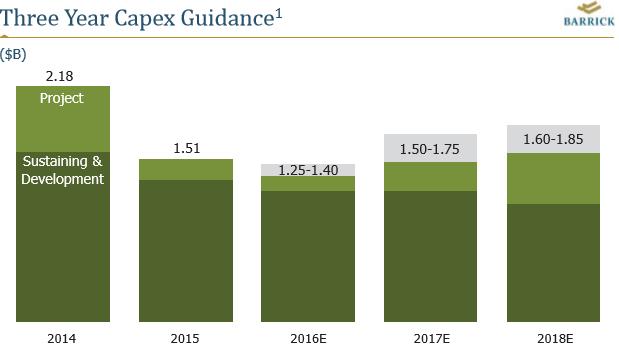 (Source: Barrick Gold)
3. Revolutionary Partnership With Cisco
Barrick and Cisco are at the opposite ends of the spectrum. One digs below the earth, the other develops and connects digital information networks around the world.
Last month, these two giants of their respective sector announced a partnership in which Barrick will incorporate Cisco's digital technology into all areas of its business in order to improve productivity and reduce costs even further. Barrick said it planned to spend around $100 million between now and the end of 2017 as part of the first phase of this "digital reinvention" of mining.
In this initial phase, the two companies will work together to develop a flagship digital operation at Barrick's Cortez mine in Nevada. The plan is to embed "digital technology in every dimension of the mine to deliver better, faster, and safer mining." There will be:
Advanced sensing technology
Real-time operational data that will be used to inform decision-making
Automated equipment for increased productivity
Predictive algorithms that will enhance the precision and speed of maintenance and metallurgy
Although some aspects of this technology are already being used by miners (such as remote-controlled equipment, software that manages the milling process and models deposits, etc.), it doesn't come close to the planned implementation that Barrick and Cisco have in mind. Barrick will embed and integrate technology across almost every aspect of its operations. Every single piece of data throughout the mining process would be put into digital form. This is next level thinking.
Barrick's Thornton believes that traditional gold mining techniques are antiquated, human-driven processes. In referencing this deep integration of digital information into the mining sector, he said "This is like the 19th century meets the 21st century."
Eventually, Barrick and Cisco plan to bring this digital technology to all of its mines as well as to the head office. New implementations at that point would include:
Interactive data rooms outfitted with real-time data, analytics, and predictive tools that will allow company leaders to work together across the organization.
An enterprise-wide analytics hub that will enable performance management, and financial and operational benchmarking.
New digital tools that will improve scenario planning and portfolio management.
All of these would increase productivity and precision, manage risks more effectively, provide transparency to partners, and allow management to make faster decisions.
But it's not just the operational aspect that is expected to benefit. From an environmental and safety point of view, there will be a huge impact as well. You are talking software analytics and predictive algorithms that will improve the management of energy, water, and emissions. It will also allow transparency to local partners. Imagine how beneficial it will be from an environmental responsibility point of view if Barrick is providing water motoring information in real-time to local partners/communities near a mine.
Barrick Chief Operating Officer Richard Williams said the following regarding this step into the 21st century:
We think actually that all mining companies will have to do the same if they are going to remain in existence.
He also said this jump into digitalization will help Barrick achieve its goal of reducing AISC below $700 per ounce by 2019.
What I found even more interesting about this new initiative, is Thornton said that it will be such a competitive advantage, that Barrick could end up buying less efficient mines or companies, as they could use these digital tools to completely turn around underperforming operations. It makes complete sense, especially when they are talking about computer algorithms that can quickly adjust mine plans just by analyzing things such as market prices of fuel and oil, weather patterns, etc. Being able to adjust mine plans in real-time to determine the most cost effective route to take in the near-term depending on certain variables would be an enormous competitive advantage.
According to Thornton: "I wouldn't say we're going to gobble up everybody, but we're going to intelligently invest in places where we can make good money."
This is how giants of industry are created.
I see the vision here by Thornton and his team. This could really drive consolidation in this industry as well, something I believe is very much needed.
Taking Advantage Of The Recent Drop In Price
Barrick is in much stronger financial shape now than it has probably been since 2010-2011. By next year, there is a high probability that it will be in even better condition, and that's just factoring in a flat gold price environment. Throw in $1,400-$1,500 gold, and the FCF will most likely be north of $2 billion on an annualized basis.
I sold out of Barrick several months ago as it had a very strong run from the September 2015 lows (although I didn't catch the top as I liquidated earlier). However, this remains one of my favorite gold companies in the sector. The valuation isn't nearly as compelling as it was a year ago, but after the 30-35% decline from the peak in July, the stock is providing a much better entry point. The shares haven't been this cheap since this past April.
I'm looking to buy ABX again, but I want to first make sure that gold has stabilized and the stock gets back above its 200 day moving average. If ABX can achieve that, and gold shows progress to the upside again, then I believe that it's only a matter of time before Barrick surpasses those highs from the Summer. If it can't get back above support, then I plan to load up at lower prices. Should Barrick decline, it won't be because fundamentals are getting worse. It will just be following the sector lower. And remember what happened last time the stock moved down but fundamentals kept getting better.
If you would like to read more of my thoughts, ideas, and research on the gold sector, you can subscribe to my new service here on Seeking Alpha called The Gold Edge. Below are a few subscriber articles that have been released in the past few days:
Disclosure: I am/we are long GG.
I wrote this article myself, and it expresses my own opinions. I am not receiving compensation for it (other than from Seeking Alpha). I have no business relationship with any company whose stock is mentioned in this article.