Transports Week In Review: Markets Trade In Line With Oil Volatility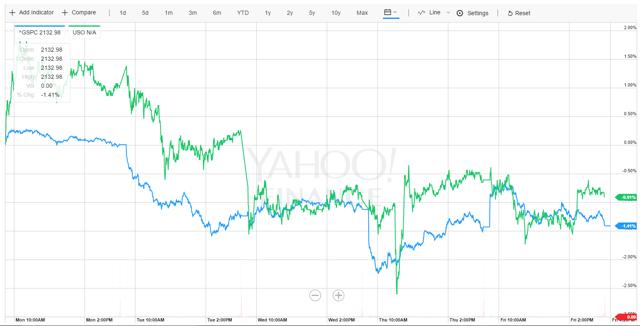 Click to enlarge
Source: Yahoo! Finance
Broader indices largely traded in lock-step with the price of oil for the week. It is a reminder that volatility can emerge on a weekly basis for a variety of factors. It is also a reminder that this has been a long year and a very long positive market run since the recession. I myself felt like the air just fell out after a strong opening on Friday.
Some are still hopeful that a correction of 10 to 20 percent will occur soon. But I remain convinced that the slow-growth environment will continue offering selective opportunities. There, of course, will continue to be volatility as this week's performance displayed. Assuming GDP does improve from the first half of the year, fundamentally, things will have gotten marginally better.
Q1 2016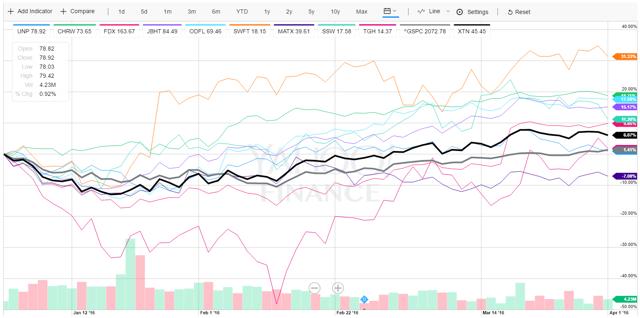 Click to enlarge
Source: Yahoo! Finance
Through the first quarter of 2016, transports substantially outperformed the broader S&P 500 index as evidenced by the SPDR S&P Transportation ETF (NYSEARCA:XTN). Transports were up over 6 percent during the quarter, while the S&P 500 was up nearly 1.5 percent. Mid-March reflected the greatest difference between the two.
Specific examples of companies reflecting major transport segments have been highlighted above for illustrative purposes. Only Union Pacific (NYSE:UNP), Textainer Group Holdings (NYSE:TGH) and Matson (NYSE:MATX) lagged the SPDR S&P Transportation ETF performance during the first quarter.
Q2 2016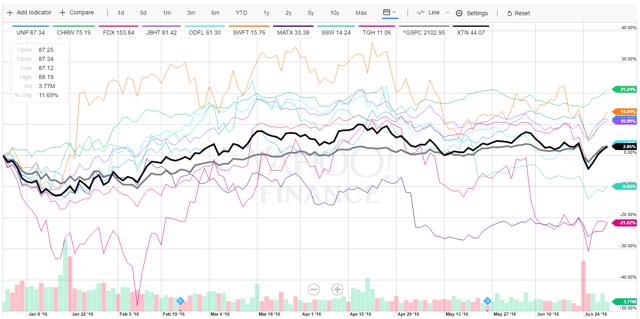 Click to enlarge
Source: Yahoo! Finance
Through the second quarter of 2016, transports substantially underperformed the broader S&P 500 index as evidenced by the SPDR S&P Transportation ETF. Both transports and the S&P 500 index were up nearly 3 percent through the second quarter.
Transports were much more affected by the perceived impacts from the Brexit vote, similar to the growth concern impacts during January and February. Only Matson and Seaspan Corporation (NYSE:SSW) lagged the SPDR S&P Transportation ETF performance through the second quarter.
Q3 2016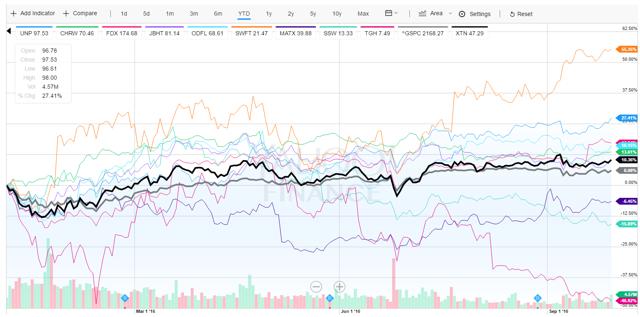 Click to enlarge
Source: Yahoo! Finance
During the third quarter of 2016, transports re-established the lead versus the S&P 500 as evidenced by the SPDR S&P Transportation index. Both were up 6.1 and 10.4 percent respectively.
Major laggards included Matson, Seaspan and Textainer Group Holdings. The challenging shipping container industry and the Hanjin bankruptcy have continued to weigh on all companies with strong exposure to this industry.
YTD 2016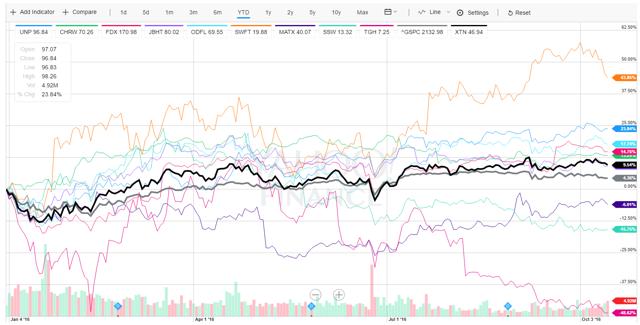 Click to enlarge
Source: Yahoo! Finance
Year-to-date, the spread between the SPDR S&P Transportation ETF and the S&P 500 was flat from last week with transports leading by 5.2 percentage points. The S&P 500 declined by 100 basis points to 4.3 percent YTD; while the SPDR S&P Transportation ETF declined by 100 bps to 9.5 percent YTD.
The big news late in the day was Fed Chair Janet Yellen's remarks regarding the low-growth issues plaguing the economy. Clearly third quarter economic GDP revisions downward from nearly 4 percent to slightly below 2 percent for some estimates has not matched the Fed's desire to increase interest rates.
Retail sales improved from August's lackluster performance, but overall, macro-economic trends remained mixed with no indication of supporting an acceleration of growth. But the Fed is also impacted by the upcoming presidential election. Raising interest rates in the midst of such a major transition before next year would seem highly unlikely.
Rail Operators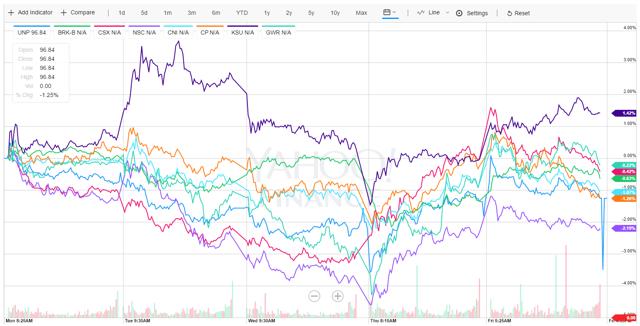 Click to enlarge
Source: Yahoo! Finance
Railroad stocks traded between 1.5 and -1.5 percent for the week with the exception being Norfolk Southern (NYSE:NSC), which was the laggard, down over 2 percent. CSX (NYSE:CSX) earnings were out this week; the company beat guidance lifting the industry initially.
Rail traffic continues to marginally improve, but it is becoming more clear that not all rail operators will witness a return to stable traffic levels at the same time. Canadian National (NYSE:CNI) looks to be in the lead with strong positive carload traffic growth in September and early October. If GDP holds near 2 percent during the second half of 2016 and improves marginally, rails may have enough pricing power to improve earnings.
Railcar Manufacturers & Lessors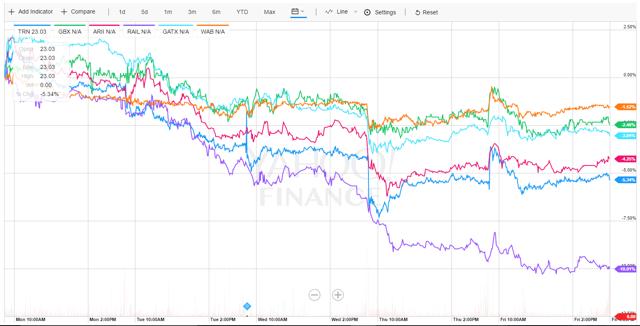 Click to enlarge
Source: Yahoo! Finance
Railcar manufacturers and lessors were hit much harder than rail operators this past week. The Greenbrier Companies (NYSE:GBX) will be the first to report; the company also announced its proposed European merger with Astra Rail earlier in the week. Regardless, all peers were down for the week with FreightCar America as the laggard down 10 percent.
The lower GDP growth levels are not a great sign for railcar manufacturers. Improvement is going to be positive, but idled assets will come on-line before substantial new orders are placed to grow capacity.
Truckload Carriers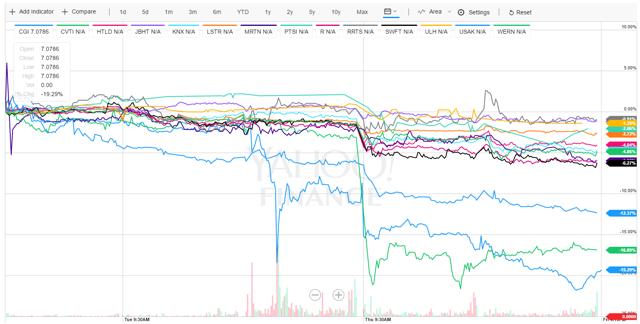 Click to enlarge
Source: Yahoo! Finance
The truckload market was hit pretty good with most companies down 1 to 6 percent. Major laggards included Celadon Group (NYSE:CGI), Covenant Transportation (NASDAQ:CVTI) and USA Truck (NASDAQ:USAK). JB Hunt Transport Services (NASDAQ:JBHT) is typically the first truckload peer to report. Signs have not pointed towards strong expectations for the third quarter.
USA Truck did increase driver pay substantially for independent contractors to nearly 40 percent. Performance expectations for the third quarter are mostly substantially lower versus last year for many companies.
Less-Than-Truckload Carriers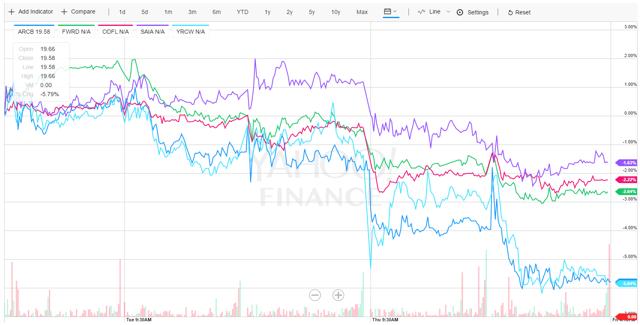 Click to enlarge
Source: Yahoo! Finance
LTL carriers were hit just like their truckload peers. Both YRC Worldwide (NASDAQ:YRCW) and ArcBest Corporation (NASDAQ:ARCB) lagged the LTL peer group. No special news here, simply underperformance by the riskier perceived companies in the industry.
Similar as has been the case for investors, LTL carriers continue to feel the pressure from a slow-growing economy. FedEx Corporation (NYSE:FDX) did report strong results for its LTL segment recently with an acceleration in growth for both tonnage and shipments from the previous quarter. Other non LTL pure-plays to watch including United Parcel Service (NYSE:UPS) and XPO Logistics (NYSEMKT:XPO).
Air Freight, Package & Delivery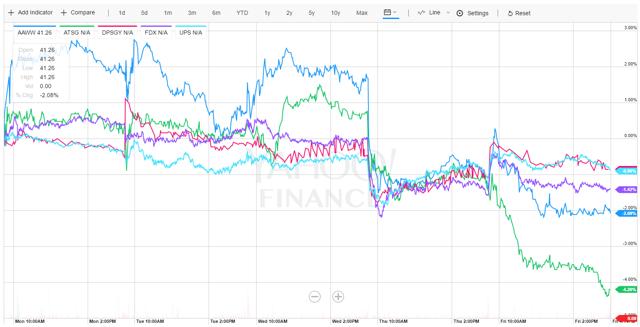 Click to enlarge
Source: Yahoo! Finance
The airfreight, package and delivery industry witnessed moderately negative performance with Air Transport Group (NASDAQ:ATSG) being the laggard. Despite a stronger connection with e-commerce, which has continued to outperform traditional retail, broader market declines were the focus.
Deutsche Post DHL Group's (OTCPK:DPSGY) performance has been immune to broader U.S. market performance for much of the year. However, European events will continue to potentially impact the stock price, with Brexit being a near-term possible event.
Contract Logistics, Forwarding & Brokerage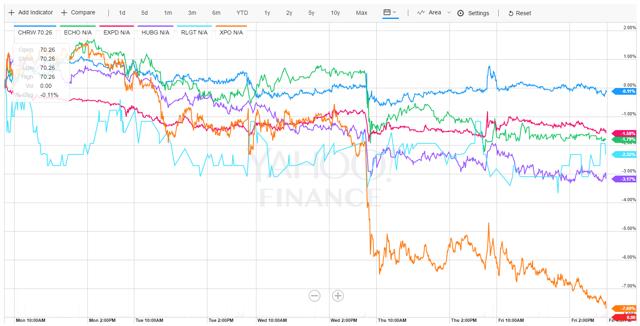 Click to enlarge
Source: Yahoo! Finance
Most contract logistics companies were down marginally to -3 percent. XPO was the laggard down over 7 percent for the week. Based on XPO's run-up from varying times of the year, investors most likely were content to take some profits as markets experienced weakness.
Any weakness in XPO to the low $30s or slightly below $30 per share would possibly offer investors a solid entry point prior to earnings. The company's profit turnaround and free cash flow growth is anticipated to remain highly positive through the remainder of the year.
Container Shipping Lines, Charter Owners & Container Lessors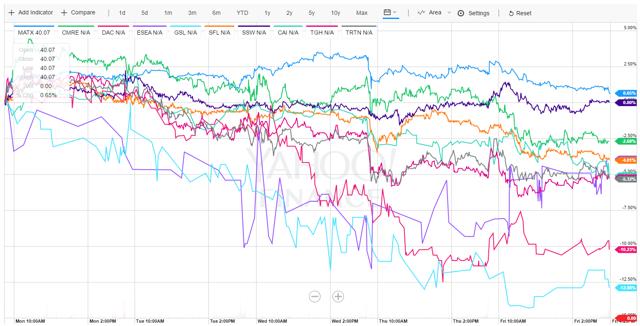 Click to enlarge
Source: Yahoo! Finance
Companies exposed to the container shipping industry witnessed a much broader range of varied performance. Matson and Seaspan were flat, while the majority of companies traded down 2.5 to just over 5 percent. Laggards included Danaos Corporation (NYSE:DAC) and Global Ship Lease (NYSE:GSL) which were down 10 and 13 percent respectively.
The big news aside from last week's significant dividend cut by Costamare (NYSE:CMRE) is the upcoming earnings reports for the industry. All eyes will be on impacts from the Hanjin bankruptcy. Special attention will be paid to container lessors and managers as well as for Seaspan.
Demand Trends
Key demand-based indicators that are monitored include Class I rail traffic, trucking industry tonnage, shipments, and loads, air cargo tonnage, container shipping line twenty-foot equivalent units, TEUs, North America seaport TEUs, shipping lane port calls, North America cross-border trade, and freight rates for most of these indicators.
Class I Rail Traffic
For week 40, total traffic was flat at -6.8 percent YTD with carload traffic better by 10 bps to -9.5 percent and intermodal traffic flat at -3.4 percent. Week 40 continued to witness overall improvement compared to year-over-year (YOY) rail performance, but total traffic declines increased 130 bps from week 39 to -4 percent.
Container traffic declined by 10 bps to -1.1 percent for the year. Both eastbound and westbound intermodal pricing remained up from the late August price surge.
Week 40 witnessed a new record for the year with the thirteenth consecutive week of weekly coal carload traffic above 108,000, and eleventh consecutive week above 112,000. Grain continued its strong performance for the third quarter, but declined to positive 6.4 percent versus last year.
Motor vehicles and equipment carload traffic maintained its performance above 40,000 carloads with a -5.1 percentage decline from last week to 10 percent versus last year. Crushed stone, gravel and sand has outperformed petroleum products now for thirteen consecutive weeks.
Trucking Industry
Per the national dry van spot rate average from DAT Solutions, pricing remained weak from the peak in late July. The average rate per container was down 1 percent from the previous month and down 6.5 percent versus last year.
As is customary, Covenant Transportation announced reduced guidance for the company's profitability this upcoming quarter. Increased depreciation and higher claims costs have impacted the lower freight rate environment. Companies overly exposed to the dry van market seem to be suffering the most versus more diversified service-based companies with larger scale. But all trucking industry peers are feeling the pain for a variety of reasons.
Air Cargo
E-commerce continues to impact all modes of transportation with the largest benefactors being air freight and trucking companies. As part of this fact, UPS extended its UPS Worldwide Express Plus service globally. A primary driver cited was the ability for package delivery to meet e-commerce demand for shipments shortening fulfillment cycles.
As part of this strategy, UPS plans to invest $2 billion in Europe as this market's competition intensifies from FedEx's acquisition of TNT Express and DHL Group's current leading market position.
Container Shipping Lines
Average freight container spot rates rose ahead of GRIs for the Trans-Pacific trade lane this week. This time likely will be no different than the past as GRIs have not been sustainable due to the overcapacity issues across the globe.
Prior to the October GRIs, average freight container spot market rates had begun to decline after the Hanjin bankruptcy pushed rates higher. Right now, only a pick-up in GDP growth could lead to improved spot market rates. Some are expecting a stronger peak season, but this remains to be seen.
With recent consolidation activity coming to a pause, another pick-up could occur once the holiday shopping season comes to a close. For major global container shipping lines, Hanjin's bankruptcy has created two common thoughts. Larger carriers want to get bigger and smaller carriers want to avoid bankruptcy.
North America Seaports
Early impacts to major U.S. seaports from the Hanjin bankruptcy have pointed to an increase in negative performance. September U.S. seaport traffic fell by nearly 4 percent during September.
The Port of Long Beach which had greater exposure to Hanjin was hit especially hard with imports and exports down 15 and 4 percent respectively. The Port of Los Angeles witnessed quite the opposite with imports and exports increasing 4 and 17 percent respectively.
Laden East Coast container traffic declined by nearly 3.5 percent; impacts were wide-spread across the U.S as West Coast traffic declined by nearly 5.5 percent. These early trends do not bode well for the North America seaport performance. It will be interesting to compare Canada and Mexico ports against the U.S. once all data is out.
North America Cross-Border Trade
With the presidential election in the home stretch, we will soon know how border trade with the U.S. will look. If Donald Trump were to win, I don't think that the extremities uttered would in fact become a reality. But North America Free Trade Agreement, NAFTA proponents will sleep better with a Hillary Clinton victory.
Regardless, Mexico continues to make inroads taking more market share for the manufacture of light-duty automobiles. This growth continues to grow across the board from Laredo to Mariposa to Otay Mesa.
Portfolio Management Strategy Update
The LLGP and LSGP portfolios were created in February/March of this year. At the end of the week, the LLGP was up 6.5 an increase of 60 bps and the LSGP was up 24.8 percent representing a 910 bps decline from last week. No action was taken during the week.
LLGP top five performers YTD:
Amazon.com (NASDAQ:AMZN) 55.4 percent
The WhiteWave Foods Company (NYSE:WWAV) 54.9 percent
Canadian National 16.6 percent
LINE Corporation (NASDAQ:LN) 14.0 percent
Deutsche Post DHL Group 12.9 percent
LLGP worst five performers YTD:
Cal-Maine Foods (NASDAQ:CALM) -9.5 percent
Seaspan Corporation -6.5 percent
US Foods Holding (NYSE:USFD) -5.8 percent
Sprouts Farmers Market (NASDAQ:SFM) -5.2 percent
Unilever (NYSE:UL) -3.6 percent
Volatility during the past couple of weeks has been tough, but two holdings witnessed strong improvement. Both Sprouts Farmers Market and ULTA Salon, Cosmetics and Fragrance (NASDAQ:ULTA) improved significantly during the week. Sprouts improved by 2.7 percentage points and ULTA improved by 9.5 percentage points.
Weakness continued for Cal-Maine Foods, Seaspan and US Foods Holding. All three stocks will continue to take a wait-and-see approach as each one has its challenges and issues. Ample cash reserves are available in the event a buy action is merited.
Each company has a strategy in place. Cal-Maine will only have another action taken if the price drops at or below the $36.50 per share level. If sales and earnings begin to improve, current levels may offer an opportunity if no appreciation were to occur. Seaspan will continue to be monitored based upon the challenges in the container shipping container industry. The dividend appears solid through next year. US Foods is in the midst of delivering profits for 2016, on an adjusted basis. EBITDA trends will be monitored as this metric seems to be the focus for analysts.
LSGP Performance
Mobileye (NYSE:MBLY) 1.5 percent
XPO Logistics 31.3 percent
YRC Worldwide 33.8 percent
All three holdings in the LSGP declined substantially for the week. The laggard within the group was Mobileye. The company has not recovered since the fallout with Tesla Motors (NASDAQ:TSLA). Further assessments will be made regarding the company's valuation as to whether an addition to the position is merited.
Both XPO and YRC still offer upside potential from current levels. Patience is running a little thin for YRC, but the short-term play was predicated on a tightening trucking industry during 2017. For this reason, patience will continue to be exercised. XPO should have another strong upcoming quarter.
LLGP Holding Scorecard
Top Performer
Top performers are companies which have returned the highest results for the year. In addition, they have exhibited strong operating metric performance leading to stock gains. These companies imbue the objective of achieving annualized double-digit returns.
Amazon.com
Canadian National
Deutsche Post DHL Group
JB Hunt
Line Corporation
Matson
Neutral
Neutral holdings have returned moderately positive or negative performance for the year. Some companies may be witnessing moderate impacts to the business driven mostly by industry-specific trends.
These companies typically will fluctuate between less than positive 9 percent to no greater than negative 5 percent during normalized market conditions. Seaspan was dropped back down to the watch list. Typically, it is not uncommon for a majority of holdings to be in this list. Ideally, the substantial majority will be in the neutral or higher lists.
The Boeing Company (NYSE:BA)
PayPal Holdings (NASDAQ:PYPL)
Calavo Growers (NASDAQ:CVGW)
Republic Services (NYSE:RSG)
Sanderson Farms (NASDAQ:SAFM)
Sprouts
Unilever
ULTA
US Foods
Watch List
Companies on the watch list merit a close consideration as to their sustainability to remain within the LLGP. If a determination is made to remain, the likely result will be to aggressively defend the stock price and accumulate on weakness. If the determination is to liquidate, the holding will likely be moved to the LSGP and sold opportunistically for a realized gain.
To date, all companies on the watch list have had a determination made to remain in the LLGP. Both Cal-Maine and Seaspan will be monitored weekly as to possible further additions. Ideally, not many companies will remain on this list for a long duration period.
Areas Of Interest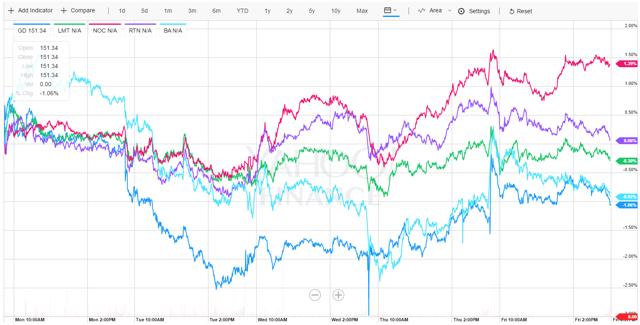 Click to enlarge
Source: Yahoo! Finance
Defense stocks held up fairly well compared to broader indices and transports. The Boeing Company continued to perform well, with only marginally lower performance. Northrop Grumman (NYSE:NOC) kept the momentum from recent analyst positive coverage.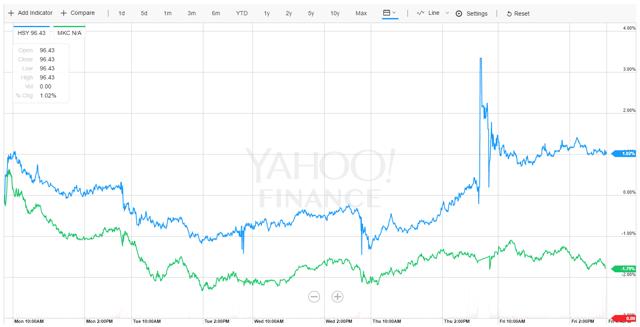 Click to enlarge
Source: Yahoo! Finance
McCormick Incorporated (NYSE:MKC) continued to witness declines from last week. This has led some to believe that the value may finally be at a level for investment consideration; I disagree. Both McCormick and The Hershey Company (NYSE:HSY) remain overvalued.
Summary
Markets became enamored with oil trends this past week. This is a reminder for investors that markets can and will change course on a whim. Markets are tired and a break could be good for investors.
The theme for macro trends continues to plug away with inconsistency. This may make it tough for investors to feel confident about getting into the market and/or managing current holdings.
We can all relate to stock market fatigue at the moment. The best stance moving forward is to remain disciplined and to exercise patience where it makes sense. For the LLGP this is related to the container shipping industry, grocers and foodservice providers. For the LSGP this relates to Mobileye and autonomous vehicles.
Disclosure: I am/we are long AMZN, BA, CALM, CNI, CVGW, DPSGY, JBHT, LN, MATX, MBLY, PYPL, RSG, SAFM, SFM, SSW, UL, ULTA, USFD, XPO, YRCW.
I wrote this article myself, and it expresses my own opinions. I am not receiving compensation for it (other than from Seeking Alpha). I have no business relationship with any company whose stock is mentioned in this article.
Editor's Note: This article covers one or more stocks trading at less than $1 per share and/or with less than a $100 million market cap. Please be aware of the risks associated with these stocks.