Freeport-McMoRan (NYSE:FCX) has lost around 24% of its value since it released its second-quarter results toward the end of July. This slump in its share price can be attributed to negative sentiments prevailing in the copper and gold markets. For instance, Goldman Sachs recently said that copper prices could decline as low as to $4,000 a metric ton in the next couple of years due to an increase in supply as a result of a significant decline in costs, which will ultimately outpace demand. Meanwhile, gold prices have fallen by more than $43 an ounce to $1257.17 per ounce this week as compared to $1,300 per ounce in August.
However, the weakness at Freeport-McMoRan could be considered as a buying opportunity because it has increased the sales volumes of copper, gold, and molybdenum on a sequential basis, offsetting the current weakness in the copper and gold markets. On account of an increase in sales volumes, analysts expect Freeport-McMoRan to report an improved financial performance on a year-on-year basis, also and on a sequential basis for the third quarter of 2016, which is expected to be released on October 25.
Factors that will improve the financial performance
Freeport-McMoRan is doing the right thing by raising its sales volumes to mitigate the softness in the copper and gold markets. For instance, its third-quarter sales volume are expected to come in at 1.3 billion pounds of copper, representing an increase of 30% on an annual basis and 18% on a sequential basis.
Meanwhile, the sales volume for gold and molybdenum are anticipated to be at 410 thousand ounces and 20 million pounds, respectively. These forecasted sales volumes for gold and molybdenum are on the higher side as compared to its sales volumes recorded in the third quarter of 2015 and the second quarter of 2016. For instance, its gold sales volumes had come in at 156 thousand ounces and the sales volume of molybdenum was recorded at 19 million pounds in the second quarter of 2016.
As a result of this increase in sales volumes across its business, analysts expect Freeport-McMoRan to report earnings of $0.19 per share, which is a massive turnaround as compared to a loss of $0.15 per share in the same quarter of 2015. Additionally, the third-quarter earnings estimates are better than the previous quarter because the company had reported a loss of $0.02 per share in the second quarter of 2016. At the same time, its revenue is projected to come in at $4.06 billion for the third quarter of 2016, representing an increase of 10% on a year-over-year basis and 22% on a sequential basis.
Thus, in the third quarter, it is likely that Freeport-McMoRan will be able to offset the current weakness in the copper and gold markets, while still delivering an improved financial performance. The improved sales volumes, coupled with a higher average realized price, should drive its growth as gold prices still remain higher on a year-over-year basis. For instance, although the average realized gold price for the third quarter has fallen slightly to $1,327 per ounce, it is still up around 18% from the average realized price of $1,127 per ounce in the third quarter of 2015.
Additionally, Freeport-McMoRan gives investors another couple of reasons to stay invested in the stock, such as a reduction in operating and capital costs and its efforts of enhancing output from core assets. Let's take a look.
Focus on improving the cost structure
Freeport-McMoRan is looking to increase sales volumes from its core assets, while also reducing unit costs and capital expenditures to offset the decline in the average realized price of copper. For instance, its net unit cash costs in the previous quarter declined by more than 11% to $1.33 per pound. Also, its site production and delivery unit costs for copper dropped 23% on a year-over-year basis.
The important thing to note here is that this significant reduction in the unit cash costs helped Freeport offset the decline in the average realized price of copper, which declined 20% to $2.18 per pound. Furthermore, Freeport has identified annual operating and administrative cost savings in excess of $150 million in connection with its restructuring efforts. These operating cost savings should enhance its earnings performance in the second half of the year.
In addition, last quarter, Freeport lowered its capital costs by over 48% to $441 million from $855 million in the second quarter of 2015. In fact, its capital expenditure was nearly 52% lower in the first six months of the year as compared to the first half of 2015. This reduction in capital costs can be attributed to its efforts of improving operational efficiencies across its projects.
For instance, the expansion of concentrator facilities at Freeport's Cerro Verde project, for example, not only lead to an improvement in costs efficiencies, but also enhanced its daily production to 360,000 metric tons from that of 120,000 metric tons of ore per day last year. In fact, this project has added incremental annual production of approximately 600 million pounds of copper and 15 million pounds of molybdenum to Freeport's portfolio. The following chart illustrates Freeport's efforts toward reducing its cost base.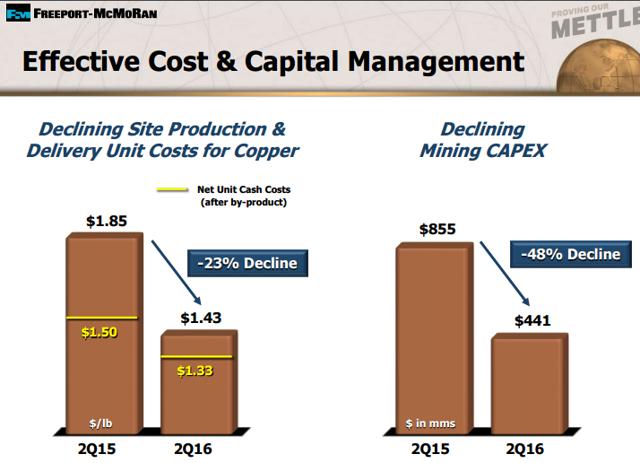 Click to enlargeSource: Freeport-McMoRan
Streamlining the oil and gas business
Additionally, in order to streamline its overall business, Freeport has decided to sell off the majority of its oil and gas business and reduce the scale of operations. In my opinion, this is the right thing to do in the current oil pricing environment since the company will have one less commodity weakness to deal with.
For instance, in the last reported quarter, Freeport aligned its capital expenditure with that of its debt reduction initiatives and terminated a contract for deepwater drill ships. This particular move is expected to help Freeport achieve contract savings of around $350 million.
In addition, the company recently entered into an agreement with Anadarko (NYSE:APC) to sell its deepwater Gulf of Mexico properties for a total consideration of approximately $2 billion, with up to $150 million in contingent payments. With this transaction, the company has raised more than $6 billion through non-core asset sales this year so far, which should allow it to lower the debt and improve the liquidity position.
Moreover, on Friday last week, it emerged that Freeport has struck yet another deal for its oil assets. The company has decided to divest its onshore oil and gas assets in California in a deal worth $742 million. With this move, Freeport will be able to further reduce its debt load and cut interest expenses.
Conclusion
The points given above indicate that Freeport-McMoRan is a buying opportunity after its latest drop. The company is looking to find ways of reducing costs and also improve the efficiency of its operations. Moreover, its upcoming results are anticipated to be strong. So, it will be a good idea to use the drop in Freeport shares as a buying opportunity since the stock can make a comeback going forward.
Disclosure: I/we have no positions in any stocks mentioned, and no plans to initiate any positions within the next 72 hours.
I wrote this article myself, and it expresses my own opinions. I am not receiving compensation for it (other than from Seeking Alpha). I have no business relationship with any company whose stock is mentioned in this article.