WTI (NYSEARCA:USO) finished the week up 1.55%.

Click to enlarge
Source: Finviz
In a "Weekly Oil Markets Outlook" piece to premium subscribers last Sunday, we said: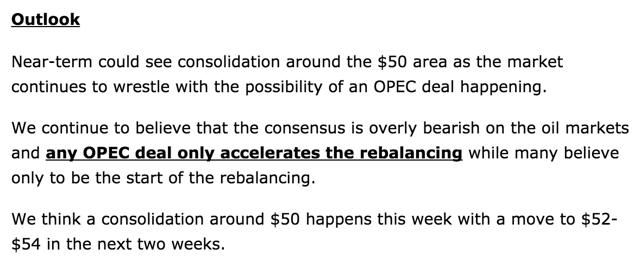 Click to enlarge
Source: Weekly Oil Markets Outlook 10/9/16
This turned out to be the case this week as WTI consolidated around $50 before the next leg up. Short-sellers covered another 32 million bbls while longs raised positions by 6 million bbls.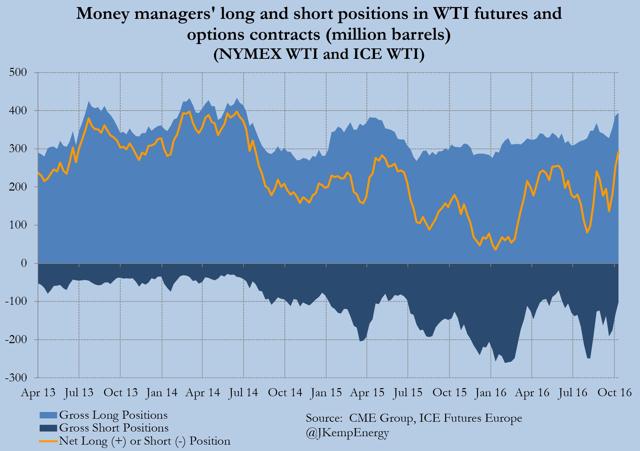 Click to enlarge
Source: John Kemp
This short-covering cycle was similar to the previous one as illustrated below: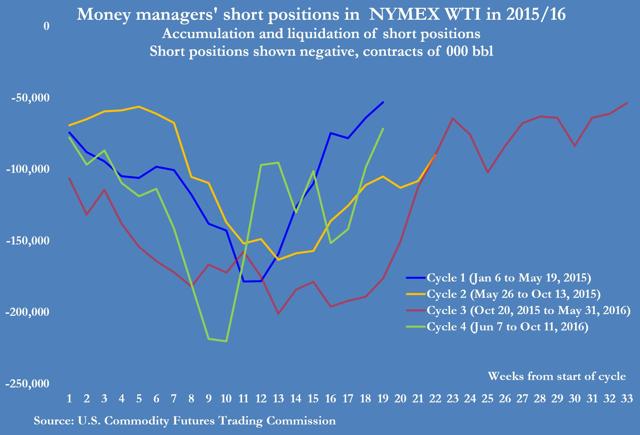 Click to enlarge
Source: John Kemp
It appears to us that the short-sellers only have a bit more to go before this cycle is completed. We believe the next leg up in price will come from the sentiment shift of the bears as most investment banks remain very skeptical of the OPEC deal pointing to details and execution as their biggest concerns. As we highlighted in this OMD, we think it's the intention and perception of a deal that's more important than the actual details as our data currently points to the oil markets already in undersupply by about 400k b/d.
We also believe the concept of the "shale band" will be proven wrong as explained by Open Square Capital here. Our conversations with service providers lead us to believe that servicing costs are already on the rise, and will only pick up pace as specific basins experience a big increase in drilling activity. Permian service providers have indicated to us that there could be a cost increase of 20-25% next year, which will effectively eliminate the Permian advantage over other basins.
We continue to see a high probability of oil prices finishing the year around $60. We will be writing a new weekly update to premium subscribers detailing the current sentiment we see and how we think prices will react in the coming weeks. If you are interested, please consider signing up here. Thank you for reading Weekly Oil Markets Recap.
Disclosure: I/we have no positions in any stocks mentioned, and no plans to initiate any positions within the next 72 hours.
I wrote this article myself, and it expresses my own opinions. I am not receiving compensation for it (other than from Seeking Alpha). I have no business relationship with any company whose stock is mentioned in this article.