There are enough signs pointing towards Walgreens Boots Alliance (NASDAQ:WBA) surging in the upcoming days. The stock might be out of many investors' radars with the relatively strong coverage its competitor CVS (NYSE:CVS) has been receiving in the recent past, but there might be good reasons behind that. While CVS definitely carries a stronger potential as a long-term prospect, I wouldn't completely rule out Walgreens Boots Alliance altogether.
A quick look reveals that the company has been effectively returning value to its investors. Even though revenue has modestly risen over the past few years, the company's free cash flow position has improved consistently and currently stands at $5.4 billion (TTM). In turn, WBA has increased dividends each year, although the rate of increase has slowed down but that's just nitpicking.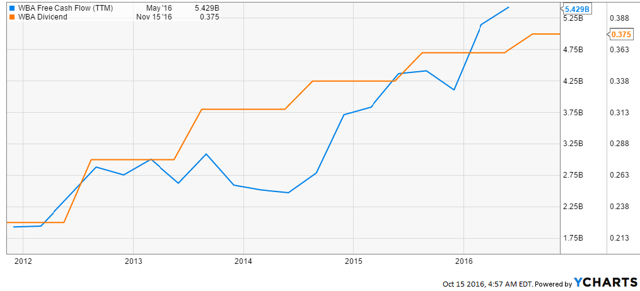 (Source: YChart)
WBA is on the verge of releasing its report and, like most analysts, I expect its EPS to climb this year. Couple that with increasing free cash flows and a dividend payout ratio which has enough room for growth, and you have a stock which will almost certainly increase dividends for another year in a row. However, I cannot safely say that dividends will continue to increase like they have in the last few years. While the company maintains a healthy free cash flow, it is probably going to get restricted in the coming years unless it finds new revenue generating streams to maintain or increase this metric. This is one of the major reasons why investors look towards CVS instead of WBA when looking for long-term prospects. In CVS they can see a strong future, whereas in WBA it is still rather uncertain.
Besides the obvious long-term prospects of WBA, or lack thereof, I personally don't feel comfortable considering a stock like WBA as a long-term investment. Not only has the stock been pretty volatile in the past year or so, but it has lost 10% of its value over the last one year. Even though it is trading near its 52-week range low, I believe we have a short-term capital gain opportunity in hand, and it revolves around the earnings release scheduled for 20th October. Historically, WBA tends to rise a few weeks after the earnings report, so a potential short-term stint in WBA will have to be held through November to realize a gain.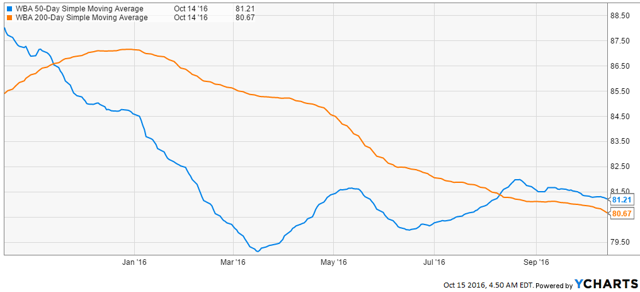 Click to enlarge
(Source: YChart)
More proof lies within more technical fields. A comparison of the 50- and 200-day charts shows that the stock was bearish throughout the year; however, since the past month or so it has crossed over into the bullish territory, with the 50-day average line clearly moving above the 200-day moving average. Another tool we can look at is the RSI, which can further help us predict the upcoming short-term trend of WBA. Right now, the RSI is floating at 37.24, very close to the lower margin of 30. However, in the recent months, this same index has seen itself go up and sometimes beyond the upper margin threshold of 70. Heading towards an earnings release while WBA's RSI is near the lower threshold is also an indicator that if the earnings head in the right direction (which is expected of it), we might see the stock price appreciate in the coming days.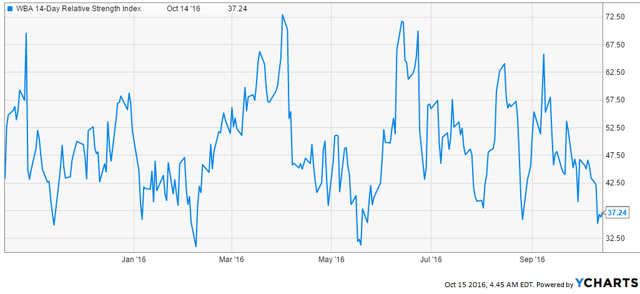 (Source: YChart)
Finally, I must make it clear once more that I do not recommend WBA as a long-term holding. There are some uncertainties behind the stock which argue against adding WBA to your portfolio as a permanent fixture, especially when you have CVS as a much better option. But the next month could be rather interesting for WBA and its stock price could very well climb. I place a conservative price target of $90-$93 for the stock, as compared to its current trading price of $78.31.
Disclosure: I/we have no positions in any stocks mentioned, and no plans to initiate any positions within the next 72 hours.
I wrote this article myself, and it expresses my own opinions. I am not receiving compensation for it (other than from Seeking Alpha). I have no business relationship with any company whose stock is mentioned in this article.