Cray (NASDAQ:CRAY) has corrected by about 50% recently and on the face of it looks like an opportunity. However, markets tend to overshoot by a lot, and even if the stock looks like a decent valuation, I think we will be able to get it at a better price if we are patient.
To begin with, the company's revenue has been going up for several years now. As the chart below indicates, yearly revenue has more than doubled over the past several years.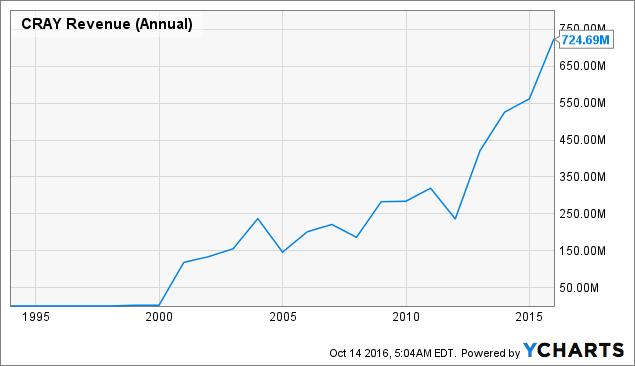 CRAY Revenue (Annual) data by YCharts
The stock has corrected by a lot recently, mainly because the company missed on EPS and revenue in the recent quarter. There are several reasons for this.
First of all, the company has had shipping delay problems with third-party components. This has prevented the company in many instances from being able to accept new orders.
Another reason is an overall slowdown of orders, for which the company does not really have an explanation. From the company's recent Q2 transcript, we read:
Further impacting our order flow has been what now appears to be an overall slowdown in the supercomputing market were Cray competes, especially at the high-end and as well in our targeted commercial markets.

The exact drivers for this slowdown have been difficult to pin down, but we're hearing a similar perspective from multiple sources in the market. So the market seems to be going through a far slower period this year than anticipated.
Another explanation - from the transcript - might be that IDC recently reduced its growth expectations for the supercomputing sector. So what might be playing out is an overall slowdown for the sector.
So CRAY's disappointing quarter had to do with both internal reasons (third-party component delays) and what seems to be an overall slowdown in growth for the sector.
CRAY's EPS has been erratic over the years; however, overall, the company has been making money.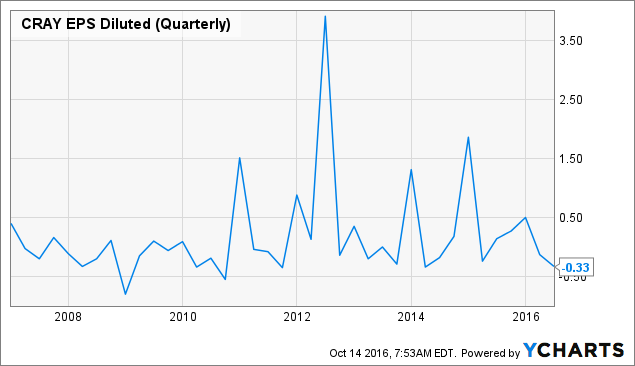 CRAY EPS Diluted (Quarterly) data by YCharts
However, the recent $0.33 loss per share is the biggest loss over the past several years, and that might be a big problem for the stock if a trend is established.
Something else I look at closely is the health of the balance sheet.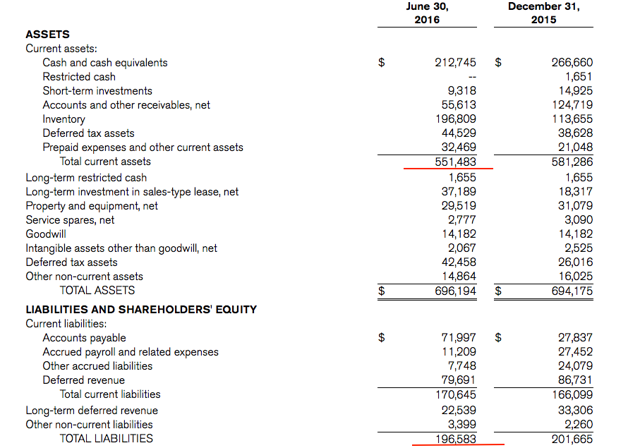 Click to enlarge
With current assets of $551 million and total liabilities of $196 million and no debt, this is one of the better balance sheets that I have seen in the computer industry for a while. Overall, this is a very solid company and its growth has been more than satisfactory over the years.
The question is, do you buy it today?
This is a very difficult question today. Reason being that the sector and the company itself is expecting a slowdown. And companies that don't see revenue grow, see their stock fall like a rock, or in the best case, go nowhere.
CRAY's management said that they expect revenue to come in at about $650 million for 2016. This is a significant shortfall compared to the $724 million in revenue the company booked in 2015.
Furthermore, analysts only expect about $0.84 EPS for next year, and that has been revised from $1.75 per share they were expecting over 90 days ago. So, in other words, we have many signs of an established downward trend in revenue and EPS. In my book, this means I do not expect anyone to get excited about the stock soon.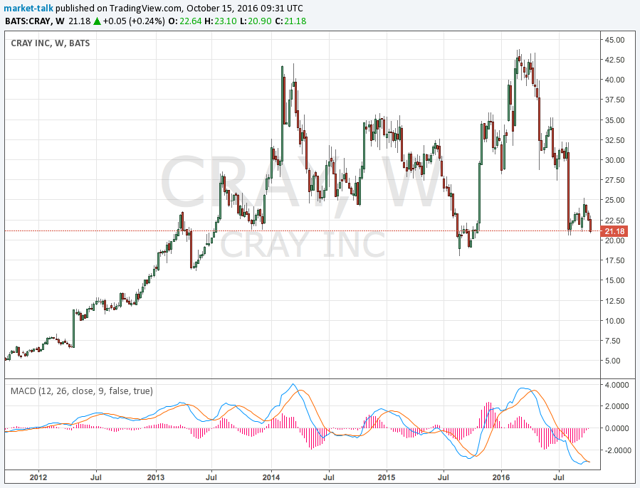 Click to enlarge
The market on and off has given CRAY a very good valuation. However, if the market does not have much to look forward to, then it can go to the opposite extreme and trash your stock to very low valuations.
So far, the stock has corrected by about 50% from its highs. However, if we do not get guidance from management that next year things will be better than this year, then I think the stock can keep correcting. How much I do not know, but like I said, the market can go to extremes at times, and stocks can go lower than we could imagine.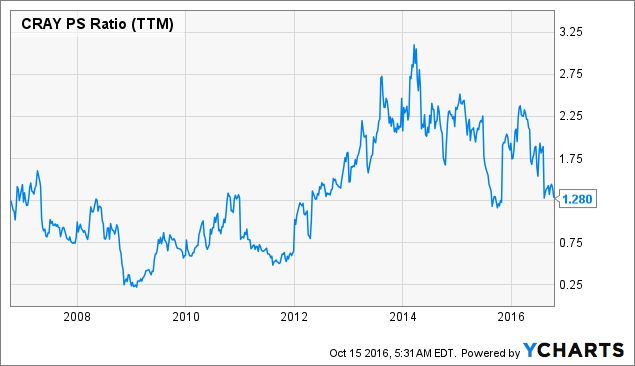 CRAY PS Ratio (TTM) data by YCharts
As a proxy of how low CRAY can go, I will use the Price/Sales ratio. While I do not think that we will see a Price/Sales ratio 0.25 again, I do think that 0.75 is possible.
So, if nothing changes for 2017 and revenue keeps going lower, I do think it is possible for the market to give CRAY a $500 million market cap (perhaps even lower). That means it is possible for the stock to go much lower.
However, one other item from the conference call makes be believe that things will not get much worse, and that next year we can expect much better performance from the company. From the recent conference call:
Second, we very recently experienced an electrical smoke event caused by a manufacturing facility power component at the smaller of our two facilities in Chippewa Falls, Wisconsin. This event caused smoke which damaged five relatively smaller customer systems that were being tested and prep for shipping, and for which we expected to achieve acceptances before the end of the year including some in the third quarter.

Some of these systems were key pieces of larger customer solutions. And as a result, their impact to our overall revenue outlook was more significant than just the value of the revenue type to those systems themselves. This event just happened and we're still evaluating the full extent of the impact, as well as our recovery plan. But I want to note that the majority of the loss is expected to be covered by insurance.

However, it's likely to have a significant impact on our results for the year, as the components for these systems will need to be reordered, rebuilt, tested, and will ultimately be delivered much later than originally anticipated. At this point in our analysis of the situation, we believe that the impact on 2016 is likely to be more than $20 million, but potentially as much as $60 million in revenue.
So while this issue did have an effect on this year's revenue, chances are that the company will book this revenue next year.
Another reason why I think 2017 will be better, is because supplier delays do not last forever. I am assuming that the component delays the company was talking about are being fixed as I write this article. If so, then we will probably see pent up demand orders for the new year.
Bottom line
CRAY has had an amazing run over the past several years; however, recent bad luck and a slowdown in the sector has created a revenue shortfall. We do not know if this will continue and establish a trend; however, chances are that this is simply a temporary setback.
The stock has corrected by 50% recently, but until such a time comes that we get better guidance from the company, the stock might continue to fall. And if I am correct, we will probably see a bottom in the stock over the next two quarters.
I will be following CRAY over the next several quarters very closely, for I have a hunch that the market will go to extremes with this one, and an opportunity will arise, even if the fundamentals of the company do not turn around soon. Stay tuned.
Disclosure: I/we have no positions in any stocks mentioned, and no plans to initiate any positions within the next 72 hours.
I wrote this article myself, and it expresses my own opinions. I am not receiving compensation for it (other than from Seeking Alpha). I have no business relationship with any company whose stock is mentioned in this article.