MLPs bounced back with a 1.9% gain Monday, followed by 4 straight days of fractional losses to finish the week with a marginal gain. Trading remains skittish ahead of 3Q earnings, the election and OPEC's next meeting. In a microcosm of what's happened this year, utilities outperformed MLPs, which outperformed the S&P 500. Oil, gas and NGLs were positive tailwinds, with oil holding above $50/bbl and natural gas busting through $3.20/mmbtu.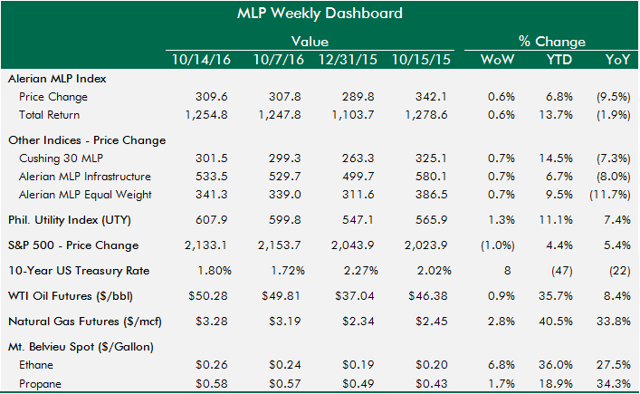 Click to enlarge
Interest rates increased to their highest point since June, but that 8 bps spike didn't seem to have the same influence on yield-based equities as it did last week. This is indicative of recent market action that lacks consistency. Something that matters a great deal one week doesn't have the same influence the next week. For MLPs, inconsistency manifests itself in the lack of consistent outperformance among individual names or groups of MLPs from week to week.
Limbo: the New Normal
There is a clear area where skittishness may be warranted: getting permission to construct big pipelines virtually anywhere on the continent. Investors at this point have such frayed nerves when it comes to potential permitting issues that impact when (or if) a pipeline can be built, that any whiff of smoke is assumed to be fire.
This paranoid mindset is understandable, and it played out Thursday afternoon for Williams Companies (NYSE:WMB)/Williams Partners (NYSE:WPZ) (and more dramatically for Cabot Oil & Gas (NYSE:COG)), which dropped in late afternoon trading when WPZ received a letter from FERC saying it is evaluating certain alternative routes regarding a 1.4-mile section of the Atlantic Sunrise Pipeline project and that the final environmental impact statement won't come until after a public comment period. On the bright side, the magnitude of the volatility WMB/WPZ experienced was fairly limited (less than 3% decline since the news), unlike what we might have seen earlier this year.
The confusion in the market about a potential delay kept reminding me of Sir Topham Hat from the incredibly boring kids' TV show "Thomas & Friends," and his ludicrous catch phrase (shown below) whenever he needs to scold a train for a mistake. Activists against Keystone XL and now the Dakota Access Pipeline activists have successfully caused confusion and delay across the midstream sector.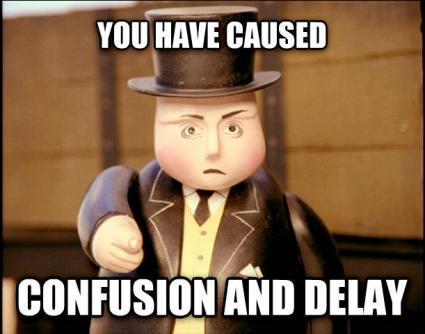 Poll Question Recap
The question from last week was simple: MLPs seem stuck in the mud, what gets them unstuck? Solid 3Q earnings season (41%) was the top choice. Another $5/bbl added to oil prices (30%) wasn't far behind, then large scale M&A (12%), resolution of regulatory challenges (9%) and Presidential election clarity (9%) rounded out the list.
The top three most popular choices could all happen within the next month, and election clarity is coming fast too. Many potential catalysts out there, and the market remains on standby in the meantime.
Winners & Losers
Golar LNG Partners' (NASDAQ:GMLP) IDR reset transaction sparked outperformance for the shipping MLP this week, while 3 other marine transport MLPs took the bottom 3 spots this week. Among onshore midstream MLPs, Antero Midstream Partners (NYSE:AM) and ONEOK Partners (NYSE:OKS) were the top performers; AM the beneficiary of a positive update from its sponsor's upstream activity. OKS's outperformance seemed to be a reversal from recent weakness coupled with enthusiasm over potential M&A chatter that continues around ONEOK, Inc. (NYSE:OKE)/OKS.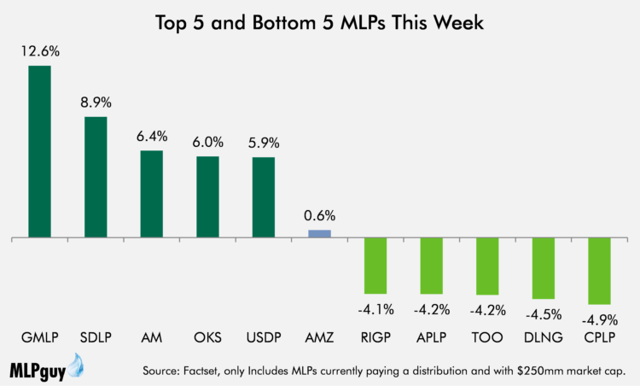 Click to enlarge
USD Partners (NYSE:USDP) made it two straight weeks in the top 5.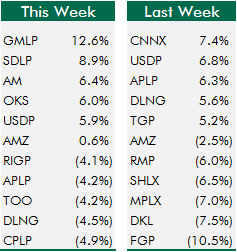 Year-to-Date Leaderboard
USDP joined the top 5 for the year overall this week. Delek Logistics Partners LP (NYSE:DKL) declined despite some movement on the potential merger between sponsor DK and another independent refinery operator Alon (NYSE:ALJ). Shell Midstream Partners (NYSE:SHLX) also failed to hold the brief momentum it had following its drop-down in September.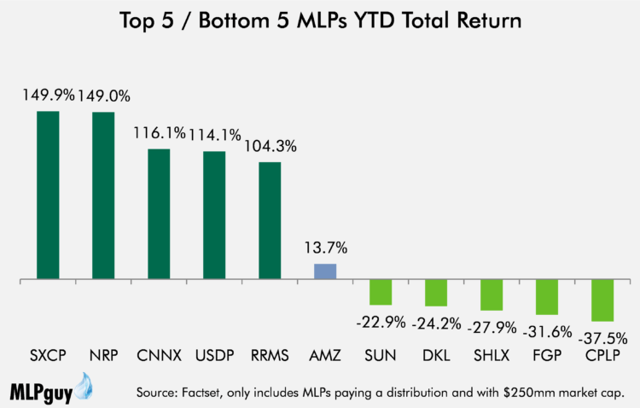 Click to enlarge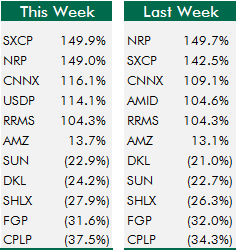 GP Holding Companies and Midstream Corporations
GPs and midstream corporations underperformed MLPs this week overall, but there was a healthy mix of winners and losers. EnLink Midstream (NYSE:ENLC) led the way with 4.7%, rebounding from last week's poor showing.
Now that the merger between SemGroup Corporation (NYSE:SEMG) and Rose Rock Midstream (NYSE:RRMS) is complete and as the Plains All American Pipeline (NYSE:PAA)/Plains GP Holdings (NYSE:PAGP) simplification closing approaches, we decided that we'd include midstream corporations alongside GPs in the charts that follow from now on.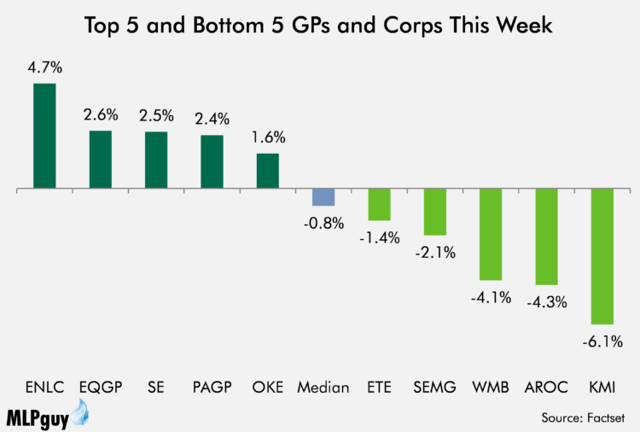 Click to enlarge
Among the losers, Energy Transfer Equity (NYSE:ETE) and WMB are fighting negative regulatory headlines, while Kinder Morgan (NYSE:KMI) may just be profit taking after big outperformance amid a series of positive catalysts this summer. KMI has been at the bottom of this group for two straight weeks, which also may imply very low expectations for quarterly results and/or potential strategic announcements this Wednesday.
This time last year, KMI expectations were too high, which we addressed in a poll questions right before earnings last year that questioned the company's stated growth rate. It ended badly, but this year, it seems much harder for KMI to disappoint.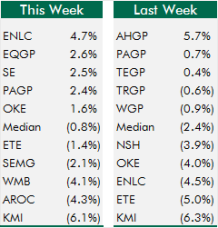 News of the (MLP) World
Drop down MLPs dropped down assets this week, sparking fresh questions about whether these financially engineered growth machines can overcome perpetual equity overhang and create value for the L.P. unitholders that make the whole machine possible. Absent the return en masse of retail investors, the drop down stories probably remain challenged.

Financing
Phillips 66 Partners (NYSE:PSXP) priced $1.125b of senior notes (press release), including:

$500m of 3.55% senior notes due 2026 at 99.901% of par
$625m of 4.90% senior notes due 2046 at 99.303% of par
Growth Projects/M&A
Phillips 66 Partners announced acquisition of refinery logistics assets from sponsor Phillips 66 (NYSE:PSX) for $1.3b (press release)

Acquisition to be funded mostly with debt, including proceeds from the senior notes offering above, but PSXP will issue $196m in new common units to PSX
PSXP expects the assets to generate $150m in EBITDA in 2017, implying an 8.7x multiple
PSXP will enter into a 10-year terminalling agreement with PSX that includes minimum volume commitments for 85% of volumes
The assets acquired include 30 distinct crude, refined products and NGL logistics assets that support four PSX refineries (Bayway, Billings, Borger and Ponca City)
EQT Midstream (NYSE:EQM) announced drop down acquisition from sponsor EQT Corporation for $275m (press release)

EQM will acquire the Allegheny Valley Connector transmission and storage system and gathering assets
EQM expects the acquired assets in aggregate to produce $65m in EBITDA by 2018 after EQM invests $155m of additional capital, resulting in a 6.6x all-in EBITDA multiple
SemGroup announced its Canadian subsidiary SemCAMS will construct a 200 mmcf/d processing plant in the Wapiti Area of Alberta in Canada (press release)

The plant is supported by a 15-year take-or-pay contract with NuVista Energy (OTC:NUVSF) to process 120mmcf/d of sour gas at the plant
The plant is expected to cost CAD$300-350m and go into service in 2Q 2019
Sunoco LP (NYSE:SUN) announced $53m acquisition of convenience store and wholesale fuels distribution business in Eastern Texas and Louisiana (press release)

To be funded with debt from SUN's credit facility
Other
Distribution announcements:

AM: +6.0%
Flat: KNOT Offshore Partners (NYSE:KNOP)
A federal appeals court denied the Standing Rock Sioux Tribe's request to stop construction on the Dakota Access Pipeline, and ordered the injunction removed, allowing for construction to continue (ABC News)

There remains a final hurdle: the US Army Corp of Engineers still need to give the go ahead to build the portion that crosses Lake Oahe
DOJ responded with a statement (read statement here)
Golar LNG Partners announced reset of its incentive distribution rights (IDR) in exchange for common units issued to sponsor (press release)

GMLP's IDR tiers will remain in place, but will start over at the current distribution, resulting in annual savings of approximately $8.6m that had been paid to the GP
GMLP will issue 3.0m common units to its sponsor, but will issue an additional 20% (748k units) through 2 earn-out payments in 2017 and 2018 if GMLP maintains at least its current distribution.
Editor's Note: This article discusses one or more securities that do not trade on a major U.S. exchange. Please be aware of the risks associated with these stocks.