The U.S. Dollar (NYSEARCA:UUP) Index has finally given us a powerful breakout from its contracting range. The dollar index ended the week with gains of more than 1.6 percent after the latest Fed minutes revealed that "a rate hike could be expected relatively soon." The Fed officials, who next meet on November 1-2, before the U.S. election on November 8, are contemplating raising the interest rate in December.
But with the greenback already strengthening, will the central bank really go for a hike? Let us see how the U.S. dollar index is expected to react going forward, and what the implications will be for stocks, crude oil and precious metals such as silver.
What Is The U.S. Dollar Index, and Why Does It Matter?
The U.S. Dollar Index measures the value of each U.S. dollar against six major currencies belonging to U.S.'s leading trading nations. This basket of currencies includes (according to their weights in their index):
Euro (EUR) - 57.6%
Japanese yen (JPY) - 13.6%
Pound sterling (GBP) - 11.9%
Canadian dollar (CAD) - 9.1%
Swedish krona (SEK) - 4.2%
Swiss franc (CHF) - 3.6%
Now, it is important to understand this very clearly. A rising dollar index does not necessarily mean the dollar is strengthening; it could simply also mean that other currencies are weakening, which is lifting the index. Currencies often weaken when the central banks of those countries embark on aggressive monetary easing, directly or indirectly. Lowering interest rates is an indirect way of monetary easing, while helicopter money is a perfect example of direct capital infusion.
Many a times, it is misunderstood that the U.S. dollar index has only these six currencies which hold any value or importance. Well, that's incorrect. Why? Because when China decides to devalue its currency to get more bucks for exports, Japan would try to offset the impact by devaluing its yen. So, in our highly interconnected world, it is hard to stay limited to only the six preferred currencies.
The Dollar Index Breakout And Price Targets
As one can see from the weekly Dollar Index price chart below, the index has given a breakout this week from a contracting range, marked by the two black trend lines. This contracting range was engulfed in a broader rectangular pattern, marked in yellow. In the rectangle, the index has registered 4 reversals, with resistance near 100.60. The index is currently at 98.09, and the positive momentum is expected to carry it towards the resistance, after which it is expected to take some rest. The upper band of BB often acts as a cap, and the index is already through it.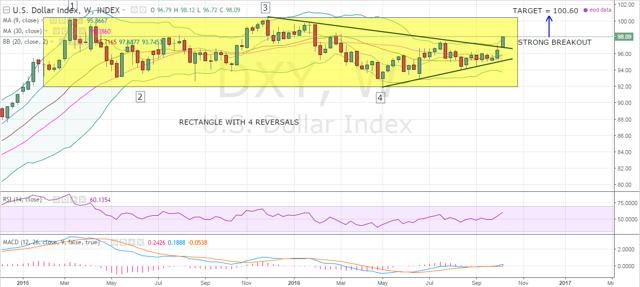 Click to enlarge
(Source: TradingView)
But this is not the bigger picture. The important story is that the dollar index may strive to even cross the resistance hurdle near 100.60, and add another 10 percent if the Fed decides to go for an interest rate hike, and may set the stage for another one soon. The developing action in the dollar index is complemented with strength and momentum.
To elaborate on this, consider the monthly U.S. Dollar Index price chart below. I want to mention here that though the period in the chart spans from 2000 to date, the peak value in the chart is the highest in the last 30 years. I have employed Fibonacci retracements to the chart.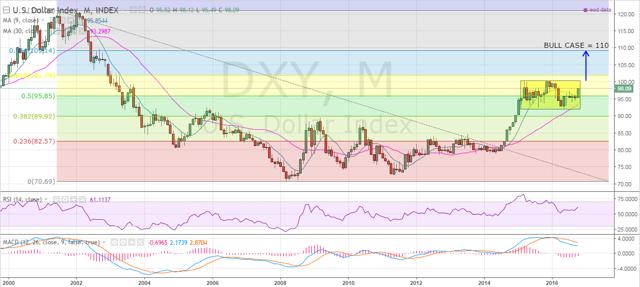 Click to enlarge
(Source: TradingView)
The yellow rectangle spans the period from 2015 to date. During this period, the index has flirted several times with the 50% Fibonacci retracement level of 95.85. After again breaching this crucial technical level on the downside in March this year, the index has finally managed to cross on the upside this month. After 20 months of consolidation in this rectangle, if the index manages to break out, I do not think it will stop before hitting near-110 levels. The 9-month SMA of 95.8544 has been decidedly breached, and the 30-month SMA of 93.2987 is fast catching up.
The 61.8% Fibonacci retracement of 101.79 should act as a near-term supply point, which will force some profit booking near the resistance. When these two hurdles are crossed, the index should move smoothly towards the 76.4% retracement of 109.14.
This is the technical picture, and it is mostly contingent on how the Fed moves ahead with its policies.
How Does It Affect Stocks, Crude Oil And Precious Metals?
Stocks
In my previous article titled "Dow Has Broken Down; Will S&P 500 Follow?," I had stated that several S&P 500 (NYSEARCA:SPY) companies are citing a strong dollar as the primary risk to Q3 earnings. Lower oil and gas prices were the third potential risk to earnings.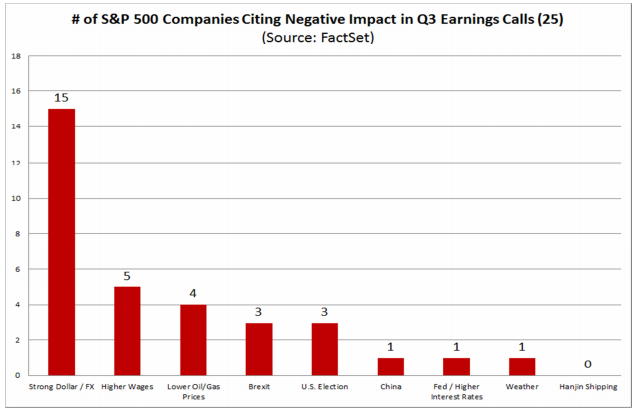 (Source: FactSet)
The FactSet reports states:
"Similar to previous quarters, the stronger U.S. dollar has been cited by the most companies (15) to date in the index as a factor that either had a negative impact on earnings or revenues for Q3, or is expected to have a negative impact on earnings and revenues in future quarters. These companies cited Canada (3), Mexico (3), U.K. (2), Brazil (1), and Korea (1) for having currencies that weakened relative to the U.S. dollar in Q3 2016."
As we know, the combined weight of the Canadian dollar and pound sterling is 21% in the U.S. dollar index.
At this moment, it is worth mentioning that those companies which have a good track record of implementing hedges to counter currency fluctuations will remain the least affected.
The market is currently not focusing too much on the underlying fundamentals and valuations. But sooner or later, earnings will have to show up. If the stronger greenback adversely affects a significant percentage of stocks, the selling pressure cannot remain contained.
Crude Oil
Very recently, I wrote a bullish article on crude oil, "Crude Oil Could Soar To $80 If This Happens," saying that the commodity could be preparing a set up for a big jump in the next 1-2 years. But being a dollar-denominated commodity, crude oil (NYSEARCA:USO) will face resistance from a stronger dollar. A stronger dollar makes this commodity expensive to buy and may act as a deterrent.
Additionally, if the OPEC eventually comes to a decision to freeze its output, or even cut back on its production in the most optimistic case, the possible rise in crude price and the strengthening dollar would deal a double blow to the buyers, who might slow down or even postpone their purchases.
Silver
In my recent post on silver (NYSEARCA:SLV) titled "Silver: Will This Drop Spiral Into Something Vicious?," I had said that the level of $17.30 should be carefully watched, as this was a strong support.
Back then, I had used the weekly silver futures price chart, which I have again presented below. The precious metal is now touching the support trend line, and the selling pressure is evident in the readings of the technical indicators employed.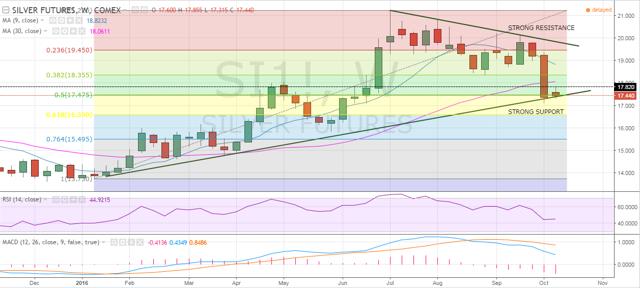 Click to enlarge
(Source: TradingView)
A stronger dollar also diminishes the luster of precious metals. Silver runs the risk of breaking down and sliding to $16 in case the greenback strengthens above 100.60 on the dollar index.
Conclusion
Watch the action in U.S. dollar index closely, which has just given us a breakout. The near-term target is 100.60, but beyond this, with some monetary tightening from the U.S. Fed or currency devaluations from foreign central banks, the index can soar to 110.
A strengthening dollar will have negative repercussions on stocks, crude oil and silver.
Disclosure: I/we have no positions in any stocks mentioned, and no plans to initiate any positions within the next 72 hours.
I wrote this article myself, and it expresses my own opinions. I am not receiving compensation for it (other than from Seeking Alpha). I have no business relationship with any company whose stock is mentioned in this article.