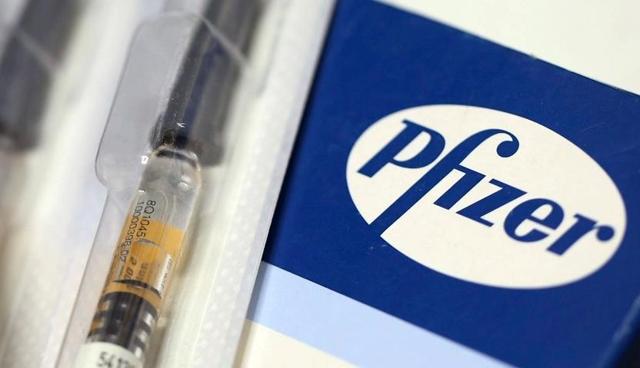 Click to enlarge
Pfizer (NYSE:PFE) hasn't had a good year, having both underperformed rivals such as Johnson & Johnson (NYSE:JNJ), and Merck (NYSE:MRK), as well as the S&P 500.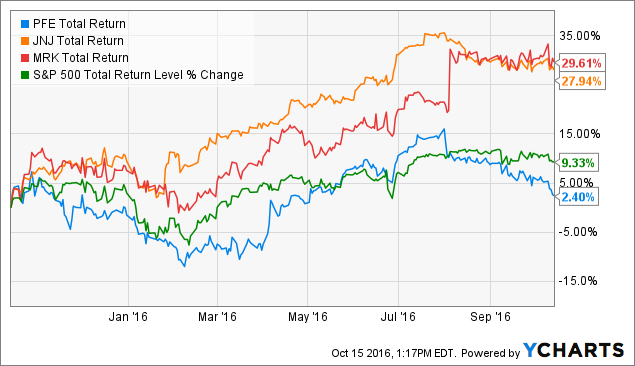 PFE Total Return Price data by YCharts
Part of this underperformance is due to Wall Street's frustration with the company's recent decision to not break itself apart into its faster growing "innovative health", and slow growing "essential health" divisions.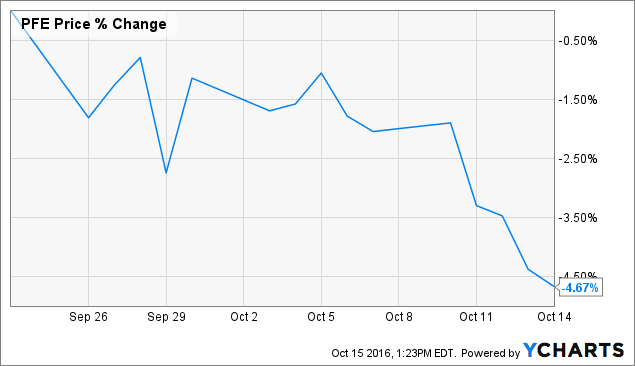 PFE data by YCharts
In fact, the stock is down almost 5% from what was already an undervalued level before management announced its decision to keep the company together on September 26th.
However, as a long-term dividend investor not just do I disagree with the market's take on management's correct decision, but I see enough strong, income growth potential in the company that I recently bought shares for my own diversified dividend portfolio.
Find out why the market is wrong to be so pessimistic about this blue chip dividend grower, and more importantly why today represents an excellent time to consider adding this Pharma giant to your own portfolio as well.
Cash flow rich portfolio with plenty of growth potential
Pfizer currently markets over 42 major drugs including several $1 billion+ blockbusters such as:
Prevnar 13 (Pneumococcal Pneumonia vaccine): $5.5 billion annual sales
Lyrica (Epilepsy/Neuropathic pain): $5.0 billion annual sales
Consumer Healthcare (OTC meds such as Advil, Centrum, Caltrate, Robitussin): $3.3 billion annual sales
Enbrel (Rheumatoid arthritis, outside the US & Canada): $3 billion annual sales
Ibrance (Estrogen receptor positive breast cancer): $1.9 billion annual sales
Lipitor (anti-cholesterol statin): $1.7 billion annual sales
Viagra (erectile disfunction): $1.6 billion annual sales
Global Vaccine Alliance (developing market vaccines): $1.4 billion annual sales
Sutent (chemotherapy drug for kidney, gastrointestinal, and pancreatic tumors): $1.1 billion annual sales
Premarin (estrogen hormone replacement therapy): $1.0 billion annual sales
In addition, Pfizer's rheumatoid arthritis drug Xeljanz, is seeing massive growth, with year-to-date sales in 2016 up 70% to $217 million.
Of course many of these drugs will eventually go off patent, such as Viagra in 2017, and Lyrica in 2019. Similarly Lipitor, the best selling drug of all time with over $100 billion in total sales since 1997, has been off patent for five years and is seeing gradual sales declines as it competes with cheaper generics (sales down 9% year-to-date).
Which is why Pfizer has invested $7.5 billion over the last 12 months into its R&D efforts, which include 92 current drugs in development.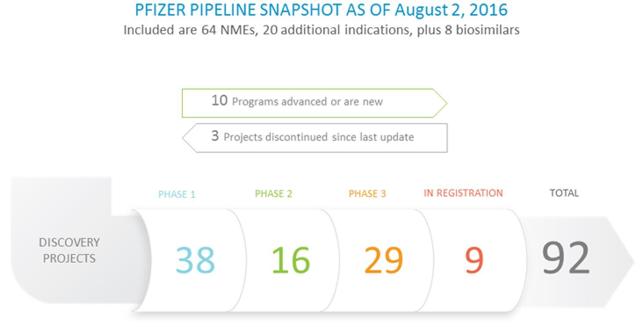 Click to enlarge
Source: Pfizer
Of course the other way to for pharma companies to grow is through acquisition, and Pfizer has long been known as one of the most aggressive serial acquirers in the business. In fact, Pfizer has made a name for itself via its penchant for mega-deals such as:
And we can't forget the failed takeovers of AstraZeneca (NYSE:AZN) which Pfizer offered $118 billion for in 2014, and the $160 billion Allergan (NYSE:AGN) attempt in 2015.
In fact, its largely the last two mega-merger failures that were the reason that had analysts calling for the company to break up into two seperate companies, in an effort to "unlock shareholder value".
Personally, I agree with management's decision to keep the company together, largely because it appears that CEO Ian Read is taking a more conservative, and focused approach to the company's future growth plans.
For example, over the last year or so Pfizer has made four very smart, (and by its standards, very small) bolt on acquisitions.
So that's $37.8 billion in growth acquisitions over the last 13 months. Of course, it's easy to imagine that these deals may have been the desperate acts of a management team that is reaching for growth at any price. However, when I look at the deals themselves, I see a lot to like.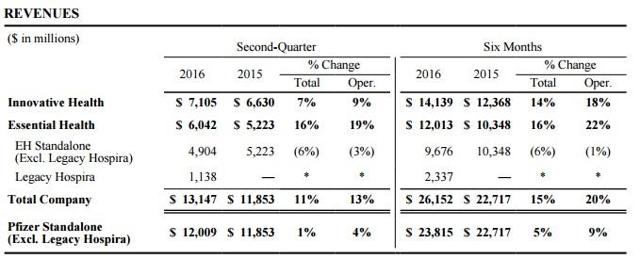 Click to enlarge
Source: Pfizer earnings release
As you can see, thanks to the Hospira purchase, Pfizer's legacy essential health division saw 22% constant currency sales growth. Better yet, the acquisition gives Pfizer a strong footing in two major growth fields: sterile injectables, and biosimilars.
For one thing these two markets are expected to reach $90 billion in sales by 2020, indicating that Pfizer's now much larger pipeline has some major potential blockbusters adding to its growth potential.
For example, thanks to the Hospira deal Pfizer now has no less than six biosimilars in phase 3 or registration (trials complete, preparing to present final data to FDA). This includes biosimilars for AbbVie's (NYSE:ABBV) Humira, and Johnson & Johnson's Remicade, both massively successful arthritis treatments.
Just how big could Pfizer's competitors to these drugs be? Well Humira is the world's best selling drug right now, and by 2020 is expected to reach annual sales of $16 billion. Meanwhile Remicade sales are currently running at $8.4 billion per years.
Which means that if Pfizer can peel off just 10% to 15% of the market share of those drugs, that's potentially another $2 to $3 billion blockbuster for its portfolio. And that's on top of the $4.7 billion in revenue Hospira is already generating.
It's also about the same level of potential sales benefits from Crisaborole, the psoriasis medication Pfizer got when it bought Anacor. Goldman Sachs's (NYSE:GS) Gary Nachman thinks that the drug could see peak sales of $1.7 billion a year, based on its latest efficacy, and safety profile data in phase three trials.
Similarly, Anacor's Kerydin topical anti-fungal cream could bring in another $800 million in peak sales. So the Anacor purchase could end up boosting top line growth by around $2.5 billion in total.
Meanwhile, Xtandi, the prostate cancer drug that was the reason for the Medivation purchase is bringing in $2.2 billion, of which Pfizer will get 50%. However, given the speed at which prostate cancer is growing in the world's rapidly aging male population, its projected sales are expected to reach $4.8 billion a year by 2020.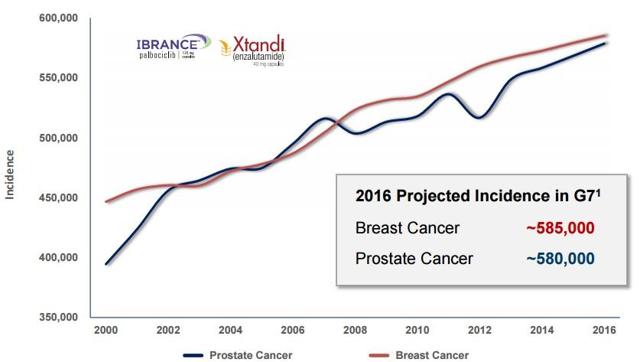 Click to enlarge
Source: Pfizer investor presentation.
Even better, Medivation has a potentially even better blockbuster in Talazoparib, a BRCA breast cancer treatment in phase 3 trials.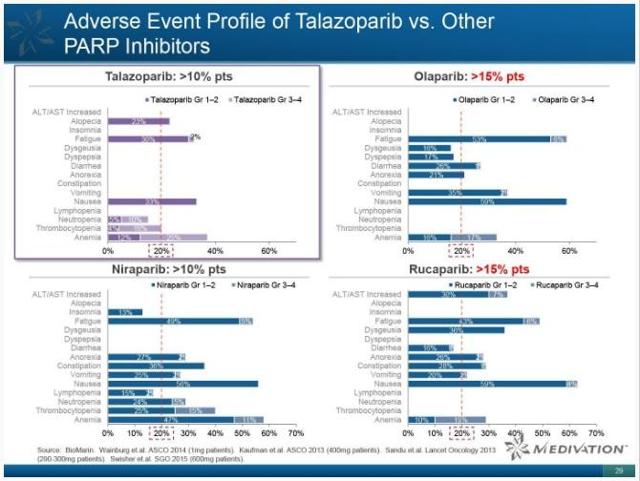 Click to enlarge
Source: Medivation investor presentation.
Thanks to a much better safety profile, according to Jennifer Jarrett, CFO of Medivation, Talazoparib could be even bigger than Xtandi. Just how big?
Well according to GBI Research, the global market for breast cancer treatment is expected to grow to $17.2 billion by 2021. Now obviously Talazoparib isn't going to take all of that, but you can see how $6 to $7 billion in peak annual sales is within the realm of possibility.
So all told, the acquisitions that Pfizer has made over just the last year could potentially end boosting sales $13 to $15 billion over today's level.
While some of that will merely offset falling sales in legacy drugs, I think it's fair to say, that combined with its fast growing 92 drug pipeline, Pfizer has a lot of growth potential in its future.
Dividend profile keeps getting better
| | | | | |
| --- | --- | --- | --- | --- |
| Company | Yield | TTM FCF Payout Ratio | 10 Year Dividend Growth Projection | 10 Year Total Return Projections |
| Pfizer | 3.7% | 54.1% | 6.0% | 9.7% |
| S&P 500 | 2.1% | 39.1% | 6.2% | 9.1% |
One of the biggest benefits of the recent weakness in Pfizer's stock is that the yield has now soared to 3.7%, the highest level since the market reached its post fed hike freak out low of February 11th.
Better yet, Pfizer is likely to raise the dividend this coming quarter, as it has consistently in eight of the last 10 years.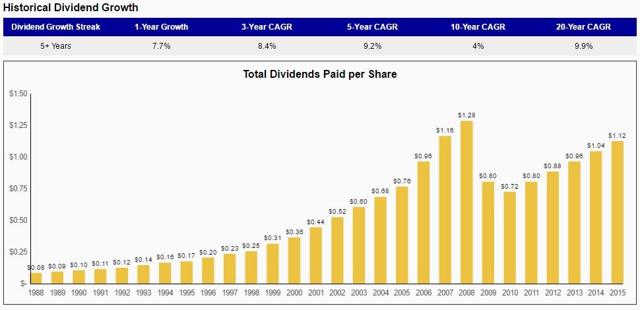 Click to enlarge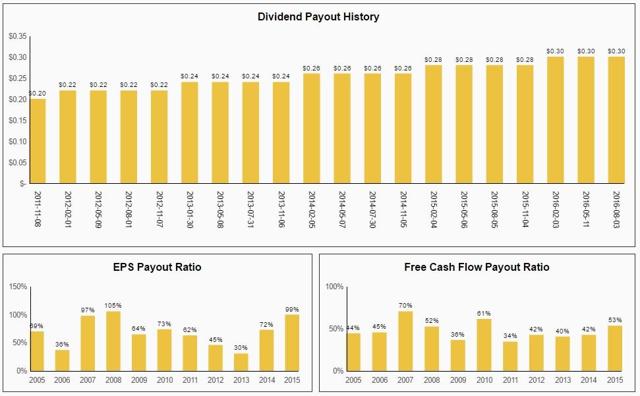 Click to enlarge
Source: Simply Safe Dividends
With a TTM FCF payout ratio of 54%, and four straight quarters of a $0.30 per share dividend, Pfizer can afford to increase its payout for 2017. I expect a $0.02 per quarter increase to $0.32 per share; or a forward yield of 3.9%. That would come to a 6.7% increase, roughly inline with what the analyst consensus is for Pfizer's projected payout growth over the next decade.
Now it's always important to remain skeptical of all long-term analyst projections. However in this case, given that a 6% dividend growth rate is slightly below the company's historic norm, AND given the strong growth prospects its latest acquisitions give it, I'm inclined to agree that a 6% to 7% annual dividend growth expectation is reasonable.
That's due to Pfizer's long-term projected sales growth rate, of between 2% (Morningstar), and 3.8% (analyst consensus). Personally I think 3% is a nice mid point between what I view to be as potentially overly conservative, and overly optimistic forecasts.
Add in management's cost cutting efforts, and this should convert 2% to 4% top line growth to 3% to 5% growth in free cash flow, or FCF; the life blood of a secure, and growing dividend.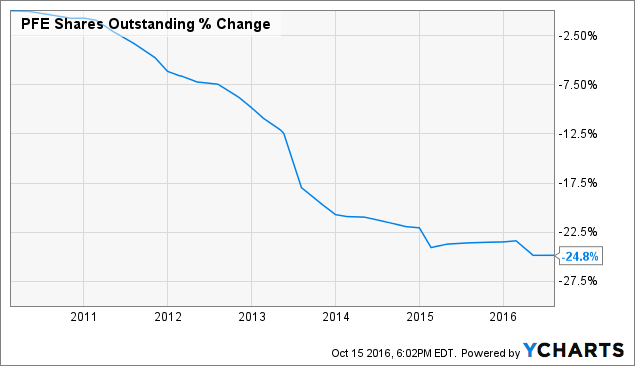 PFE Shares Outstanding data by YCharts
Then factor in the fact that Pfizer has a strong history of reducing its share count with buybacks. In fact over the past 6.5 years (since it issued lots of new shares as part of the Wyeth deal), it's bought back 4.3% of its shares each year.
| | | | | | |
| --- | --- | --- | --- | --- | --- |
| Company | Debt/EBITDA | EBITDA/Interest | Debt/Capital | Current Ratio | S&P Credit Rating |
| Pfizer | 2.94 | 12.41 | 28% | 1.37 | AA |
| Industry Average | 2.07 | NA | 36% | 1.47 | NA |
Now granted that this pace may not be sustainable given that Pfizer has been taking on debt in recent years to finance part of its aggressive buyback plan. However, even a more conservative 2% to 3% annual net buyback rate would mean that the 3% to 5% FCF growth rate could result in 5% to 8% FCF/share growth.
In other words, Pfizer could realistically grow the dividend at 5% to 8% over the next decade while maintaining the same, conservative FCF payout ratio that makes its dividend highly secure.
Low valuation is short-term pain for long-term gain
It's my opinion that a big reason that Pfizer is down almost 5% since management announced it wasn't breaking up the company is Wall Street's self serving disappointment at the lack of a new deal, with all its associated fees.
In other words, the same investment banks that love to see companies merge in the name of synergy, are the same ones that then tell management a few years later that dismantling the company is the best way to "unlock shareholder" value.
Basically, asking an investment banker if doing a major, and fee studded deal makes sense is like asking a barber if you need a hair cut. Unless you are bald the answer will almost certainly be "yes".
Which means that Pfizer shares may face some short-term pressure (such as from analyst downgrades) over the next few months, quarters, or potentially even years. After all, there are plenty of examples of companies that have traded sideways for as much as six years, despite vastly improving fundementals.
However, rather than look at a falling share price as a curse, I recommend that long-term share holders view it as an opportunity. After all, the cheaper shares get, the more effective future buybacks will be.
And that means the more the FCF/share, and dividend can potentially grow as well. And since academic studies have shown that a good long-term rule of thumb for total returns is yield + dividend growth, such a short to medium-term scenario would actually mean superior returns in the long-term.
Because the great thing about dividend growth stocks is that you don't need the market to cooperate to make a killing. For example, let's say that Pfizer's shares stagnate between $30 and $35 for the next decade.
If that low share price lets the company buyback 4% of its shares each year, and sales, and FCF grows at 3%, and 4% annually, respectively, then this would allow management to grow the dividend by 8% per year without raising the payout ratio.
That would result in a dividend of $2.60 in 10 years, or a yield of 8.1% on today's share price. Even disregarding the fact that a growing company could never have such a high yield without income investors bidding the price up, consider this.
If by some miracle the price remained virtually unchanged during this time, then the ability to reinvest that growing dividend stream into more, and more undervalued Pfizer shares would pretty much assure you market beating total returns in the long-term.
In other words, thanks to the magic of dividend reinvestment and a componding share count, you don't need the market to realize its stupidity in order to get extremely rich over time.
Risks to consider
What makes many investors leery about investing in the pharmaceutical industry is the large number of potential risks.
First, there is execution risk in terms of incorporating another company, its employees, and its production pipeline into your own R&D system. In other words, there is a fine line between achieving natural synergies through efficiency gains and economies of scale, and simply gutting R&D in the name of short-term cost savings.
This is a major criticism that Pfizer has faced, especially when it comes to its big mega-mergers. For example, when Pfizer bought Wyeth the combined R&D budgets for the two companies were $12 billion. Under current management that was slashed to $6.5 billion.
In other words, Ian Reads approach to cost cutting can be potentially thought of as more of a short-term focused approach of buy the existing drugs, and the cash flow that comes with it. However, in the process of making the deal as accretive as possible so much damage is done to the R&D side of the acquired company, that potentially much of the pipeline, and potential future growth is largely discarded.
That's in stark contrast to the new approach of another pharma giant I like, and plan to buy, Johnson & Johnson. In the case of the companies recent $4.325 billion acquisition of Abbott (NYSE:ABT) Medical Optics, management is planning to largely leave the existing R&D efforts in place in order to allow the acquired assets to grow into far larger cash cows then they are now.
And of course we can't forget that most of a company's drug pipeline won't make it past phase two trials, with some even failing in stage three. This means that there is a risk that many of Pfizer's most promising reasons for buying its latest acquisitions might never make it to market.
And even if they do never forget that the very lucrative nature of some of these blockbusters means there is intense competition from rivals to step in with their own drugs and steal market share.
For example, just as Humira's massive sales have Pfizer racing to bring a biosimilar out to get a piece of the highly lucrative arthritis market, the potential blockbuster success of Talazoparib would almost certainly attract a wave of biosimilar competitors.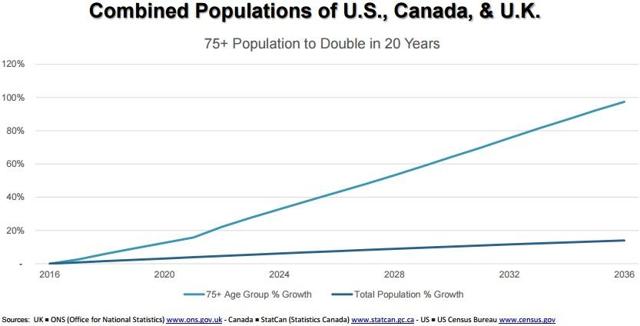 Click to enlarge Source: Welltower investor presentation.
That's especially true given the rapid aging of the global population means that cancer incidence is likely to continue to rise over time, creating a potentially massive market for high-margin drugs to treat it.
Finally, we can't forget the risk of out of the blue negative events, such as lawsuits and civil liabilities. For example, in 2012, 2009, and 2013, GlaxoSmithKline (NYSE:GSK), Pfizer, and Johnson & Johnson had to settle with the FDA for $3 billion, $2.3 billion, and $2.2 billion for alleged violations under the False Claims Act.
Similarly there is the ever present political risk associated with the high cost of drugs, and politicians who promise to control prices, and an"end the gouging". We've seen plenty of that this election season, including some tweets from Hillary Clinton that sent the entire biotech sector into a tailspin for several weeks.
While I am skeptical that such threats at cost controls will actually convert into real legislation, it would nonetheless pose a serious threat to any pharmaceuticals business model, especially higher cost oncology treatments.
Bottom line: Wall Street's punishment for Pfizer staying together is a great buying opportunity for this wonderful dividend growth blue chip
Biotech and Pharma is a tough industry to invest in. The market's short-term focus, combined with the blockbuster, and thus lumpy sales model means that Wall Street often misprices quality pharma shares.
That's what's happening with Pfizer right now. Concerns over future patent expirations, higher profile political risk thanks to the election, and analyst's self serving disappointment in the company not breaking up has left investors with a chance to snap up one of the strongest industry players at a superb price.
While I can't guarantee you the share price will recover in the short-term, I'm confident enough in Pfizer's excellent long-term growth prospects to have added Pfizer as a core holding to my own portfolio. And given the current valuation, I recommend that all dividend investors consider doing the same.
Disclosure: I am/we are long PFE.
I wrote this article myself, and it expresses my own opinions. I am not receiving compensation for it (other than from Seeking Alpha). I have no business relationship with any company whose stock is mentioned in this article.