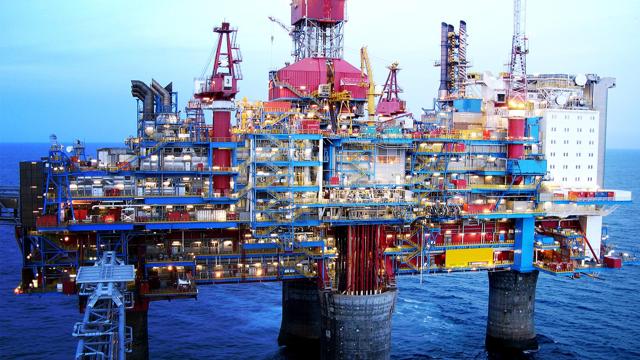 Click to enlarge
National Oilwell Varco (NYSE:NOV) has been punished by the rout in oil prices and corresponding decline in industry capex. However, Wall Street analysts have supported NOV throughout its demise. Citigroup (NYSE:C) analyst Scott Gruber recently broke with the herd by downgrading NOV to sell:
The analyst now expects a lower bottom to the active floating rig count, with the Q4 EBITDA declining from the Q3 levels.

"Some of NOV's short cycle businesses are starting to turn the corner but the impact is limited by revenue mix while drill pipe destocking should continue for several quarters," Gruber mentioned.

In addition, according to offshore driller capex commentary, the offshore rig aftermarket is expected to continue to decline, offsetting the benefit from domestic land rig upgrades.
Gruber believes expectations of NOV's financial results to be lowered for Q4 and for full-year 2017. He also has a $30 price target on NOV, 17% below Friday's close of $36.
The Situation
I have been one of National Oilwell's biggest bears since oil prices diverged to the downside in Q2 2014. The company suffered a decline in revenue for six consecutive quarters. In my opinion, the share price performance has not been commensurate with the company's poor operating results. NOV is only down 7% Y/Y, versus an 8% appreciation for the S&P 500 (NYSEARCA:SPY). That has not been good for my short position.
Nonetheless, until revenue and EBITDA declines subside, I do not see a reason to own the stock.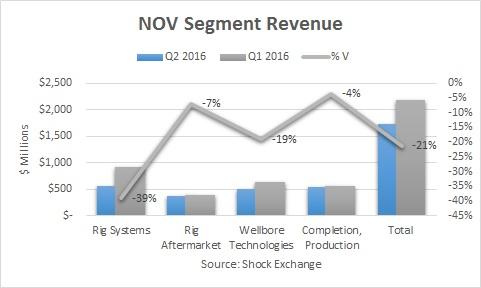 Q2 revenue fell by 21% sequentially, with Rig Systems and Wellbore Technologies being punished the worst.
Push/Pull Between Land Drilling And Offshore
A bright spot in Q2 was the stickiness of National Oilwell's $3.9 billion backlog. The backlog fell by only 9% sequentially, versus a 40% decline in the previous quarter. The $947 million backlog for Completion & Production fell 5%. Its high book-to-bill ratio of 81% implied that equipment sales for hydraulic fracturing was picking up. An uptick in drilling activity by shale oil plays has also been confirmed by Schlumberger (NYSE:SLB) and Halliburton (NYSE:HAL). Citigroup's bullishness on National Oilwell's "short cycle businesses" - Wellbore Technologies and Completion & Production - appears to be more than warranted.
Another popular narrative is that offshore could be the last segment of the oil market to rebound. As an accommodation to clients, National Oilwell has delayed delivery of oil rigs during the downturn. Going forward, NOV could be defined by the push/pull between Rig Systems and Rig Aftermarket (47% of revenue) and onshore segments defined by Wellbore Technologies and Completion & Production (53% of revenue).
Declining EBITDA
The loss of scale has also taken a toll on National Oilwell's EBITDA margins. Q2 EBITDA of $25 million represented a margin of 1%; that was down from Q1 EBITDA of $127 million at a 6% margin. The company can only cut costs, but so much before it cuts into muscle. Citigroup believes EBITDA will continue to fall for the second half of 2016. If EBITDA turns negative, even the staunchest NOV bulls could lose faith in the stock.
Conclusion
Wall Street analysts have remained positive on NOV throughout the downturn in oil prices. The bulls appear to be winning, as NOV has held up pretty well despite the continued slide in revenue and EBITDA. Citigroup's recent downgrade sounds ominous. NOV remains a sell.
Disclosure: I/we have no positions in any stocks mentioned, and no plans to initiate any positions within the next 72 hours.
I wrote this article myself, and it expresses my own opinions. I am not receiving compensation for it. I have no business relationship with any company whose stock is mentioned in this article.