In my monthly newsletter, Forbes Real Estate Investor, I provide my subscribers with resilient REIT assortment called the Durable Income Portfolio.
The basket of REIT stocks contains around 25 names ranging in size from the smallest company, Farmland Partners (NYSE:FPI), to the largest holding, Ventas, Inc. (NYSE:VTR).
The goal for the Durable Income Portfolio is not to own the largest or the smallest stocks, but instead to build a basket of the most durable REITs in the U.S. The strategy is working well as the Durable Income Portfolio has returned over 21% year-to-date.
Sometimes it takes time for markets to catch on, as there are many names in the portfolio that are durable, but not being recognized for their toughness.
That's where patience comes in.
However, with patience there's often a reward, and that's the subject of my article today. Don't worry, this is not a victory lap, I am simply taking a closer look at this REIT to determine whether I should maintain the weighting, add, or subtract. In other words, it's time for a checkup.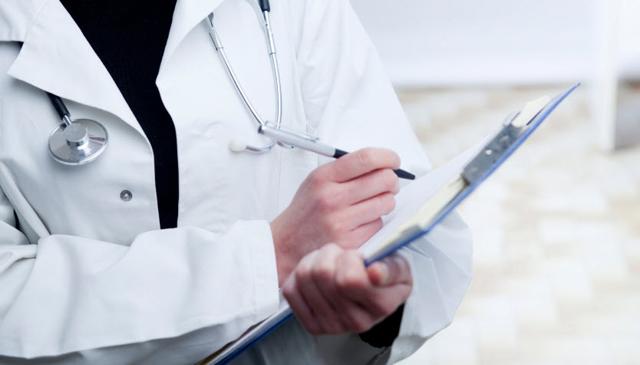 Click to enlarge
Start From The Beginning
Lexington Realty Trust (NYSE:LXP) represents 5.3% of the Durable Income Portfolio and is the 6th largest holding.

Click to enlarge
LXP was founded in 1973 and went public in 1993 (23 years ago). While the majority of the company's properties are free-standing buildings, a number of buildings are multi-tenant. It owns a diversified portfolio: 208 properties across 42.8 million square feet in 40 states. Here's a snapshot of LXP's geographic diversification: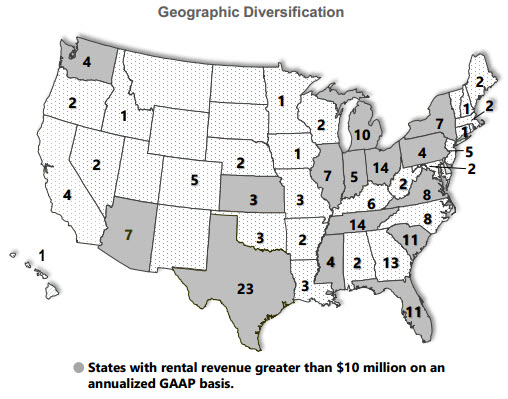 While it is considered a "Net Lease" REIT, the company actually owns a diverse number of buildings, ranging from office (49.7%), industrial (30.7%), retail (2.4%), multi-tenant (2.8%), and land/infrastructure (14.4%).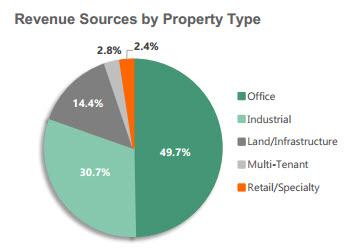 Over the last several years, LXP has evolved from a more defensive business model by reducing exposure in office and multi-tenant. Here's a snapshot of the company's revenue sources in 2013 and 2016 (office has declined from 61.3% to 49.7%).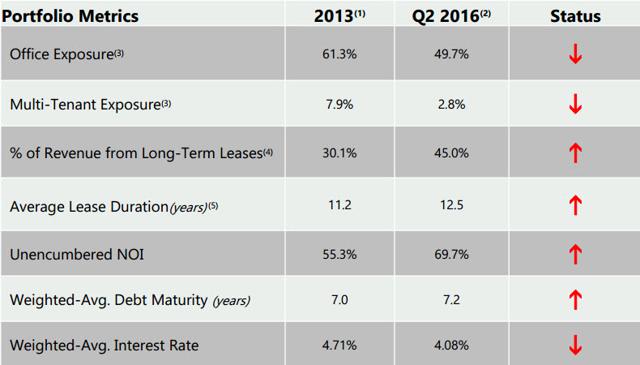 Click to enlarge
In addition, the company has transformed into a more traditional net lease REIT by acquiring longer-term leased buildings with strong tenants. More than half of its top 10 tenants are investment-grade rated. As you can see, FedEx (NYSE: FDX) is one of the largest tenants, with 2 buildings that generate around 3.0% of LXP's revenues.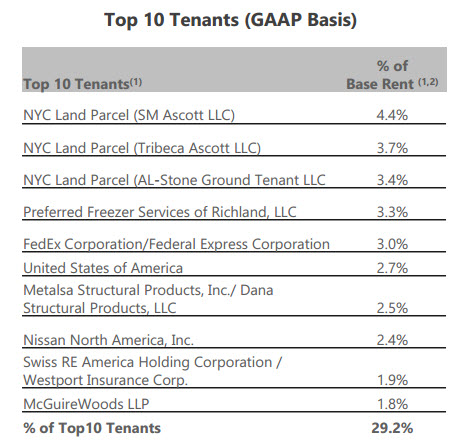 LXP's weighted average lease term at the end of the second quarter was approximately 12.5 years on a cash basis and 9.3 years on a cash basis after adjusting for the New York City ground investments. LXP has remained focused on managing down its shorter-term leases, and the overall lease maturity schedule continues to be well staggered with about 80% of revenue from leases with built-in escalations.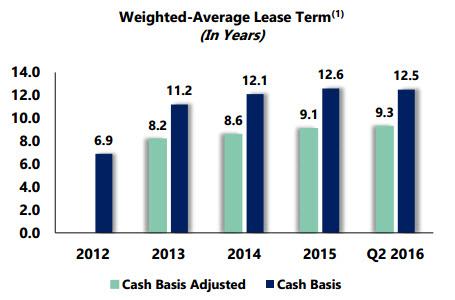 Around 64% of LXP's portfolio has annual lease escalations: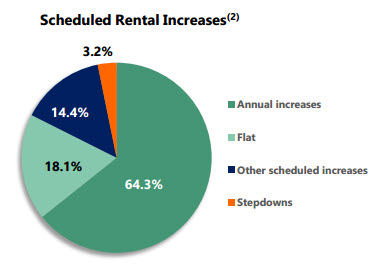 Over 55% of LXP's leases have over 10 years of term remaining: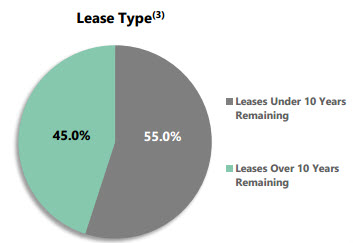 Here's how LXP compares with other Net Lease peers (based on Total Capitalization):

Click to enlarge
Source: S&P Global Market Intelligence
Improved Balance Sheet
During the second quarter LXP was able to enhance its balance sheet flexibility by retiring approximately $80 million of mortgage debt and received an upgrade in its long-term issuer rating to BBB- from BB+ by Standard & Poor's.
Following the end of the quarter LXP closed on a $197 million long-term non-recourse mortgage loan at a 4.04% fixed interest rate secured by a $166.2 million build-to-suit project with Dow Chemical in Lake Jackson, Texas. This financing is a good example of how LXP can selectively use secured financing to monetize assets, lock-in gains and replace shorter term with longer-term debt. Snapshot of Dow Chemical deal below: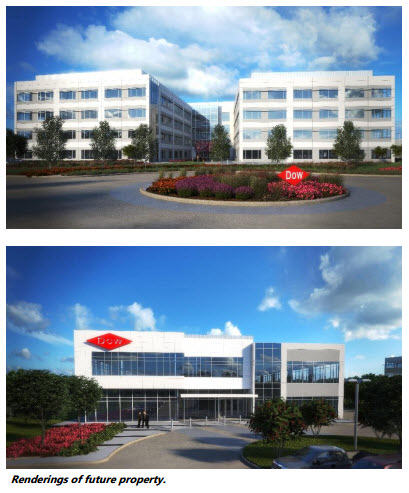 At the end of Q2-16 LXP had $72.5 million of cash including cash classified as restricted (restricted cash balances primarily related to money held with lenders at escrow deposits on mortgages). LXP had $2.1 billion of consolidated debt outstanding, which had a weighted average interest rate of 4.1% of which approximately 94% is at fixed rate, including debt covered currently by interest rate swap agreements.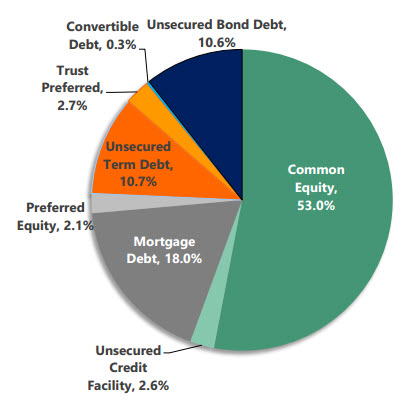 LXP's fixed charge coverage was approximately 2.7x and net debt to adjusted EBITDA was approximately 6.2x (LXP targets a net debt to adjusted EBITDA of under 6x). LXP had approximately $75.7 million of balloon mortgage payments with an average interest rate of 6.1% coming due this year. The company expects to retire all of this in connection with dispositions, cash and dispositions and financing proceeds.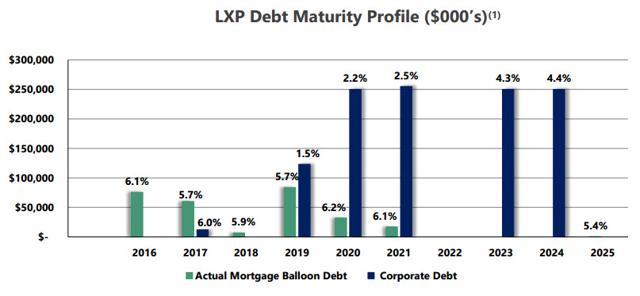 Click to enlarge
LXP's unencumbered asset base was approximately $3.3 billion with 69.7% of NOI. The company will continue to retire shorter term maturities over the course of the year including the 2016 maturing mortgage debt and amounts outstanding under the revolving credit facility.
At the end of Q2-16 LXP retired $107 million of secured debt which includes the $80 million retired during the quarter and now has $43 million outstanding on the revolver compared to $177 million at the beginning of 2016.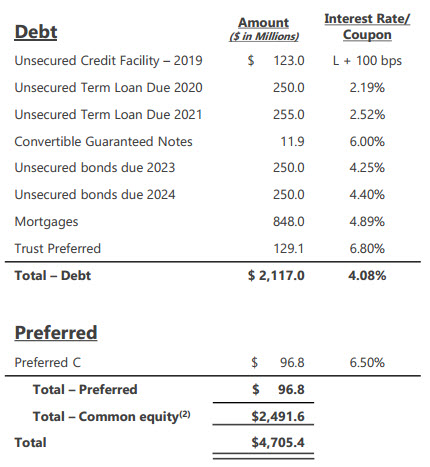 The Latest Earnings
LXP's gross revenues in Q2-16 quarter totaled $109.6 million, this represents a slight decrease of 0.7% compared to gross revenues of $110.3 million in Q2-15. The decrease is primarily a result of 2015 and 2016 property sales and changes in occupancy at certain properties offset by revenue generated from property, acquisitions and lease termination income.
Net Income for the quarter was $46.8 million or $0.20 per diluted share compared with $47.7 million or $0.20 per diluted share for Q2-15. LXP's 2016 guidance for net income is in an expected range of $0.52 to $0.61 per diluted common share.
Also in Q2-16 LXP's Adjusted FFO was $71.8 million or $0.29 per diluted common share compared to $67 million or $0.27 per diluted common share for Q2-15. Adjusted FFO was adjusted upward to $1.07 to $1.10 per diluted share from $1.03 to $1.08 per diluted share primarily as a result of the expected timing of the sale of the remaining New York City land parcels.
On September 30 th LXP said it sold the three remaining land parcels underneath three hotels in New York City for a gross sales price of about $338.2 million. The price reflects a GAAP capitalization rate of 13.6% and a cash capitalization rate of 4.6%. CEO and President T. Wilson Eglin said in a news release that:
[T]he sale has reduced our leverage considerably and produced cash to retire the outstanding balance on our revolving credit facility and fund other growth opportunities.
BH Properties, which was tipped to be buying the land parcels, was under contract to acquire the fee interest for the three hotels. The buyer assumed approximately $213.1 million of mortgage debt in connection with the sale.
LXP noted in the release that it expects to register an estimated noncash impairment charge of approximately $65.0 million in the third quarter, primarily related to the writing off of the deferred rent receivable it recognized under GAAP.
The hotels, namely Element New York Times Square West at 311 W. 39th St., Sheraton Tribeca New York Hotel at 372 Canal St. and DoubleTree Financial District at 8 Stone St., total 1,179 rooms and occupy more than 480,000 square feet.
As you can see below, we have modeled LXP's FFO per share for 2016 and 2017:

Click to enlarge
Source: S&P Global Market Intelligence
Now let's examine LXP's AFFO per share:

Click to enlarge
Source: S&P Global Market Intelligence
LXP increased its regular dividend for the quarter by about 3% to $.175 per common share/unit. The dividend is payable on or about Oct. 17 to common shareholders/unit holders of record as of Sept. 30. Here's a snapshot of the company's historical dividends (including our forecast):

Click to enlarge
Source: S&P Global Market Intelligence
To determine LXP's dividend safety, lets; take a look at the company's AFFO Payout Ratio:

Click to enlarge
We Are Maintaining Our Durability Weighting
When you examine LXP's longer-term history you can see that the company was beaten down during the last recession: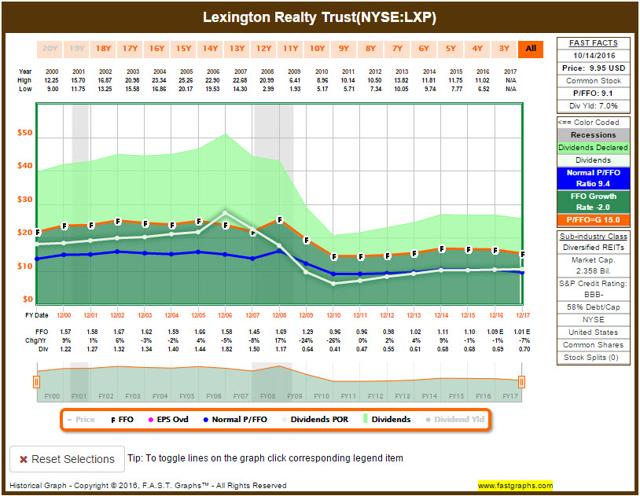 Click to enlarge
As you can see, shares took a lot longer to recover as LXP underwent a transformation from a diversified REIT into a more traditional Net Lease REIT.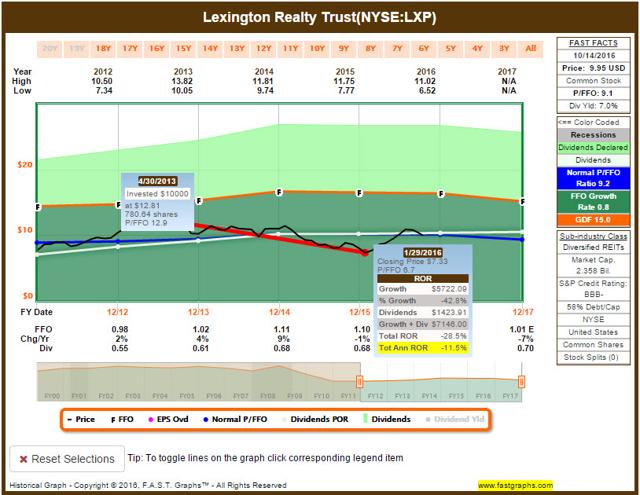 Click to enlarge
Shares have performed well year-to-date: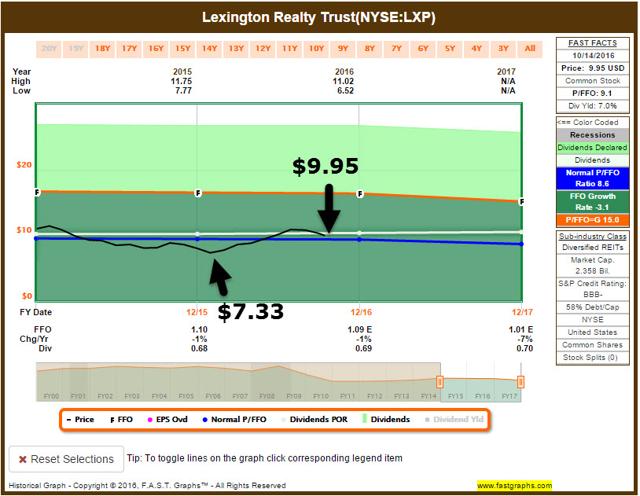 Click to enlarge
Let's compare with the peer group:

Click to enlarge
Source: S&P Global Market Intelligence
Let's compare over the last 90 days:

Click to enlarge
Source: S&P Global Market Intelligence
Let's compare over the last 30 days:

Click to enlarge
Source: S&P Global Market Intelligence
Let's compare based on dividend yield:

Click to enlarge
Source: S&P Global Market Intelligence
Let's compare based on P/FFO multiples:

Click to enlarge
Source: S&P Global Market Intelligence
In summary, we are maintaining our LXP weighting within the Durable Income Portfolio. More recently, we are pleased to see LXP's credit upgrade as well as the disposition of the NYC ground leases. LXP continues to improve its portfolio quality to enhance overall operating results. The investment strategy is paying off!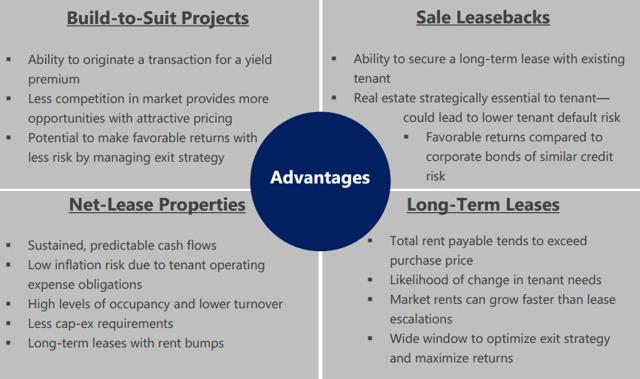 Click to enlarge
We expect that LXP will continue to generate sound returns driven by the continued dispositions (majority of sales should be completed by the end of Q3-16) and reinvestment strategies. We are maintaining a BUY rating and our forecast (below) suggests that LXP could deliver returns in excess of 18% through 2017.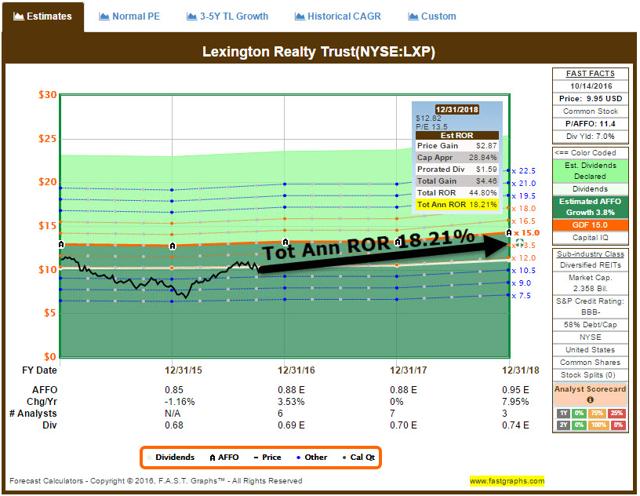 Click to enlarge
Author's Note: Brad Thomas is a Wall Street writer and that means that he is not always right with his predictions or recommendations. That also applies to his grammar. Please excuse any typos and I assure you that he will do his best to correct any errors if they are overlooked.
Finally, this article is free, and the sole purpose for writing it is to assist with research (Thomas is the editor of a newsletter, Forbes Real Estate Investor) while also providing a forum for second-level thinking. If you have not followed him, please take five seconds and click his name above (top of the page).
Sources: S&P Global Market Intelligence, F.A.S.T. Graphs and LXP Filings.
REITs mentioned: (NYSE:SRC), (NYSE:VER), (NYSE:EPR), (NYSE:WPC), (NYSE:NNN), (NYSE:O), (NYSE:ADC), (NYSE:GPT), (NYSE:STOR), (NYSE:GNL), (NYSE:MNR), (NYSE:OLP), (NASDAQ:GOOD), and (NYSE:FCPT).
Disclaimer: This article is intended to provide information to interested parties. As I have no knowledge of individual investor circumstances, goals, and/or portfolio concentration or diversification, readers are expected to complete their own due diligence before purchasing any stocks mentioned or recommended.
Disclosure: I am/we are long O, DLR, VTR, HTA , STAG, GPT, ROIC, HCN, OHI, LXP, KIM, WPC, DOC, EXR, MYCC, TCO, SKT, UBA, STWD, CONE, BRX, CLDT, HST, APTS, FPI, CORR, NHI, CCP, CTRE, WPG, KRG, SNR, LADR, PEB, BXMT, IRM, CIO, LTC, DEA, NSA, HASI, LTC.
I wrote this article myself, and it expresses my own opinions. I am not receiving compensation for it (other than from Seeking Alpha). I have no business relationship with any company whose stock is mentioned in this article.