JOLTS Report
The Labor Department's Job Openings and Labor Turnover survey is relevant from the standpoint that it is now confirming the deterioration we have been expecting in the labor market all year long. Job openings declined 7.3% in August, while hiring also declined by 0.9%. The level of job openings is at its lowest of the year, which does not bode well for a pick-up in job creation as we move forward.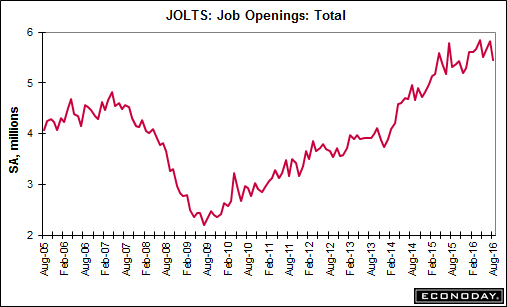 Business Inventories
Total business inventories, which include those of retailers, wholesalers and manufacturers rose 0.2% in August. Total business sales were also up 0.2% for the month, while last month's 0.2% decline was revised to a 0.3% decline. As a result, the inventory-to-sales ratio remained at 1.39, which is still higher than the year-ago level of 1.38. There is no improvement in this indicator, as inventories remain bloated, led by motor vehicles and auto parts dealers, and the pace of sales growth is not picking up.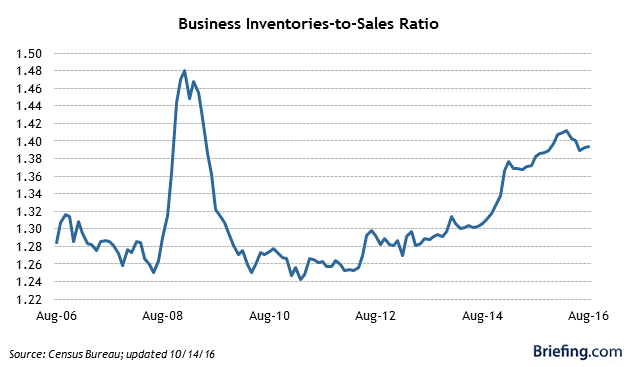 Retail Sales
Retail sales rebounded 0.6% in September, and the year-over-year growth rate also improved to 2.6% from what was just 1.9% last month.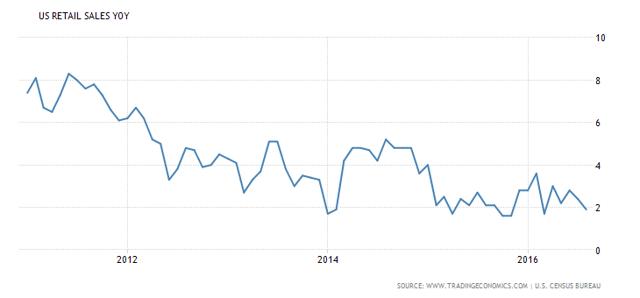 Click to enlarge
What's problematic is that total retail sales finished the third quarter up just 0.7% from the second quarter. Second-quarter growth was more than double that at 1.5%. Core retail sales, which excludes autos, gasoline, building materials and food services sales, was up only 0.1% for the third quarter. This is not consistent with a rebound in the rate of economic growth to 2% or more in the second half of this year, as the consensus is expecting.
Conclusion
The Atlanta Fed's GDPNow model has become a highly regarded forecasting tool over the past year, but we are becoming less and less impressed with it. This model forecasted 3.5% growth in the third quarter two months ago, followed by a downward revision to 3% last month, followed by its most recent downward revision last week to what is now just 1.9%. We have been consistent with our forecast for 1%. This model is telling us nothing more than yesterday's news. We expect it will fall closer to our forecast just before the first estimate for third-quarter economic growth is reported by the Bureau of Economic Analysis.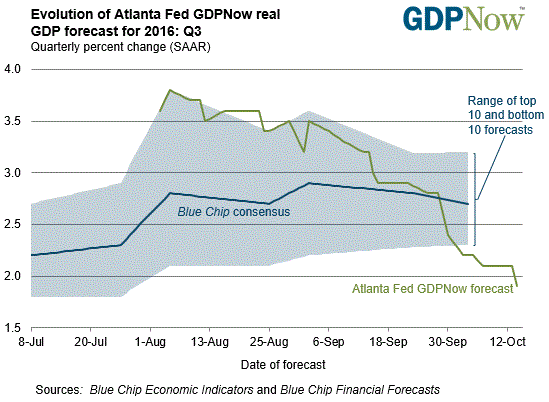 Disclosure: I/we have no positions in any stocks mentioned, and no plans to initiate any positions within the next 72 hours.
I wrote this article myself, and it expresses my own opinions. I am not receiving compensation for it (other than from Seeking Alpha). I have no business relationship with any company whose stock is mentioned in this article.