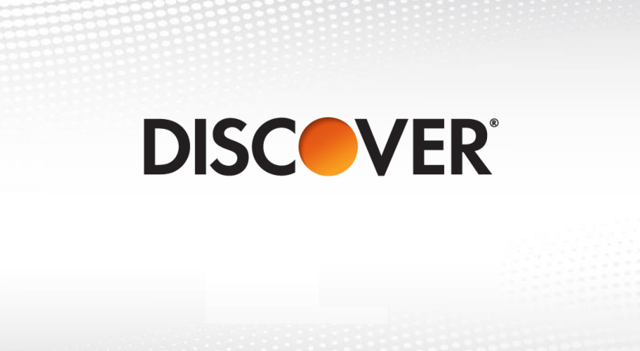 Click to enlarge
Quick Background
Discover Financial Services (NYSE:DFS) is a direct banking and payment services company. They manage their business in two segments: Direct Banking and Payment Services. The Direct Banking segment provides credit cards, private student loans, personal loans, home equity loans and deposit products. Interest earned on credit card balances make up around 80%+ of their total interest income. Meanwhile, their Payment Services segment include the PULSE network (for U.S.), Diners Club network (International) and Network Partners Business. DFS receives transaction fees for settling transactions and license / royalty fees for the use of Discover / Diners Club network. Revenues from Payments Services is about 4% of total revenues. Overall, fee income comprises about 20% of total revenues while 100% of their revenues are based in the U.S. Just based on these data, one could see that DFS is concentrated on their credit cards business in the U.S. and is reliant on interest income from clients carrying balances on cards, as against fees from transaction volumes.
Industry and Competition
Currently, competition in the credit cards space has been very fierce. More product offerings, partnerships, higher rewards and cash-back offers have been made in order to take advantage of the improvement in the finances / purchasing power of consumers since the financial crisis and the oil crash. Particularly, giant banking units like JPM, BAC, C and WFC have aggressively focused on growing their credit cards businesses as they seek to improve their overall returns (ROE) that have been hampered by higher capital requirements and volatility in their capital markets businesses. DFS is just around the middle when it comes to their market share or competitive position in the credit card industry. They mainly compete with banks like Chase, Citi, Bank of America, Wells Fargo, Capital One (NYSE:COF) and other credit card companies such as American Express (NYSE:AXP), Synchrony Financial (NYSE:SYF). From relbanks: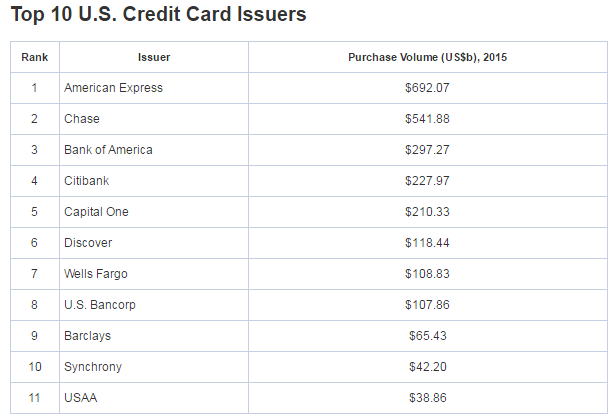 DFS also competes with American Express, Visa (NYSE:V) and MasterCard (NYSE:MA) when it comes to their Payments / Network business. However, taking into account the revenue contribution of the payments business (4%), considering V and MC as peers would not be appropriate. Also considering the diversified nature of the businesses of the big banks, it would be hard to make an apples-to-apples comparison. For analytical purposes, we would consider American Express, Capital One Financial and Synchrony Financial as DFS' peers and competitors. While one can immediately lump them all as credit card companies, there are subtle differences in their products and exposures. DFS currently focuses and only issues general purpose credit cards, unlike COF, AXP and SYF, which dabble into the private label and co-branded credit cards business. This makes a huge difference when it comes to the drivers of revenues and competitive trends.
Operating & Financial Performance
DFS has been operating solidly for the past few years, with the business generating above 20% ROE. Although their ROEs have been steadily declining, it still fares well against the performance of their peer group, in terms of stability and ranking (second only to AXP).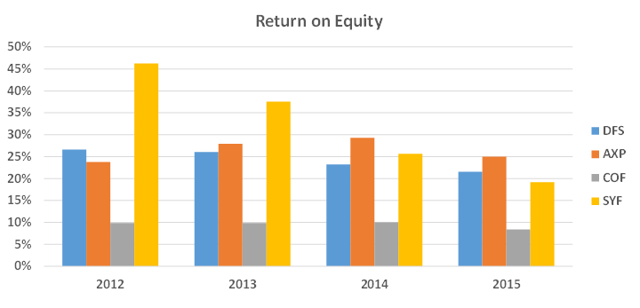 Click to enlarge
While the steady decline in ROE seems alarming, it is more of a function of the steady build-up in capital. Common Equity has grown on average by 4.85% per year since 2012 while net income has largely remained flat and on average declined by -0.67% per year. Revenues have grown steadily by 3.57% per year due to Interest Income (80% of total revenues) steadily growing at 5.67% per year. This is offset by fee income (20% of total revenues) declining by -2.97% per year due to competitiveness in the payments industry.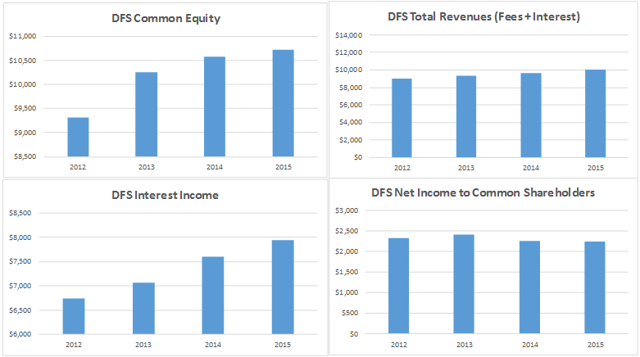 Click to enlarge
On the expense side, total expenses have grown by 6.9% per year, with interest expenses from deposits and borrowings declining by -0.82% per year while provisions for loan losses and operating expenses have grown by an average of 21.71% and 5.6% per year, respectively. The expense increase may seem concerning initially but most of it is for business growth and compliance, considering that the bulk of the operating expense increase were in Employee Compensation and Professional Fees while the increase in provisions was due to loan growth (DFS' loan portfolio increased by 4.97% per year, on average).
Year-to-date 2016, DFS revenue, expense and net income growth have been similar to historical trends. Total revenues for the six months of 2016 have grown by 3.1% year-over-year, notably with interest income growing 7.6% year-over-year. Total expenses grew 6.24% year-over-year, mainly from the 20.11% year-over-year increase in provisions and 10.15% increase in interest expenses. Meanwhile, net income grew by 0.43% year-over-year.
Credit Quality
One of the strengths of DFS is their well-managed loan portfolio. While provision expenses have been growing every year, the allowance for loan losses as a % of total loans had declined from 3.82% in 2011 to just 2.58% 2015. It has increased to 2.71% as of Q2 2016 but is mainly due to loan growth and portfolio seasoning. Similarly, net charge-off rates have improved from 3.97% in 2011 to 2.01% in 2015. Delinquency rates (over 30 days) have also improved from 2.29% in 2011 to 1.67% in 2015. Similar trends can be seen in their credit card portfolio, which makes up around 80% of their total loans. From DFS Form 10-K for the year ending December 31, 2015: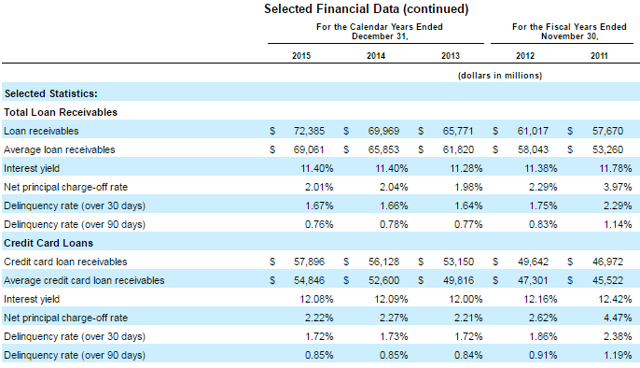 Click to enlarge
Discover's credit card performance is one of the best if compared to industry averages, with charge-off rates and delinquency rates well below industry averages. Similarly, when compared to peers, they are in a good position, just second to AXP in terms of charge-offs and third in terms of 30-day delinquency rates, behind JPM and AXP.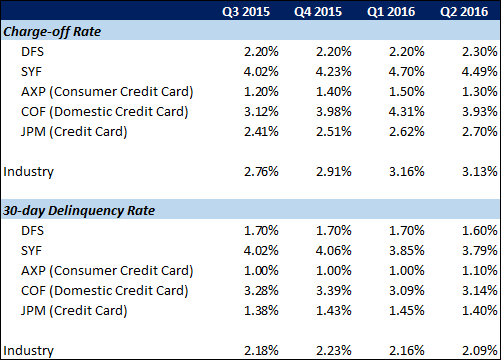 Capital
When it comes to capital adequacy, capital generation and capital returns, DFS is one of the best in the financials industry. Generating 20%+ ROE year after year enabled them to accumulate substantial capital and retained earnings that it eventually threatened their ROE levels (which is a good problem to have, having too much capital). Management managed this problem by returning substantial capital to shareholders through dividends and share buybacks. As seen below, the payout ratio has steadily increased each year and have recently reached to the point that they are returning almost 100% of their net income in a given year. Discover's payout ratio also fared well against their peers, having caught on to AXP's payout ratio. However, despite these strong capital returns, DFS still had ample capital levels that led to a ROE depression (discussed above; common equity growth outpacing net income growth).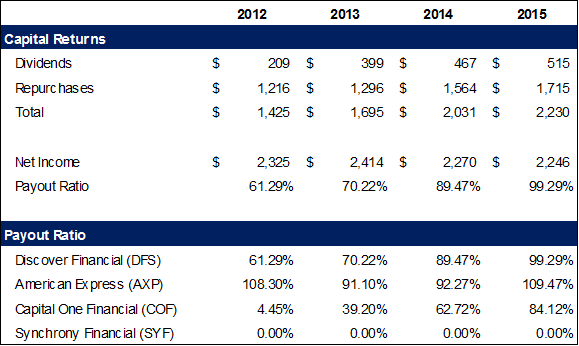 In terms of regulatory capital, DFS still comes at the top, having a Common Equity Tier 1 Capital (CET 1) ratio of 13.9% as of Q4 2015 and 14.3% as of Q2 2016. As taken from the 2016 CCAR results, DFS had the highest capital ratios against their credit card issuing peers, even in a severely adverse scenario. In terms of leverage, DFS is the least levered among their peers due to their 12.9% Tier 1 leverage ratio as of Q4 2015.

Click to enlarge
Stock Performance
DFS stock continues to outperform its peers on all periods (2016 YTD, 1-year and 5-year) despite the volatility in markets, heightening competition in the credit card industry and weak Q2 2016 performance (earnings miss and higher provisions). Investors appear to be optimistic with regards to Discover's high ROE business and their credit card business being largely unaffected by the increasing competition in the co-branded space (just see American Express). Despite the stock trading near 52-week high (current price of $54.51 is 9.5% below $60.29), the stock remains attractive to investors due to the substantial share buybacks (buying around 7-8% of their outstanding shares), steadily increasing dividends and attractive dividend yield of 2.2%, which is one of the highest compared to peers (AXP - 2.11%, SYF - 1.96%, COF - 2.22%). Also, as an added note, around 75% of analysts covering DFS have a BUY rating and overall, have an average target price of $64.91.

Click to enlarge
From: Google Finance
Stock Valuation
I decided to value DFS on an absolute basis using the Excess Returns Model, which is basically the sum of the capital invested currently in the firm and the present value of excess returns (ROE - Cost of Equity) that the firm expects to make in the future. In this scenario, I try to come up with a market-based valuation, that is, using consensus estimates as forecasts (for net income) and historical trends and known information (2019E ROE and payout ratio) as necessary. As seen below, analysts are mostly projecting for net income to somewhat remain flat. I have projected that DFS would maintain their current payout ratio of 99% since CFO Graf stated this in their Q2 2016 earnings call Q&A. The overall calculation results into an intrinsic value of $53.09 per share, which is just 3% below the current price of $54.51. Hence, we could say that DFS is currently fairly valued.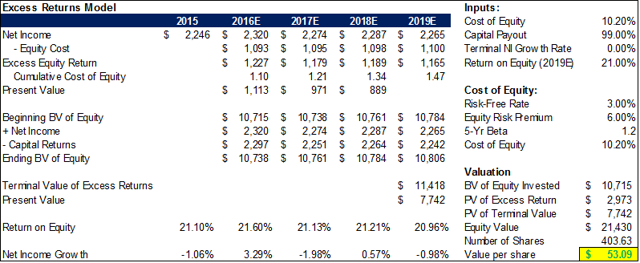 Click to enlarge Source: Analyst estimates from S&P Capital IQ
On a relative basis, DFS also appears to be fairly valued with their P/B multiple of 2.04x, which is around the middle compared to their peers in the credit card industry (AXP - 2.70x, SYF - 1.60x, COF - 0.75x). Also, as a back of the envelope calculation, it is expected that DFS should trade at 2x of their book value (2.0x P/B), since DFS has a 21% ROE, which is twice that of their Cost of Equity of 10.2%. (Multiples taken from Seeking Alpha Key Data)
Growth Opportunities
We have established above that DFS is fairly valued. However, the valuation was made under a seemingly no-growth scenario (considering the flat ROE, net income, 100% payout). DFS has multiple upside opportunities, given the numerous levers that management can use to improve their business and financial performance:
A. Acquisitions
While revenues are not growing as fast as expected and pressures are steadily mounting in their payments business, the company has sufficient capacity to grow their business through acquisitions, considering their strong ability to generate capital and their currently high capital levels. As seen on the Q2 2016 Earnings Call, management hinted that they can scale back their capital returns (99% payout) to fund any major acquisitions, particularly on the payments side of their business. This possibility is a huge positive for the business as it may solve concerns about card acceptance (as compared to the Visa / Mastercard / American Express network). It may also help the weakening business of their PULSE network.
Donald Fandetti - Citigroup Global Markets, Inc. (Broker)
Yes, Mark, given your capital position remaining very strong, I was just curious what your thoughts are on acquisitions. If you're seeing more deals that are of interest to you these days or if prices are still high in payments and other areas.

R. Mark Graf - Chief Financial Officer & Executive Vice President
Yeah. I would say with the AML/BSA consent orders we have from the Fed and the FDIC, I think we're kind of out of the acquisition space right now. Those really are red lights with respect to acquisitions. So we continue to look in the marketplace, stay plugged into the marketplace, make sure we're aware of flow. But I think our ability to act on anything that would touch or impact the bank charter right now is probably non-existent. I would say with respect to the payment side of the equation, I think I'll let David address that, because that doesn't specifically play into the bank charter.

David W. Nelms - Chairman & Chief Executive Officer
Well, I would say that I'm not seeing a lot more growth in M&A. I'm hearing more talk in the market, but I'm not seeing as much actually change hands. And the one thing I would say is that even while under the consent order, it could allow us to do certain portfolio kind of things. And I don't think that M&A is the first thing that we focus on as a team anyway. We look at organic growth. We have strong capital returns to shareholders. But, I guess, I would just moderate a little bit. I'm not sure we would 100% be totally out of that, even during this period.
B. Higher Capital Returns
DFS can request for more aggressive capital returns (more than 100%) since they are poised to generate more excess capital. As seen on the Q2 2016 Earnings Call, DFS management is intending to have a CET 1 ratio of around 11%, which is 3% below their current CET ratio of 14%. There is no certainty yet regarding this matter but it would surely generate more excess capital that can be used to grow their business, fund acquisitions, or return to shareholders.
Jason E. Harbes - Wells Fargo Securities LLC
Hey, guys. Thanks for taking my question. So you paid out essentially all of your earnings during your last CCAR cycle, and yet the capital ratio remained essentially stable at about 14%. And I think you've said in the past that longer term you think 11% would be the right level to run the business. So I'm just curious what sort of timetable you think you might be able to get there?

R. Mark Graf - Chief Financial Officer & Executive Vice President
Yeah, I would say it's hard to say, Jason, is the honest answer to the question. I think we're comfortable with loan growth in the range we're seeing it right now. We'd like to see it be a little higher into the range, obviously, as David noted, but I think loan growth is consuming a chunk of that. I feel really good about going through the CCAR process and producing one of the highest yields among all the participants, buying back close to 8% of shares on an annualized basis, if you look at last quarter. I'm hard-pressed to see how to craft a path for you for how long it's going to take to get there. I think the one thing we've said over and over again and we'll commit to it is we're not going to do anything crazy with it just because we have it. We recognize it's our investors' capital and not ours and we will treat it appropriately. We continue to look for ways to return more of it. Every year we've gotten more aggressive in that CCAR ask. Over the year prior, I think a reasonable person could assume that that process wouldn't deviate in our current thoughts as we look forward either. But exactly how long it's going to take to get there, I just don't know how to answer that question.
C. Business Growth / Product Diversification
Given DFS' strong ability to generate excess capital, they surely have more opportunities to diversify and grow their business. This is essential as individuals typically prefer to use a single financial institution to meet all of their financial needs. Currently, a large part DFS is concentrated in is credit cards. However, over the years, DFS has entered into consumer lending, particularly private student loans and personal loans. In particular, their private student loan portfolio has grown from $1.0 billion as of 2010 to $8.8 billion as of 2015, growing into one of the largest lenders in the student loans space. With the current offerings of DFS (credit cards, student loans, personal loans, home equity), it can be seen that DFS is focusing on millennials and students. It may be viewed as subprime or risky but in my view, it is positive for the long-term success of DFS, considering that demographic is poised to reshape the economy as their purchasing power improves over time. Discover's focus on excellent customer service, low fees, competitive cashback and rewards will surely help in building their brand and obtaining the loyalty of this demographic. From the Q2 2016 Earnings Call:
John Hecht - Jefferies LLC
Afternoon, guys, thanks for taking my questions. I guess, just back a little more details in some of the growth and the new customer acquisitions in the quarter. Number one, can you tell us what are the characteristics of the new customers? Any characteristics sort of by credit type or channel of customer acquisition? And then follow-on would be - I'll wait for the follow-on after I get the answer to that one.

David W. Nelms - Chairman & Chief Executive Officer
I'd say there's not a big change on - credit is pretty stable. The average FICO is slightly down over the last few years just as we've found that this new environment appears to be more here to stay. And so at the margin, we could lean a little more into FICO scores. But, generally, the quality of - the composition of the customers is very consistent with what we've pursued in the past. We're probably slightly heavier in students than we used to be because that's a really important source of ongoing new accounts and relationships. We've got some new products like our Secured Card that allows us to approve people that can't be approved without the security. And so we also have our Miles Card that appeals to a little higher spending customer, generally. But both of those portfolios are so small that at this point they're not really moving the needle. So overall consistent.
D. Benefit from Higher Interest Rates
As with other financial companies, DFS is poised to benefit from a rise in interest rates. On the asset side, DFS would benefit from higher rates since a large percentage have variable rates. As of December 31, 2015, approximately $36.0 billion of their loan portfolio (50% of the total) had interest rates tied to an index, which is the prime rate published in The Wall Street Journal on the last business day of the month. The WSJ prime rate reflects the Federal Funds rate that is influenced by the Federal Reserve. On the liability side, DFS has been increasingly using long-term debt. While it may be a costlier source of funding, I see it as a way for them to secure funding and lock in the currently low rates, since most of their long-term debt have fixed-rates.
E. Strong Management with Long-term vision
While this may be subjective, DFS management has been performing exceptionally well, as they have been focused on long-term results and earnings sustainability. Amid the fierce competition in the credit card industry, management has demonstrated their ability to provide competitive offerings (rewards / cashback) and excellent customer service while managing expenses and profitability (ROE). Their focus on customer service is positive on building the Discover franchise. While it may be more costly to have a 100% US-based customer service representatives (as compared to outsourcing it abroad), it plays an important role in fostering customer loyalty and also attracting more customers (network effect; people nowadays demand more quality service and are willing to pay for it.). Winning the award of best in customer satisfaction from J.D. Power does not seem to be an empty award, considering various reviews.
Their foray into consumer lending (particularly student lending) and focus on cross-sell showcase management's long-term vision for growing the company and establishing the Discover brand. Management has demonstrated their knowledge / expertise with their decision to exit the co-brand business. In the past years, banks and other financial companies have clamored to increase their exposures to co-brand credit cards, since it was believed that partnering with an established brand is considered a more efficient way to grab customers. However, the battle for control of co-branded credit card portfolios has intensified as merchants have increasingly negotiated lower card fees in co-brand relationships. This led to several turnovers such as the Costco (NASDAQ:CSCO) dropping Amex and BP p.l.c. (NYSE:BP) dropping JPMorgan Chase & Co. Meanwhile, DFS has backed away from co-brands after former partner Wal-Mart Stores Inc. (NYSE:WMT) in 2014 ended their nine-year card-processing relationship and struck a deal with MasterCard Inc. Currently, DFS is reaping the rewards as their competitor AXP is having a hard time after the loss of Costco. As taken from a WSJ article:
"The co-brand market seems to have really heated up and it has become very competitive in terms of [financial] terms. And that makes me glad that we're not in the co-brand business," Discover Chief Executive Officer David Nelms said in a conference call last month.
Finally, the low charge-off rates, low delinquencies and high capital levels show that management has been pretty conservative, particularly in their underwriting and management of the overall business.
David W. Nelms - Chairman & Chief Executive Officer

So I generally - people that grow really fast in loans for a short period of time, it comes back and bites them. And that's one reason we have a top-end to our loan growth projections. We don't think growing more than about 6% at the high-end can be done today without taking too much credit risk.
Conclusion
Discover Financial Services has a very solid business and franchise. Despite the increasing competition in the credit card industry, DFS has been able to maintain their ROE at above 20%, manage their loan portfolio (in terms of charge-offs and delinquencies), maintain high capital levels (CET 1) and return substantial capital to shareholders through share buybacks and dividends (99% payout). On an absolute and relative basis, DFS appears to be fairly valued. However, that is under a no-growth scenario. DFS has multiple opportunities to grow their business and improve profitability, particularly from acquisitions, higher capital returns, business diversification and higher rates. The track record of management in adding value to the business bolsters the bull thesis while their conservatism and ability to manage their risks (high capital levels, low loan portfolio losses) reduce the downside probability for DFS stock. Overall, buying DFS stock seems like a good decision.
Disclosure: I/we have no positions in any stocks mentioned, but may initiate a long position in DFS over the next 72 hours.
I wrote this article myself, and it expresses my own opinions. I am not receiving compensation for it (other than from Seeking Alpha). I have no business relationship with any company whose stock is mentioned in this article.