By Parke Shall
"Our customers have purchased more Ford performance cars and SUVs than ever before in the first nine months of the year, and we continue to be the commercial vehicle sales leader in Europe."

- Roelant de Waard, vice president, Marketing, Sales and Service, Ford of Europe.
Today we want to talk about European auto registration data and how it conflicts directly with what Ford (NYSE:F) has reported in Europe for September. We want to draw the conclusion that although EAMA data looked slightly underwhelming this month, that the company still seems to be performing to expectations overseas and that Ford's new profit center in Europe is likely very safe.
Monitoring month to month automobile metrics that come in from both the United States and Europe has led us to several situations where we have had to identify a dip in these numbers and try to reconcile that with a larger pattern of growth, whether it be for EU automobile registrations, Chinese automobile sales or domestic automobile sales. Every single month of every single year cannot show growth and some months, whether it is due to holiday or the calendar, sometimes falsely give indications to those watching that the automobile market is not as healthy or as robust as we have claimed.
In the past, we have carefully tried to reason some of the less than stellar monthly data we have seen and in every case, data has returned to relatively normal trends the next month. We have, a few times, pointed out that a pattern is not made in one month and we continue to try and look at a longer timeline of metrics and data to base our decisions on. This is not to say that someday the data will not turn against us. It is a likely scenario, as every industry is cyclical, and we don't want to fight that data when we get it, we want to embrace it. After all, that is how you make money or find buying opportunities.
Last week, we got the following data from EAMA, as reported by Seeking Alpha,
Ford car registrations -0.7% to 108,303 units in September, according to the European Automobile Manufacturers Association.
Overall EU +EFTA registrations +7.2% Y/Y to 1,455,810 units in September on broad gains across the continent. Registrations were up 9% in Germany and 17% in Italy.
Ford market share: 7.2% vs. 7.8% a year ago.
Ford YTD registrations +4.3%.
But those bullets do not show that the EAMA continued to show an important YOY growth trend in Europe, indicating that the continent's auto market remains robust and burgeoning: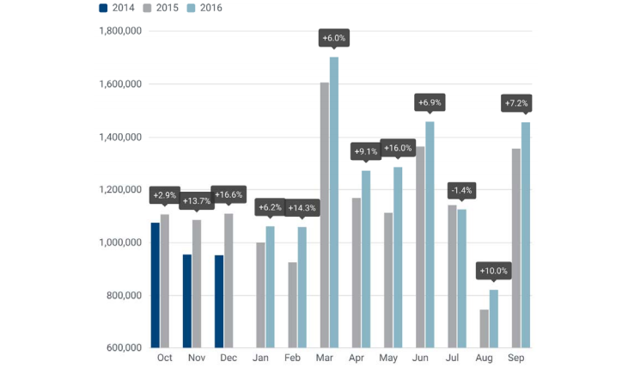 Click to enlarge
Plus, Ford themselves came out and described September as a "best ever" month for the company overseas. Ford disclosed that sales of performance vehicles and SUVs were at their highest levels of all time for the 9 month period to start 2016. As detailed in Ford's recent press release:

Click to enlarge
We don't want to repeat ourselves in every single article, but we do want to again compare this data with core points of our long-term Ford bull case.
The first important point is that the company is becoming very diversified. Its increased global footprint is allowing it to take advantage of whatever national economy is in an upswing and it gives it some diversification and redundancy that helps squelch the downturns for other countries.
The second important point is that Ford is now deriving a share of its profits from overseas. It has made countless investments in infrastructure in other countries, but it has not been able to turn any other country into an actual profit center. Europe became a decent contributor to profit last quarter, as you can see here: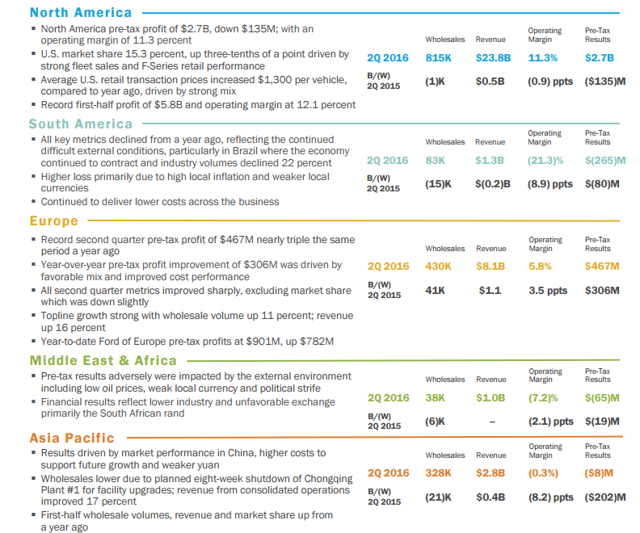 Click to enlarge
As Ford continues to reap the benefits of its investments and capital expenditures in other countries, we expect that other locations will also turn into profit centers for the company.
The third key point that we want to make is that Ford is a company that is very flush with cash. Its cash from operations for the ttm period has been over $20 billion for the company.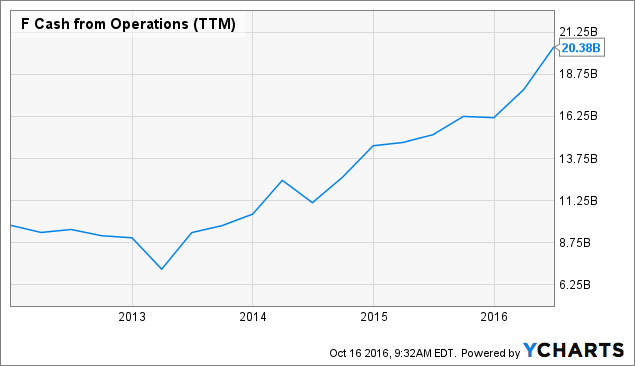 F Cash from Operations (TTM) data by YCharts
Finally, the company pays a 5% yield that we think is very safe and while we don't see them raising the dividend at any point soon, we believe the 5% will stay in tact and that Ford will not have to jeopardize its dividend moving forward. We also believe that the company may consider issuing another special dividend as they did last year if the company's valuation stays as low as it currently is.
The overall trend in Europe remains moving in the right direction. Of course, we will take into account further information that comes out of Europe when it becomes available and certainly we would pay attention if several months begin to show attrition. For now, we file this one in the box of "one month a pattern does not make" and we continue to hold our long position and forward.
Disclosure: I am/we are long F.
I wrote this article myself, and it expresses my own opinions. I am not receiving compensation for it (other than from Seeking Alpha). I have no business relationship with any company whose stock is mentioned in this article.