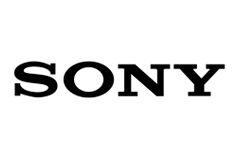 Company Description
· Sony Corporation (NYSE:SNE) ("Sony") is a world leader in consumer entertainment with particular strength in gaming, imagining, music and movie production
· It is listed on both TSE and NYSE with a market cap of $42bn
Investment Thesis / Recommendation
· Recommendation: Buy. Multiple long-term growth drivers supported by solid restructuring effort focusing on profitability. Re-rate potential given improved margins and ROE outlook.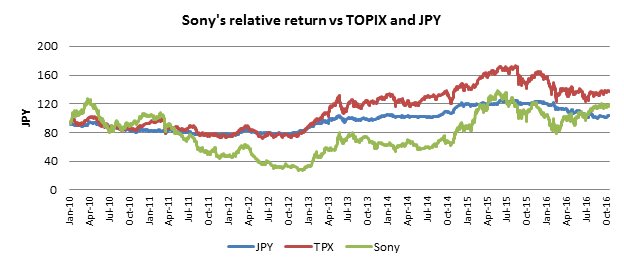 Growth opportunity
· Sony is a misunderstood story by the market. Its true growth and profit drivers are not being properly valued and the market has been discounting Sony due to its restructuring efforts, causing short-term impairment charges, and to its the holding company structure.
· At 5x FY+1 EBITDA and 16x FY+1 P/E, Sony is trading like a low margin hardware company instead of a company which has been successfully realigned to the path of improving margin (3% to 7% OPM by 2017), cash flow (~$2bn a year), dividend and ROE (from 6% to 12%).
· The growth will come from the following areas:
o Growth and margin expansion from the image sensor business
o Continued build out of the PlayStation ecosystem, supported by the successful launch of PS4 and PS4 Pro consoles and by the generation VR headset where Sony is the world leader
o Stable cashflow from Sony Music and Picture
o In addition, the company continues to streamline its non-profitable business divisions, having already disposed the Vaio PC, lithium battery and camera module business. This will be significant to improve margin profile going forward
o Earning profile mix-shift change: consistently de-ramping lower margin Electronics business and focusing on stable margin business (Gaming, Semicon) where Sony has dominant leadership



Competitive advantage
A) PlayStation ecosystem
· Characterized by sticky user base, developer-friendly platform, innovation and leader in VR technology
B) World leader in CMOS Sensor R&D and manufacturing
· Dominant in high-end segment, very strong quality and brand image
· High barrier of entry
C) Dominant position in media through Sony Music and Picture
· Most valuable music catalogue, strong track record of artists developments
D) Strong design, hardware and software expertise
· Despite a tough consumer electronic market, Sony's devices (TV, camera, etc.) are still considered of the highest manufacturing quality
Premium brand image
Management
Kazuo Hirai (CEO) - Began career with Sony Music in 1984. Held various roles in Sony including the president of Sony Computer Entertainment overseeing the PlayStation division. Became CEO of Sony Corp. in 2012. He's been widely credited for Sony's turnaround in the electronic business.
Kenichiro Yoshida (CFO) - With Sony since 1987. Previously served as Chief Strategy Officer.
There are 9 other Executive Vice Presidents supporting each of the key business verticals.
Business model & Valuation Analysis
Sony's business is classified into five divisions:
1) Electronics (32% revenue, 3% profit, 3% growth)
This is Sony's legacy business, including digital / DSLR cameras, smartphones, TV, DSLR cameras, Vaio note book, etc. It has been the pain point for Sony as the consumer electronic segment has been underperforming and loss-making for years
This is also where Sony spent most of its efforts restructuring to return to profitability, and it's been largely successful
Sold the struggling Vaio PC/notebook business in 2014 and reduced fixed cost of JPY100bn in FY16 vs. F14
Downsizing smartphone business to focus on high end market, reduction of JPY90bn beginning in FY17
As a result, smartphone division has returned to profit for the first time since 2013 while imaging and home entertainments continue to bring positive cashflow at mid-single digit operating margins
As a whole this division will continue to shrink, for 44% of revenue in 2013 to ~30% in FY19. However, margin should be much better than historical levels and will contribute about 4% of Sony's overall profit going forward
2) Gaming (21% revenue, 22% profit, 18% growth)
Sony's PlayStation is synonymous to console gaming, which is growing steadily at 5-6% per year. Currently, PS4 is outselling 2-1 to its key competitor, Xbox One
PS4's installment base is at ~42mn units and will grow to ~90mn in FY18 supported by the PS4 slim, Pro and VR headset launch
Although the hardware sale will be steady at ~20-22mn units per year, the growing installment base will be key for Sony to grow its network business, which represents 40% of the total gaming revenue
Network revenue is further divided between PS+ network (10% of gaming), which enables online multi player functions and other privileged gaming features, and gaming / digital sales (32% of gaming). Sony makes 20-30% from each game sold from the PS network or via physical copies
Currently, 50% of the installment base subscribe to the PS+ network. This is a sticky group of customers. Recently Sony increased its charge from $49.99 to $59.99 per month with limited churn rates
VR headset is not going to be a major profit driver for now, but it's significant in that it helps to solidify the PS ecosystem. At this moment, Sony has the best VR product compared to Facebook's (NASDAQ:FB) Oculus and HTC' Vive.
There are other services such as PS Vue, which is an online streaming TV that competes with Sling TV. It's early stage but already has 120k subscribers since launching in March 2015. Sling has 700k subscribers
3) Semiconductor (12% revenue, 16% profit, 22% growth)
This is Sony's crown jewel. The primary product is CMOS (complementary metal-oxide semiconductor) imagine sensors (70% segment revenue), which are used in smartphone cameras. This is the highest margin business of Sony with ~25% EBITDA margin (vs Sony's corp margin of ~11%)
There are only three players globally which are capable of mass producing high quality CMOS sensors - Sony (~60% share in high-end), Samsung (OTC:SSNLF) (25%), OmniVision (NASDAQ:OVTI) (10-20%)
Samsung's chips are mostly internal supplies and it actually buys chips from Sony for its high end Galaxy / Note series. Effectively, Sony's market share ex. Samsung phones is 80%+ in 8MP cameras and above
Sony has been the sole supplier for Apple's (NASDAQ:AAPL) camera sensor since 2014 (I-Phone 4) and Apple represents ~50% of its sensor revenue. The rest of the sensor revenue comes from high end models of Chinese OEMs such as Huawei, Oppo, Vivo as well as Sony's own Xperia series
Growth will be supported by increasing megapixel immigration, dual camera adoption and increasing penetration in auto/surveillance imaging, all of which will support Sony's ASP and expand addressable market. Despite smartphone volume growth, camera / imaging is the area that continues to see increasing $ content growth, and this is positive to Sony.
At the moment, there is no credible threat to Sony's leadership in the CMOS space where it has a 2-3 year technology leadership.
Module / component is the rest 30% of the segment revenue and is expected to decline, given Sony's exit from high end camera module. This will be positive for margin, given module business is loss-making.
4) Entertainment (20% revenue, 19% profit, 5% growth)
Sony Picture (60% segment rev, 35% profit)
Consists of motion (50% of revenue), TV(30%) and Media (23%)
Bought Columbia Picture in 1989 and has been consistently top 5 by studio market share, behind Warner Bros, Buena Vista, Universal
Growth drivers depend on movie and TV hits (e.g. Breaking Bad), cost control and additional monetization channels through online/ streaming. Challenges are slower growth in global box office, continued decline in TV viewership
Expect low single-digit growth from motion, mid-single digit from TV and high single-digit from media channels
Sony Music (40% segment rev, 65% profit)
Sony is the largest music publishing studio in the world with 28% share based on revenue. Universal and WB are at 23% and 12%
Owns 4mn+ music catalogues including iconic works by the Beatles and Michael Jackson
Proven track record of signing and developing artists such as Beyonce, Adele and Taylor Swift
Key challenges are decline in digital download (but starting to be offset by increase in streaming), low % of paying stream customers and free access to music such as via YouTube
Expect a 7% CAGR growth in the next 5 years as additional monetization channels materialize and Sony continues to sign and develop top tier talents
5) Sony Financials (14% revenue 27% profit)
Offers life, non-life insurance, banking and other financials services
Sony owns 62% of SFH. Current market cap is $5.9bn.
Expect very limited growth going forward as negative interest rates continue to weigh on investment returns. Will value according to effective stake in market cap.
Valuation
Sony is currently trading at 5x FY17 EBITDA and 16x FY17 P/E. Stripping out the financial division, the core business is valued at ~8x EBITDA, considerable lower than semi businesses trading at 11-13x and entertainment businesses at 9-13x. Using a SoTP method and valuing the Sony Financials and other minority investments separately, Sony has a 1-Y and 3-Y upside of 17% and 56%, respectively.
Click to enlarge
Other considerations
· Solid balance sheet
· Sony is less exposed to yen fluctuations, given its exposures to a wide range of clients and most of its manufacturing are based outside of Japan and dominated in USD. Sensitivity of FX on earnings is as follows:
1 yen appreciation vs. dollar, +3.5bn impact on operating income
1 yen appreciation vs. euro, -5bn impact on operating income
If EM currency depreciates 1%, -2bn impact on operating income
Net net in the past 2 years when yen depreciates against dollar (positive), appreciate against euro (negative) and EM currency generally depreciates (negative), Sony has a negative ~10% and 20% impact on top and bottom-line, respectively
· Yet Sony's stock is generally not as correlated as the Topix index to yen movements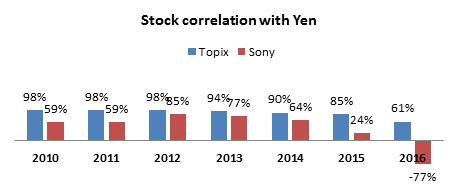 Recent Developments
· Currently in the process of disposing the lithium battery business and could book an additional impairment charge (~JPY 30-50bn estimated) for FY17
· Imagine sensor business back on full capacity after earthquake disruption in March 2016
Potential Risks
· Continued weakness in smartphone, TV and camera tampering Electronic business turnaround
· Lower than expected dual cam adoption. Apple starts to dual source sensors
· Sony PS+ network subscription decline
· Continued FX volatilities
· Earthquake causing further operation disruption
Disclosure: I/we have no positions in any stocks mentioned, and no plans to initiate any positions within the next 72 hours.
I wrote this article myself, and it expresses my own opinions. I am not receiving compensation for it (other than from Seeking Alpha). I have no business relationship with any company whose stock is mentioned in this article.