In early September, the news broke that Wells Fargo (NYSE:WFC), at the time the largest U.S. bank, had been cheating on its customers for years by opening up thousands of fake accounts to pretty up its cross-sale numbers. Since then, then-CEO & Chairman John Stumpf, who was a well respected executive by many of his peers, testified twice on Capitol Hill, initially defended the bank, then later on apologized after being heavily grilled by Elizabeth Warren and others, announced his "retirement" last week. You can find more details on the scandal pretty much anywhere, here is one from ABC News.
Similar to many other disastrous corporate events, these large firms are often slow at reacting to them and does a very poor job at crisis management. When the scandal was first reported, John Stumpf stated that there's no plan for him to step down, a week later he announced forfeiting $40MM in pay, then he said how deeply sorry he is after appearing twice in front of the angry law makers, and finally he gave up and left the bank. The bottom line is, Wells Fargo is now tainted and the brand will take a big hit. In the next 12+ months, they will spend millions in fines, advertisements, compliance training, better business practice and much more, which will lead to drops in both the top and bottom line. It is a long road for Wells, and experts also agree.
So what does this mean for investors? I have heard some analysts say that this could make Wells Fargo a good buy candidate, since the stock is down about 10% since 9/6, but I think the better strategy is to create a pairs trade strategy by shorting WFC and longing one of its competitors, such as JP Morgan (NYSE:JPM) or Bank of America (NYSE:BAC), with equivalent amount, especially if WFC rebounds in the next few weeks.
If you had initiated such pairs trade, the investment would have already returned 4-5% during the past month on a pre-dividend level.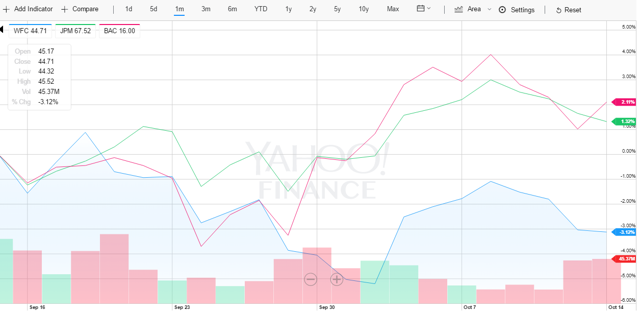 Click to enlarge
I believe such market neutral strategy could produce a decent return while face very limited risk. On 10/14, both JPM and WFC reported their quarterly earnings, although both companies topped street's estimates, but WFC showed sharp drop in new accounts opened. Such result furthered my belief in pairs trade because these two stock often trend in the same direction prior to the release of the scandal.
With JPM's better capital market presence and expansion in the credit card business, I anticipate its stock to outpace WFC's in the rest of 2016 and into 2017.
Disclosure: I am/we are long BAC, JPM.
I wrote this article myself, and it expresses my own opinions. I am not receiving compensation for it (other than from Seeking Alpha). I have no business relationship with any company whose stock is mentioned in this article.