Last month, I published an article on Seeking Alpha in which I discussed the oil production trends of the Eagle Ford, one of the largest oil and gas producing regions in the country and one of seven covered by the EIA (Energy Information Administration) in the U.S. through its monthly Drilling Productivity Report. Now that fresh data is out regarding the region, however, I figured that now might be a good time to revisit the area and see what revisions mean for investors in companies like Memorial Production Partners (NASDAQ:MEMP), Approach Resources (NASDAQ:AREX), and Legacy Reserves (NASDAQ:LGCY), as well as for the United States Oil ETF (NYSEARCA:USO) and other oil-related ETFs.
Looking at prior data
In order to address the oil production potential in the Eagle Ford (or any region really), I must have three core pieces of information and project that data moving forward. The first I will address right now is the oil rig count. In last month's article (linked to above), I used historical data to estimate that the oil rig count would stay flat at 36 each month. However, after seeing the EIA up their count to 40 units, followed by a subsequent drop to 37 units according to Baker Hughes (NYSE:BHI), I figured that it would be wise to change my forecast and assume that the rig count will remain flat at 37 units per month for the time being.
Beyond just the rig count, however, I also had to look at what's called the month-to-month drilling rig productivity improvement rate for the region. Last month, I assumed, using historical data provided by the EIA, that this rate would be around 1.25% per month, which is actually quite low compared to some other regions (but higher than ones like the Permian). As you can see in the graph below, however, current estimates (though they are trending down), suggest that the improvement rate should be about 1.5% for now. If, on the other hand, the trend down continues, I may push the rate back toward 1.25% per month in the future.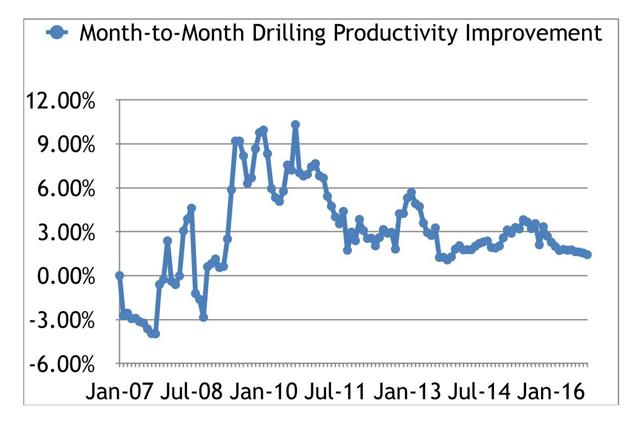 Click to enlarge
Source: Created by Author with Data from the EIA's Drilling Productivity Report
There was one last assumption I had to make regarding the Eagle Ford in order to arrive at a reasonable forecast for crude production for the region. This relates to the monthly decline rate in the region. Historically, I've used three different scenarios here to account for the fact that uncertainty exists in the region and because by including these I can look not only at what may happen moving forward but also at what has happened in the past after the EIA makes any potential future adjustments. The first of these scenarios was what I call the conservative one, but there also exists a moderate one, and a liberal one. Under the conservative scenario the decline rate would have averaged 7.5% per month.
Meanwhile, the moderate scenario would average 9% per month and the liberal one would average 10.5% each month. This means that, from existing wells (new plus old) total production should have fallen by between 7.5% and 10.5% each month without factoring in anything else, with the middle (9%) being the most typical. As you can see in the graph below, however, this picture has changed to some degree and the current decline rate appears to be around 9.25%. For this reason, I am keeping my conservative scenario unchanged but have decided to increase the moderate scenario to 9.25% while raising the liberal one to 11%.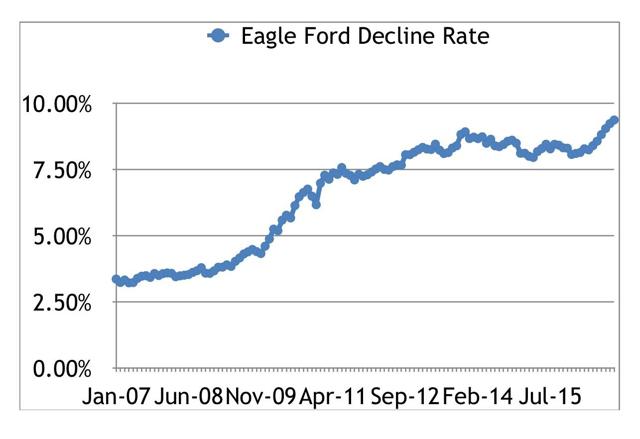 Click to enlarge
Source: Created by Author with Data from the EIA's Drilling Productivity Report
Though my prior estimate is now outdated due to these revisions, I do believe that it would be wise to include a summary of the conclusion from that piece regarding production trends in order to put it in perspective with my new piece. This old conclusion can be seen in the table below. In it, you can see that oil production in the U.S. should fall by a nice clip this year should no significant data adjustments be made by the EIA. From the now-revised December 2015 output production of 1,474,736 barrels per day, the conservative scenario would have resulted in a decline in output to around 923,920 barrels per day, while the moderate scenario would warrant a drop to 883,355 barrels per day. Though least likely in my opinion (but not out of the question), investors relying on the liberal scenario could see production fall to as much as 844,068 barrels per day.

Click to enlarge
Source: Created by Author with Data from the EIA's Drilling Productivity Report
A look at the new estimates
After incorporating the changes highlighted above, I was able to create the new table below. In it, you can see that the picture looks a little less appealing now than it did about a month ago. If my new model is correct, the conservative scenario should see oil production in the Eagle Ford of around 925,054 barrels per day while the moderate scenario calls for production in December of 2016 to average 888,251 barrels per day. The lowest, of course, is in the liberal scenario, which now estimates output of 861,164 barrels per day, but as I said, this isn't something investors should bank on.

Click to enlarge
Source: Created by Author with Data from the EIA's Drilling Productivity Report
Finally, I decided that it would be a good idea to create one more table (as shown below) in order to put everything in perspective. This stacks up my current forecast against my prior one. Based on these data points, output in the Eagle Ford should be about 1,133 barrels per day greater than my old estimates called for under the conservative scenario and should be about 4,896 barrels per day greater under the moderate one. In the liberal scenario, we could expect additional output of about 17,096 barrels per day.
Though this last one is a pretty big move higher, if we average out production throughout the year, output should only rise by 726 barrels per day under the conservative scenario, 3,089 barrels per day under the moderate one, and a more modest 6,526 barrels per day under the liberal scenario. Besides all that, we should be cognizant that if the "worst" case scenario in terms of changes compared to my prior model turns out to be accurate, overall production will be the lowest compared to the conservative or moderate scenarios, so this is a small price to pay should it come to fruition.

Click to enlarge
Source: Created by Author with Data from the EIA's Drilling Productivity Report
Takeaway
According to the numbers my model calculated, it appears as though the picture in the Eagle Ford is less appealing than it was previously and this is, in and of itself, negative. Despite all of that, however, production is still expected to fall by a large amount year over year. After averaging monthly data out throughout the year, the increase is not so large as to warrant a change (in my view, at least) in the overall thesis regarding the region and how bullish it is for investors moving forward. Of course, should the data change in the future by an extreme amount as a result of adjustments, I may change my mind on this (but I see this as being unlikely).
Disclosure: I am/we are long AREX, MEMP, LGCY.
I wrote this article myself, and it expresses my own opinions. I am not receiving compensation for it (other than from Seeking Alpha). I have no business relationship with any company whose stock is mentioned in this article.
Additional disclosure: I own LGCYO, not LGCY
Editor's Note: This article covers one or more stocks trading at less than $1 per share and/or with less than a $100 million market cap. Please be aware of the risks associated with these stocks.