Ensign Energy Services (OTCPK:ESVIF) is schedule to report 3rd quarter earnings in a few weeks during the first week of November. As a dividend growth investor, Ensign Energy services was added to my portfolio a few years ago and my cost basis is C$16.69, which equates to a paper loss of 50% as of writing. However, as a long-term investor I have exerted patience and have not sold a single share.
The key investment thesis for dividend growth ("DG") investors is a rising dividend. As such, when companies fail to raise or cut dividends, DG investors tend to sell out of their position. I am of the following mindset; if companies cut their dividends I will follow suit and cut and/or eliminate my position. However, when a company simply keeps their dividends steady, I do not run for the hills and I tend to maintain my investment with the hopes that dividend growth will be reinstated in the future. I have utilized this strategy with three of my positions; Intel (NASDAQ:INTC), General Electric (NYSE:GE) and Ensign Energy Services. So far, this strategy has proven effective. Had I sold my Intel shares when they did not raise their dividend in 2014, I would have missed out on subsequent dividend raises in 2015 and 2016. As for GE, they announced their intention to suspend dividend raises in 2016 as they transition away from GE Capital and I fully expect them to continue to raise dividends in 2017 and beyond.
As mentioned, I have also applied the same principle to Ensign Energy Services. Despite the oil industry being severely impacted by low oil prices, Ensign has maintained their quarterly dividend at C$0.12 per share over the past 8 quarters. This also means that their 21 year dividend growth streak is now at an end. As per the Canadian Dividend All-Start List, their 21 year DG streak was tied for 6th all-time amongst Canadian companies. Despite the disappointment, I believe the decision to not raise the dividend was a prudent one. I also believe that their commitment to the dividend is the reason they have not cut their dividend like a slew of other oil services companies. The big question for me is should I be prepared to cut my position in the event of a potential dividend cut? In order to answer that question, I need to determine if their current dividend payout is sustainable.
Dividend Payout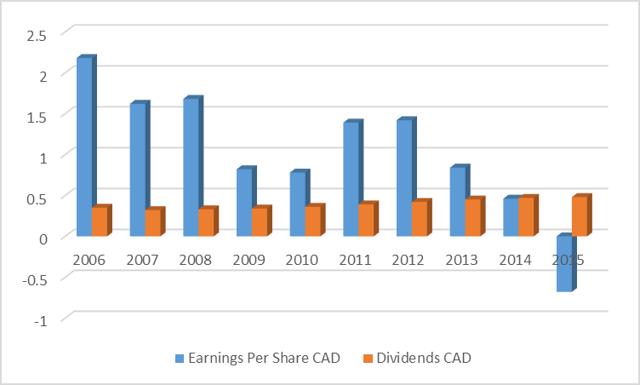 Click to enlarge
Source: Data - Morningstar, Graph - Author
Since 2012, Ensign Energy Services' profitability has slowly been decreasing culminating in a loss of C$0.68 per share in 2015. As a result, their payout ratio has also deteriorated over the past two years. Unfortunately, the picture takes a turn for the worse in 2016 as Ensign has posted a net loss of C$0.36 per share through 6 months as compared to a C$0.09 profit over the same time frame last year. Given the lowering profits, it was a prudent decision for Ensign to hold dividend payments steady in 2015. Given the unsustainable payout ratio, I will now look at whether or not their funds from operations can sustain their dividends over the short term.
Funds from Operations
Over the past couple of years, Ensign has been investing heavily in upgrading their fleet. As a result, CAPEX has been unusually high and in 2012, they issued 300 million in unsecured notes which will be coming due in 2017, 2019 and 2022. In 2015, funds from operations equaled C$296 million which was sufficient to cover its CAPEX of C$168 million and its dividend payments of $73 million. However, net debt increased slightly from C$786 million to C$794 million, in part due to the increase in principal on the unsecured notes. As of end of 2015, Ensign had drawn C$380 million on its C$600 million credit facility, leaving them access to approximately $220 in undrawn capital in 2016.
Of particular concern to me is their decreasing funds from operations. Here is a snapshot from their 2015 annual report: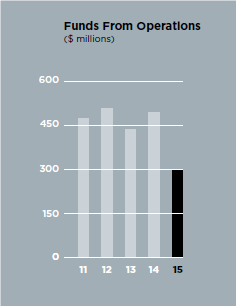 Source: Company Annual Report
As you can see, funds from operations decreased significantly and through 2 quarters in 2016 funds from operations decreased 49% year-over-year to C$91 million. The good news is that Ensign expects CAPEX to decrease to C$40-45 million in 2016. Assuming that Ensign's funds from operations will decrease 49% YOY through the remainder of 2016, here is an estimate of what their net funds would look like prior to further debt repayment obligations.

Click to enlarge
Although it looks as though Ensign can comfortably pay out their dividends, they have an unsecured note of approximately C$130 million due this fiscal year. As a result, should all things remain equal, it appears as though Ensign will have to tap into their credit facility, of which they have $278 million undrawn as of end of June, 2016, in order to pay off said note.
What will happen with the dividend?
Ensign's solid financial position has been stretched over the past couple of years. As a result, they have made the appropriate decision to hold their dividend steady over the past 8 quarters. Although its unfortunate that they will lose their place among the top dividend growth companies in Canada, with low oil prices, being prudent with capital allocation is a must and I do not foresee a dividend raise in the near future. However, given that they have sufficient access to capital to maintain their existing dividend and payoff their upcoming unsecured note payment, I believe that Ensign will not cut their dividend in the short term. As a result, I expect them to maintain their dividend payout at C$0.12 when they announce earnings in early November. Looking further out, keep an eye out on their CAPEX projections and funds from operations in 2017 and 2018 as any further decrease in cash flows will put their dividend at risk.
Disclosure: I am/we are long ESVIF.
I wrote this article myself, and it expresses my own opinions. I am not receiving compensation for it (other than from Seeking Alpha). I have no business relationship with any company whose stock is mentioned in this article.
Editor's Note: This article discusses one or more securities that do not trade on a major U.S. exchange. Please be aware of the risks associated with these stocks.