There's a lot of rumors on how Chipotle (NYSE:CMG) cannot sustain its rising P/E ratio of 57.5. Of course these speculations occur when a stock becomes overbought or oversold; this is not news on Wall Street, as publications usually sprout as the see-saw wobbles from one extremity to the other. Before I dive into the valuation part, let me first state that even historical P/E ratios are at times useless. What is also pointless, is for investors to compare similar quality companies such as Panera Bread (NASDAQ:PNRA) or Tim Horton's (THI), hinting that Chipotle should trade at similar P/E levels. This is as 100% accurate as technical analysis.
For some companies investors will find an extra premium and will not mind paying a higher price for each dollar generated. Chipotle might trade at a 57 multiple, because investors like the idea of the company selling Dos Equis in locations, and Panera might later trade at 74 P/E because investors might like the idea that it offers free WI-FI and is open for breakfast at 7a.m. Both of the aforementioned P/E ratios could also be above historical industry averages, especially if our economy is starting to walk again. Not to compare apples to oranges, but to this day Apple (NASDAQ:AAPL) still trades cheaper than Google (NASDAQ:GOOG) despite the fact that Apple has its revenue stream from different products while Google generates 97% of its income from ad revenue. This never made sense to me, but that is the beauty of the market; because it's irrational, spontaneous, and it makes some of the brightest names on Wall Street look like complete fools on daily basis. Now let's talk about Chipotle.
Overview
Chipotle is currently a $12.1 billion expanding company that operates fast casual Mexican food restaurants with over 1200 locations throughout U.S., Canada, and Europe. It has grown rapidly in recent years, but it may be difficult for company to maintain this rate of expansion. It opened 150 restaurants last year and expects to open between 155 and 165 restaurants this year. The company is also excited to open its first restaurant this year in Paris, France.
Bullish Scenario
Company expects its revenue to rise 21% in this year with same-store sales growing approximately 7%.
CMG should continue to post same-restaurant sales growth given the consumer loyalty to its brand and high-quality foods.
EPS is projected to arrive at $8.39 compared with $6.76 last year. Despite a projection of rising food and commodity costs, operating margins should remain in the 15% range with gross margins at the 26% range.
CMG consecutively posts same-store restaurant sales growth that is above any of its peers
Company has equal opportunities to penetrate markets abroad and here in U.S. with a strong consumer loyalty.
$10,000 invested in the company 5 years ago would yield $60,000 today, I'll let you subtract the inflation.
CMG's stock price has surged when investors began seeing the savings from its new model building units that reduced its capex.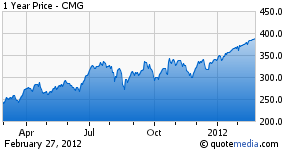 Capex Improvement
In the year 2010 and 2011 the company's 30% of the building units were "Type A" designs, which feature a smaller footprint and lower upfront costs. The average costs to build one Chipotle "Type A" restaurant is approximately $800,000. CMG believes that the return potential on its new unit models is much higher, especially when the company needs to enter a new location where the return on investment of a traditional unit would not warrant expansion.
Bearish Scenario
New restaurant openings and strong same-store sales growth will likely drive forecast results, but the skepticism still remains in the weaker economy and rising crude prices that can affect company's bottom line.
Currently Overvalued by 28%, based on S&P's Fair Value Calculation of $278.10 and a multiple of 44x, which is near the high end of CMG's historical range.
Stock surpassed its 12-month analyst price target of $370 in the beginning of February.
Looking at the chart below, it is evident that the stock price is getting ahead of itself in terms of earnings, and this is a cause for concern.
(Click chart to expand)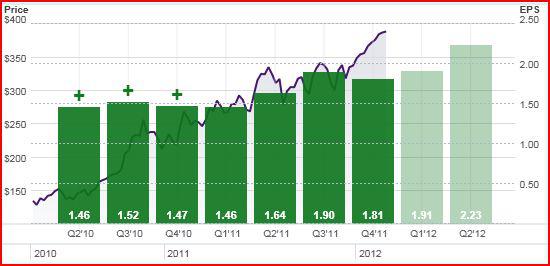 Financial Timeline
2002 - 2010 Company grew its 227 restaurants to 1,084, compound annual growth rate of 22%
2006 - McDonalds (NYSE:MCD) ended its ownership in the company, exchanging nearly 16.5 mln of the outstanding type B shares of CMG for public shares of MCD.
2009 - Free Cash Flow spiked to $152 million for the first time
2010 - Approved their 3rd $100 mln share repurchase program

I am bullish on the stock long term. A conservative investor should consider purchasing puts for any possible short-term retracement. Chipotle's expansion and aggressive growth is evident in its simplistic business model: fewer choices, organic food with no hormones and uncomfortable chairs for people not to linger.
Disclosure: I am long Apple through April $515 calls.