The main reason to own Bank of America is that the bank has significant room to improve its operating profitability in the absence of interest rate hikes. The third quarter results released today showed that BAC is delivering on this potential.
Operating revenues gained 1.6% QoQ and 3% YoY. This isn't that exciting, but this stock is all about these gains working simultaneously with cost reduction, and costs were down 3.3% YoY. The dollar value of these changes is $1.1bn for pre-tax pre-provision earnings (PPOP), or 15.6% YoY as PPOP reached $8.1bn.
Revenue
The table shows broad based growth in BAC's income lines. Growth in net interest income reflects decent YoY deposit growth of 6% which results from investment in retail banking sales teams by BAC and it is notable that BAC's cost of deposits has fallen through the year. Going forward, net interest margin should improve as BAC targets loan growth in excess of other asset growth, giving a mix effect. I would conservatively look for $500m on average per quarter of income growth over the midterm.

Click to enlarge
Source: Company data
Costs
BAC has continued to chip away at costs. The gain you see in the professional fees line in the chart below (YoY) will not be sustained, but otherwise management confirmed on the analyst call today that these cost improvements have a way to run: multiple initiatives to achieve efficiencies at a steady rate are underway. Investors should not expect this rate of change every quarter, but the direction of travel is confirmed.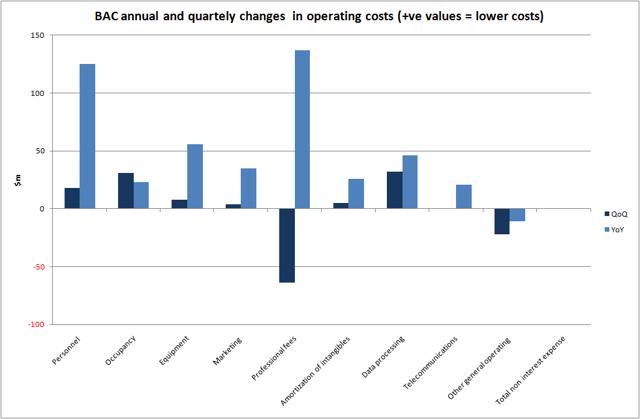 Click to enlarge
Source: Company data
BAC is targeting a cost base of $53bn annually by end 2018. The cost base in 2015 was $57bn and over the last four quarters (4Q15-3Q16) was $55.8bn. The run rate of improvement annually 3Q/3Q was $458 which is above the required rate of reduction and puts the bank on course to meet its target - naturally, not all quarters from here will see this level of absolute cost reduction. However, staff attrition was mentioned on the call as one of the key drivers of this reduction over time as retiring staff are not replaced outside the wealth management and markets businesses. I think this is what underpins management's confidence on costs.
Credit quality remains benign; here are charge-offs from the 3Q presentation.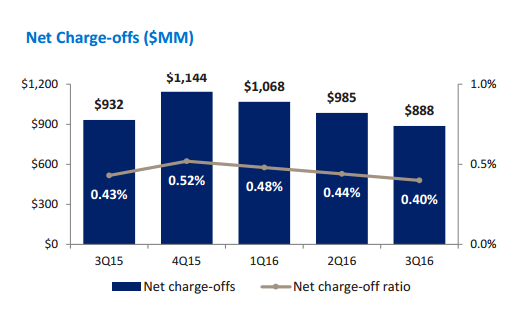 Source: Company data
There are two key points here. First, BAC has been very conservative since the crisis and anticipates stable asset quality as it now pushes a little harder to grow loans. Secondly, assuming BAC does not get into an environment of steadily rising rates, one offsetting factor to the subduing effect of "lower for longer" is that there is no real reason to expect loan loss provisions to increase significantly. This means the ~3bn of cost gains still to come will go down to the pre tax line. Add in $4bn of income gains by 2018 ($2bn a year, which is ultra conservative) then pre tax should be $7bn higher. Run tax at 32% and you will see a net profit gain of just shy of $5bn. Current the bank is running at $15-16bn net at the bottom line.
BAC net attributable profit should therefore be $20bn by 2018, meaning that pre-buy backs the stock is on a PE of 8.2x. This is a very attractive multiple and gives you a margin of safety against a realistic prospect of management delivering its targets.
Disclosure: I/we have no positions in any stocks mentioned, and no plans to initiate any positions within the next 72 hours.
I wrote this article myself, and it expresses my own opinions. I am not receiving compensation for it (other than from Seeking Alpha). I have no business relationship with any company whose stock is mentioned in this article.