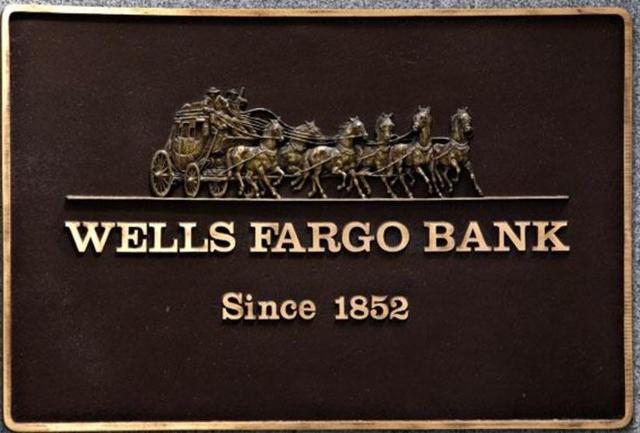 Click to enlarge
With the resignation of CEO John Stumpf and the implementation of a trust building turnaround plan, the worst seems to finally be behind Wells Fargo (NYSE:WFC). At least when it comes to the embarrassing and deeply disturbing fraudulent account scandal that has dominated headlines for the last few weeks.
Let's take a fact-based look at just how bad things got, how the guilty were rightfully punished, and more importantly what Wells Fargo is doing to regain the trust of its customers, and shareholders.
Let me be clear: Stumpf was rightfully forced out
In my first article about the fraud scandal I gave the bank's upper management, especially CEO John Stumpf, the benefit of the doubt. Specifically, as to whether or not he knew about the abusive and toxic climate being fostered at the individual branch level.
This resulted in dozens of angry comments accusing me of defending what many today understandably consider a banking culture ripe with greedy, villainy, and outright consumer theft.
My argument was that while the ultimate responsibility ended with him, failure to know what 5,300 or so employees were doing didn't necessarily call for either the man's resignation or being dragged off in irons to the nearest prison.
After all, there is a big difference between mere ignorance and outright knowing and turning a blind eye to violations of the bank's principles, which are built around 164 years of well-earned trust and goodwill with customers.
Then I found out that as far back as 2005 employees were calling to management's attention the fact that the company's high sales quotas for cross-selling consumer financial products was resulting in fraud.
Worse yet, employees that attempted to contact HR or the company's ethics hot line, were not just fired, but even sometimes blacklisted from ever working in the banking industry again.
Add to this the fact that Stumpf later testified before Congress that he knew about the fraud back in 2013, and I was happy to see the board of directors claw back $41 million in stock-based compensation.
But the last straw came when I discovered that an employee was fired after directly emailing Stumpf about the fraud being perpetrated on the bank's customers. In other words, there could be no doubt anymore, Stumpf knew that his employees were violating the bank's ethics rules, and perpetrating fraud, and did nothing to stop it.
He turned a blind eye in the name of extra profit, and thus committed, in my eyes, the most grievous sin any CEO can make. He threw away 164 years of well-earned trust with customers in order to generate better short-term profits. Thus I fully support the board's decision to force him out and replace him with COO Tim Sloan.
As to whether or not he deserves to go to prison, well, I'll leave that to prosecutors to hammer out, but personally I consider purposefully turning a blind eye to fraud against your customers as a justifiable reason to spend some time behind bars.
The extent of the fraud

Click to enlarge
Source: Wells Fargo earnings presentation
According to an independent study by PricewaterhouseCoopers the extent of the fraud, while large in an absolute sense, was far from as wide spread as the recent media storm may have led people to believe.
In fact, only about 2.3% of the banks accounts were fraudulent, and only one in 833 resulted in an incorrectly levied charge against customers; an average of $23 per mischarged customer. This resulted in $2.6 million in incorrect charges that the bank is refunding.
Business model ramifications remain unknown but are unlikely to be permanent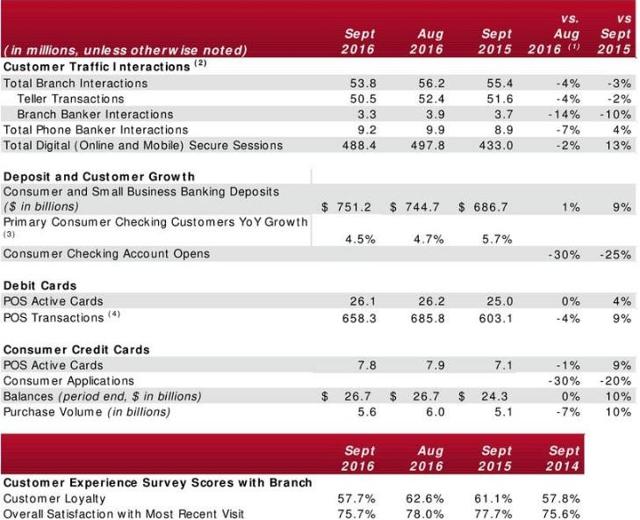 Click to enlarge
The big concern with this fraud scandal is that it might permanently result in much less cross-selling and thus lower profits for the bank.
Since the scandal didn't break until September 8th, and the bank didn't end sales quotas until October 1st, we will have to wait and see just how justified those fears are. Specifically, in future earnings reports.
Certainly the short-term impact on the bank's consumer credit card, checking accounts, and mortgage referrals from branches were hard hit.
For example, new checking account openings declined 30% in September compared to August, and mortgage referrals were down 24%. However, keep in mind that retail banking referrals only bring in about 10% of Wells Fargo's mortgage business, so the actual hit to this important business line is likely far smaller than that initial number indicates.
What's potentially more important is that the customer satisfaction survey data, while showing a dip, remain within historical norms. This indicates that customer anger over the scandal isn't as bad as one might fear.
This bodes well for management's long road towards restoring trust in the bank with customers, and shareholders alike.
What management is doing to fix the problem
I am deeply committed to restoring the trust of all of our stakeholders, including our customers, shareholders, and community partners. We know that it will take time and a lot of hard work to earn back our reputation, but I am confident because of the incredible caliber of our team members. We will work tirelessly to build a stronger and better Wells Fargo for generations to come. - Tim Sloan, new president, and CEO
The above promise from our new CEO that new management is serious about fixing the mistakes of the past is standard corporate boiler plate.
What isn't, however, is the strong measures that Wells Fargo is putting in place to both atone for its past sins, and ensure they are never repeated.
Separating Chairman and CEO roles to ensure a more independent Board of Directors.
Carrie Tolstedt, who oversaw community banking during the time of the fraud, has had $19 million in stock options clawed back, and been stripped of severance and retirement benefits.
Reaching out to 43 million retail and small business account holders to make sure that all of their accounts were properly opened.
Contacting customers with improperly opened accounts.
Contacting credit bureaus on behalf of customers with unauthorized credit cards to help restore FICO score.
More importantly, here's management's plan for ensuring this kind of fraud doesn't ever happen again.
First management has retained the law firm of Shearman & Sterling to conduct an independent investigation of the fraud committed over the years.
Next, the company plans to revamp its ethics line procedures, including retraining of key employees about how to use it as a critical resource to defend the bank's reputation.
Offering to rehire unfairly fired employees who were let go for attempting to blow the whistle.
And most important of all, putting in place numerous automated, and procedural safeguards to make sure that all accounts opened for customers are valid.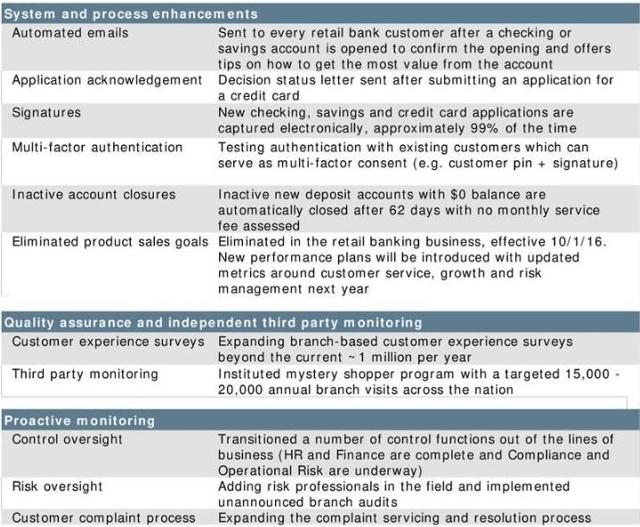 Click to enlarge
Putting things in perspective
As bad as this scandal is, it doesn't change the fact that what made Wells Fargo the gold standard of American banking remains intact.
In other words, calling Wells Fargo one of the best banks in the US, or in fact, the world, doesn't imply that: all its employees are angels, or don't make mistake, or that the bank isn't interested in making money. This is a business, and as shareholders, we want to earn as large a return on our capital as possible while making sure to maintain the optimal long-term focus.
That means running the bank with an emphasis on good customer service, and maintaining the trust of all stake holders: employees, customers, and shareholders.
While this scandal certainly sullies Wells Fargo's good name, it doesn't change the fact that the bank itself, remains one of the few "Sleep Well At Night" or SWAN stocks in the industry.
By that I mean that no other bank has the track record of consistently, conservative risk-taking that Wells Fargo has shown since its founding in 1852.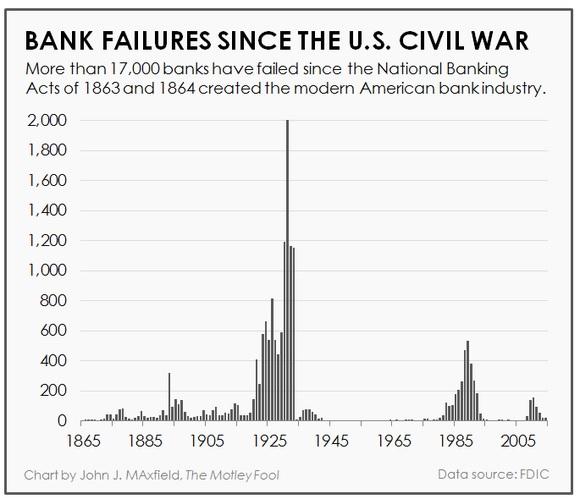 Since 1865, 17,365 banks have failed in the US, including thousands that wiped out the life savings of millions of Americans. Wells Fargo has long prided itself for a conservative banking culture that allowed it to survive numerous economic disasters that felled its rivals, and allowed it to grow, and prosper over time.
In fact, over the past 164 years, Wells Fargo has survived: 12 banking crises, 27 recessions, three depressions, and two world wars. Along the way, the bank has proven itself guided by conservative banking principles that, while not preventing this indefensible violation of customer trust, has at least ensured that the bank has never once been at risk of going under.
Which is why, despite the hot mess Wells Fargo now finds itself in, I continue to consider it the gold standard of US Mega-Banks. Specifically, that there is nary an economic calamity that I can conceive of that would destroy this most venerable of US banking institutions.
Better yet, Wells Fargo's conservative banking culture doesn't mean simply not going bankrupt during the occasional financial crisis, but far more consistent profits.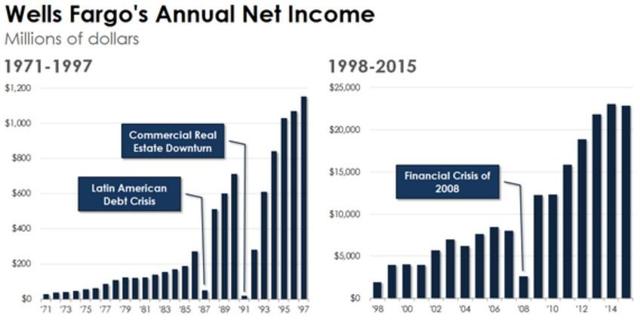 Click to enlarge
Source: Motley Fool
As you can see, Wells Fargo doesn't just make bountiful profits in good economic times, but it also avoids losing money when the rug gets pulled out from under the economy. In fact, the bank hasn't reported a loss in 45 straight years, including the worst financial crisis since the great depression.
The same can't be said of more speculative Mega-Banks, such as Bank of America (NYSE:BAC), which reported three consecutive years of massive, and worsening losses during the savings and loan crash of the 1980s.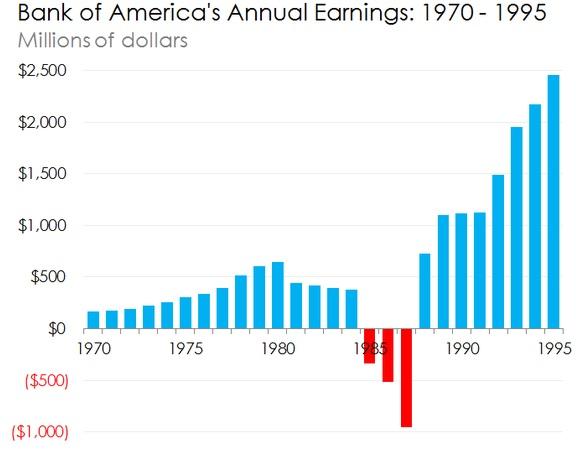 Bottom line: Wells Fargo screwed up royally, BUT the 164-year-old bank will survive this crisis just as it has so many others
Don't get me wrong, I'm horrified that the business I'm a partial owner in has perpetrated fraud against my customers.
But at the same time, when you consider the historical context of over 150 years of US banking, in which thousands of banks literally lost all of their depositors money, literally ruined millions of lives, and nearly destroying the entire global economy (twice) this scandal is hardly on par with the sins of other, far worse run banks.
Which is why I will remain a Wells Fargo shareholder, vigilantly watching the new management team as it begins the long, painful road to redemption and the restoration of faith with customers, and shareholders alike. It's also why I continue to recommend Wells Fargo as a long-term dividend investment, especially on dips such as caused by this scandal.
Because despite what we've learned over the past few weeks, Wells Fargo remains the safest US Mega-Bank, and one I have full confidence will, barring a full scale apocalypse, be around for another 164 years.
Disclosure: I am/we are long WFC, BAC.
I wrote this article myself, and it expresses my own opinions. I am not receiving compensation for it (other than from Seeking Alpha). I have no business relationship with any company whose stock is mentioned in this article.