Unilever's (NYSE:UL) performance in Q1 and Q2 this year has, so far, impressed me immensely. The same appears to have been true of many other investors with their share price seemingly inexorably heading northwards.
Yet their Q3 results seem to have left investors less enamored by the consumer goods giant. Delivered on Oct. 13, the company has seen its share price under pressure since. Their London-listed shares have dropped 5% since the start of October. Similarly, the New York-listed shares (courtesy of the still falling GBP) are about 10% below their prices at the start of the month: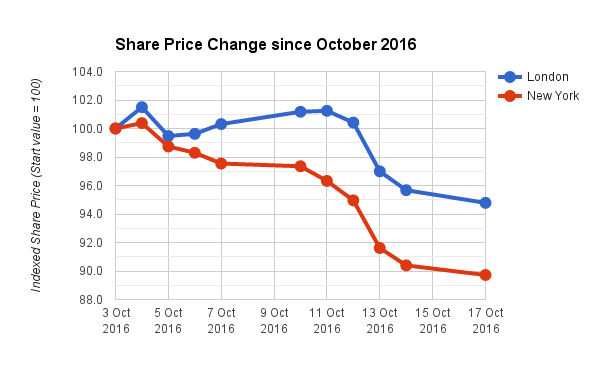 So what was the cause, and is it fair? Well we can only judge that by digging into the results a bit more. Although Q3 saw Unilever only deliver a "trading statement" rather than a full set of financial results we have plenty of sales figures to play with. Nonetheless, it should be noted we have nothing in the way of operating profit or cash flow data to ponder upon.
Nonetheless, there is still a lot to think upon. This is especially true in light of the market reaction.
A Little Local Color
First, a little local color about its recent share price movements. Some of the downward pressure was caused by a very public tussle between Unilever and the biggest supermarket chain in the UK, Tesco (OTCPK:TSCDY). Tesco took the unusual step of going to the press about their resistance to demands from Unilever to raise prices by up to 10% in light of cost pressures due to weakening GBP after the Brexit vote.
These sort of pricing feuds are commonplace. Yet such public ones are less common. Part of the reason it had such a dramatic effect is that there was a certain degree of "family feud" about it. Tesco's newish CEO, Dave Lewis, was former head of Unilever's Personal Care business. Consequently, he has been judged to have a pretty good handle on Unilever's cost make-up.
The timing of this press pressure from Tesco is telling: just before Unilever's Q3 results. With Unilever likely to report (as it has done) notable pricing hikes again to drive forward growth it was an easy means to get some positive press for Tesco as an unlikely "consumer champion" after years of being pilloried from the other side (Tesco's share price is up about 5% since the affair broke).
Honestly, the effect this will have on Unilever is limited. First, the pricing issue was sorted pretty quickly seemingly with compromise from both sides. Second, the UK only represents about 5% of global revenue. Finally, there is as much reason to believe that Unilever will benefit in the UK from some very prominent "free" advertising of its brands. Any readers in the UK were no doubt unable to avoid pictures and talk of Dove, Ben & Jerry's and-most prominent of all-Marmite across news and social media channels.
Nonetheless, it helped to increase pressure on Unilever's share price just before their Q3 results. It is clear, however, that the results themselves failed to act as a catalyst to reverse that pressure. Let's see why.
Robust Revenue Performance
Overall, Unilever's revenue performance was pretty healthy looking. Although reported revenue made little in the way of upwards progress, this was chiefly driven by the continuing currency headwinds they have (like so many peers) been facing: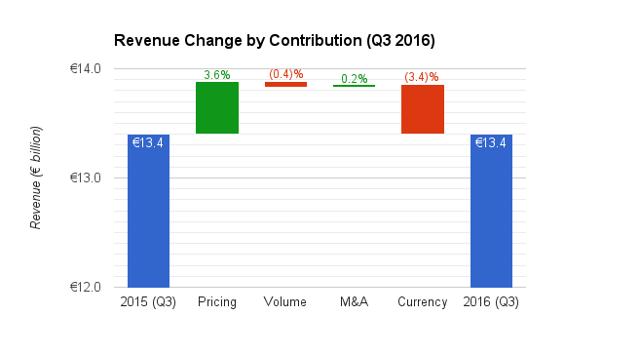 Click to enlarge
Nonetheless, with organic growth (pricing and volume) at 3.2% and acquisitions adding another 0.2% it was generally a pretty robust looking picture. Yet it was this organic performance above which seems to have made investors a little more jittery.
Still Leaning More On Pricing
Back at Q2 2016 results time, I noted that Unilever was increasingly leaning on pricing to drive growth. Volume growth was still an important contributor, yet pricing was having to take up some of the slack. This trend has accelerated into Q3: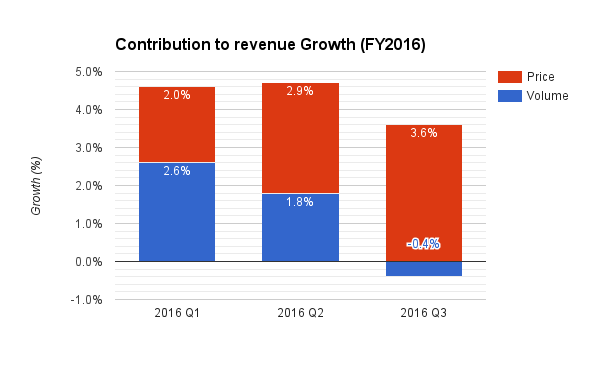 Indeed, volume (for the first time in some time) actually declined in Q3 2016. To some extent you would expect to see volume growth decline in line with price growth. Yet, seeing as prices grew just a little faster than Q2 the volume slowdown is certainly striking.
Time to worry? Well, some investors seem to have read it as such. Nonetheless, a decline remains a surprise until you look at the longer term record: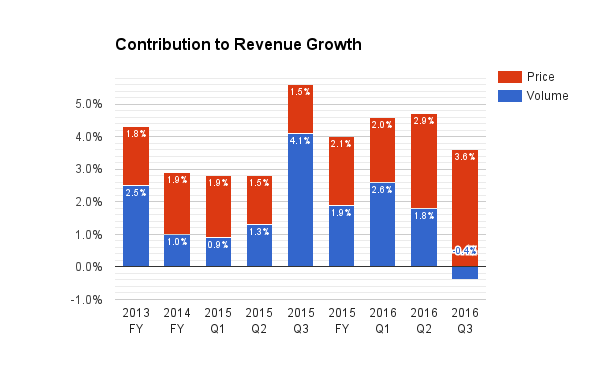 Note that Q3 2016 had a very tough comparator in Q3 2015. Volume growth was a huge 4.1% last year with the company explaining that (Source: Q3 2015 trading statement):
Volumes were significantly boosted by three similar-sized effects: a soft comparator in China, a strong ice cream season and sales phasing effects in Latin America that include announced price increases.
Q3 2016 was, therefore, always going to struggle to shine from a year-on-year volume growth perspective.
The Latin America Effect
Nonetheless, a volume decline rather than just slower growth is a bit of a surprise. Certainly, a critical driver of this volume decline was that of Latin America where Unilever has been hiking prices hard: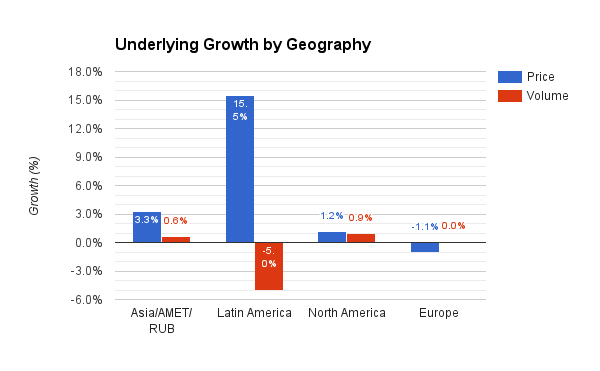 Events in Latin America have therefore been the main drivers of the two shifts we saw in Q3: higher pricing growth and volume declines. Commenting on this, Unilever stated in their Q3 results that:
Latin America delivered another quarter of growth [9.7%] ahead of our markets despite a tough comparator. This has been driven by pricing to recover higher input costs in local currencies. Volumes declined as consumers reacted to the impact of the harsh economic environment.
Importantly, Unilever's CFO, Graeme Pitkethly, noted in their Q3 earnings call that:
Our volumes in [Latin America] were down 5%. This is less than the market decline so we are gaining share. Looking ahead, we'd expect price growth in Latin America to moderate and volumes to turn positive again during the course of next year.
This sounds good to me. Growing market share and the belief that volumes will return to growth in the new year. The Latin American market is clearly causing some headaches for Unilever in the short-term, yet they are leveraging their brand strength well it seems to emerge from the other side in an impressive market position.
Volume Growth Generally Healthy
Although Latin America was perhaps the standout volume growth laggard, it remains clear that all regions saw volumes soften: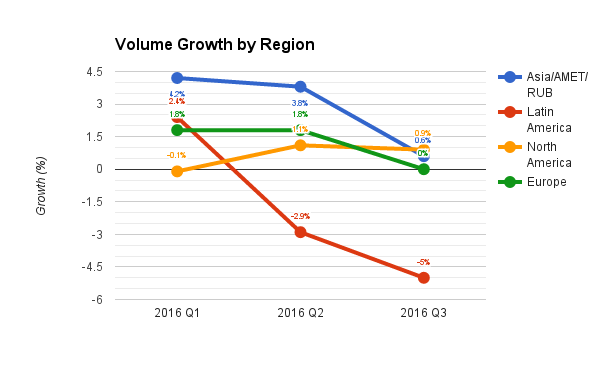 This is clearly something to be watching. Yet we need to keep perspective, for the 9 months to date volume and price performance was healthy. What is more, when compared to a less extreme set of multiples to Q3 2014 the rate of growth and share of volume and price contribution continues to look strong: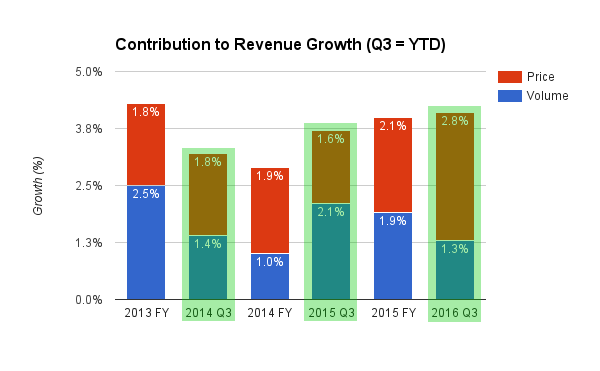 This is a key point. With such a tough comparable to Q3 2015, Q3 2016 was always going to look a little lackluster on the volume front. The key thing to keep an eye on in the future, however, is that volume growth returns to robust levels again in coming quarters.
I have little doubt that this will be the case. After all (using a very rough guide), had Q3 2015 seen a slower volume growth rate of 2.1% (2% less than experienced and in line with 2014's growth), Q3 2016 would have seen volume growth around the 1.6% mark. Slower than Q1 and Q2 2016, certainly, but hardly worryingly so.
All told, therefore, I was left comfortable with Unilever's performance in this quarter. Though a lot tougher to read, what can be gauged from it all is that performance remains strong. This message should reassert itself in future quarters.
Food Volume Remains Weak
One area which I have been watching very closely to date is the Food segment. Food has been one of the underperformers at Unilever for some time now. This has been to such extent that its share of total revenue has continued to decline. This trend has continued into Q3:

Click to enlargeNonetheless, food remains an important segment. What is more, unlike the others, Food had been one of the few segments which did not have an overwhelmingly tough underlying sales growth comparable to beat in Q3 2016.
Infuriatingly, therefore, Unilever reported that food volume declines accelerated in Q3 2016: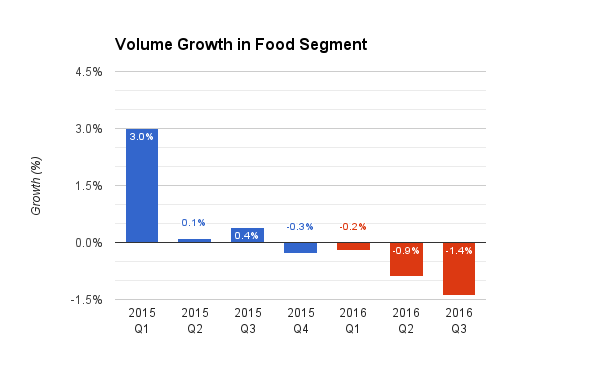 That is hardly welcome. Nonetheless, more happily they managed to continue to push the food segment into growth thanks to hefty price increases (3.2%, in fact):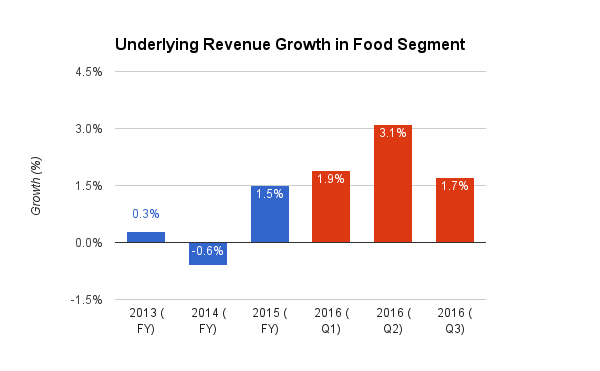 This is much more encouraging, leaving the segment on course for another year of healthy underlying revenue growth despite this volume weakness. Indeed, volume has undoubtedly suffered as a result of the continued upward price pressure.
My biggest worry here is that consumers and retailer may well be beginning to push back against such hefty price hikes. The Tesco affair-though small-beer for Unilever as a whole and largely driven by the peculiar situation in post-Brexit Britain-has to make us wonder whether prices can rise much further in the immediate future. Would volume bounce back if price growth was slowed? Maybe. Yet this is something we will need to watch carefully.
Strong Segmental Performance
Despite all this, as the company itself highlighted, its segmental performance continues to outpace its peers across the board (Source: Adapted from Q3 2016 results presentation):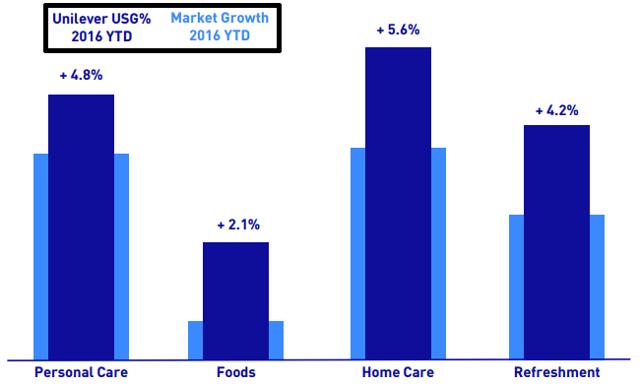 Click to enlarge
This is excellent to see as an investor and really reminds us of the quality-performance that Unilever has managed to continue to deliver for a pretty long-time now. Some investors may have taken Q3's results as indicative of the first cracks appearing in this impressive performance run. As yet, I don't see anything of the like in the results. Unilever's strong performance against is sector peers is a fine reminder of this.
Conclusion
Obviously there was less to obviously get excited by in Unilever's Q3 results as there have been in recent quarters. Yet as we circle around the hard comparables in future quarters it will be very interesting to see exactly how the "normal" trading situation looks. In reality, I expect to see volume growth return to recent historic levels. Assuming this is the case, it seems quite likely that the recent share price decline may well offer investors a nice opportunity to open or top-up their long-term holdings. Despite having a full position myself, I am certainly interested at the possibility should its share price weakness continue.
For me, Unilever's Q3 results were very solid. Though the headline trading figures were hardly as eye-catching as recent quarters, nor were they eye-watering. The company is clearly still showing its quality by outperforming its peers. I see little reason why this should not continue to occur in the medium-term. Naturally, trading performance will have to continue to be monitored. Nonetheless, I leave Q3 more content than cautious about Unilever's performance. Unilever's FY2016 will be next, then we will have a better picture of what momentum they will be taking into the new year.
Note: This article deals with the UL rather than UN shares. UL shares provide ownership of Britain-based Unilever PLC rather than the Netherlands-based Unilever NV shares. As Britain does not charge any foreign dividend withholding tax, for most investors these shares will be more tax efficient leaving you with 100% of the declared dividend. Unless otherwise stated, all graphs, tables and the calculations contained within them were created by the author. All data (unless otherwise noted) was collected from publicly accessible company filings and reports.
Disclosure: I am/we are long UL.
I wrote this article myself, and it expresses my own opinions. I am not receiving compensation for it (other than from Seeking Alpha). I have no business relationship with any company whose stock is mentioned in this article.