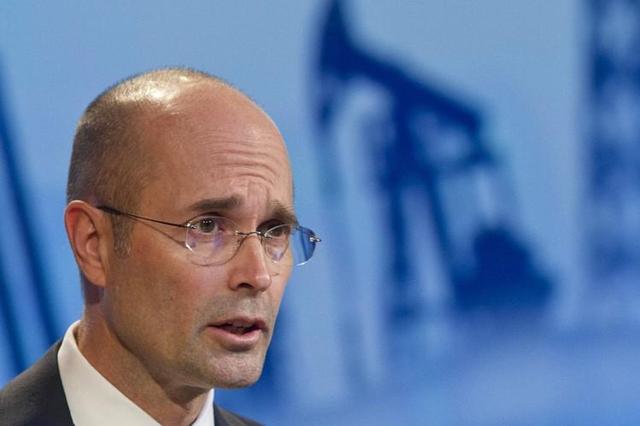 Click to enlarge
Baker Hughes CEO Martin Craighead
Baker Hughes (NYSE:BHI) and Halliburton (NYSE:HAL) dominated the financial news cycle in the first half of the year. Baker Hughes appeared to be in the catbird seat. If the merger was approved, then BHI shareholders could have received a windfall. If the merger was not approved, then the company would have received a $3.5 billion break-up fee to help shore up its balance sheet.
There is now school of thought that the 18 months of being in limbo has badly damaged Baker Hughes. The company has cut costs and laid off thousands since the rout in oil prices, yet it has been unable to stem the slide in its EBITDA. Q2 revenue fell 10% sequentially and EBITDA was -$99 million versus $57 million in the previous quarter. A lack of pricing power has ravaged North America operations (28% of revenue) where the lion's share of costs remain.
BHI Is Still Worth $20
BHI currently trades at $51.75, but based on a bottom-up analysis, it is at least 60% overvalued.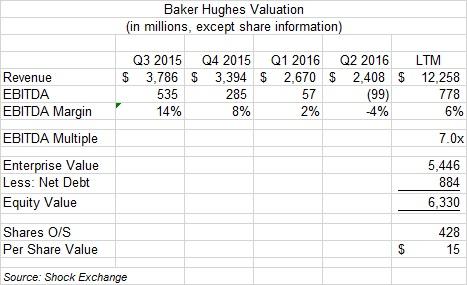 Revenue
Revenue of $12.3 billion represents revenue for the last 12 months through Q2 2016. This is slightly optimistic since revenue has been in a steady state of decline.
EBITDA
EBITDA is through the last 12 months. Non-recurring items such as restructuring costs and merger-related costs were backed out. For Q2 2016, I backed out $621 million of inventory write-downs, yet EBITDA was still negative. The decline in pricing has punished the company in the first half of 2016. It might not abate any time soon.
EBITDA Multiple
A multiple of 5.0x to 7.0x is appropriate for an industry leader in a cyclical industry in decline.
Enterprise Value
The company's enterprise value (equity and debt) is $5.4 billion.
Equity Value
After receiving the $3.5 billion windfall, Baker Hughes' cash exceeds its debt by $884 million. Net cash plus the enterprise value equates to an equity value of $6.3 billion.
Per Share Price
I assumed 428 million share outstanding. The bottom-up analysis suggests a price of $15. However, I believe Q2 could have been an anomaly. I find it hard to believe that the company will report negative EBITDA for the second half of 2016. That said, I am sticking with my $20 price target from April.
Conclusion
BHI's intrinsic value is at least 60% below its current share price. Investors should continue to avoid the stock.
Disclosure: I am/we are short HAL, BHI.
I wrote this article myself, and it expresses my own opinions. I am not receiving compensation for it. I have no business relationship with any company whose stock is mentioned in this article.